Le Petit Beefbar steaks its claim to the capital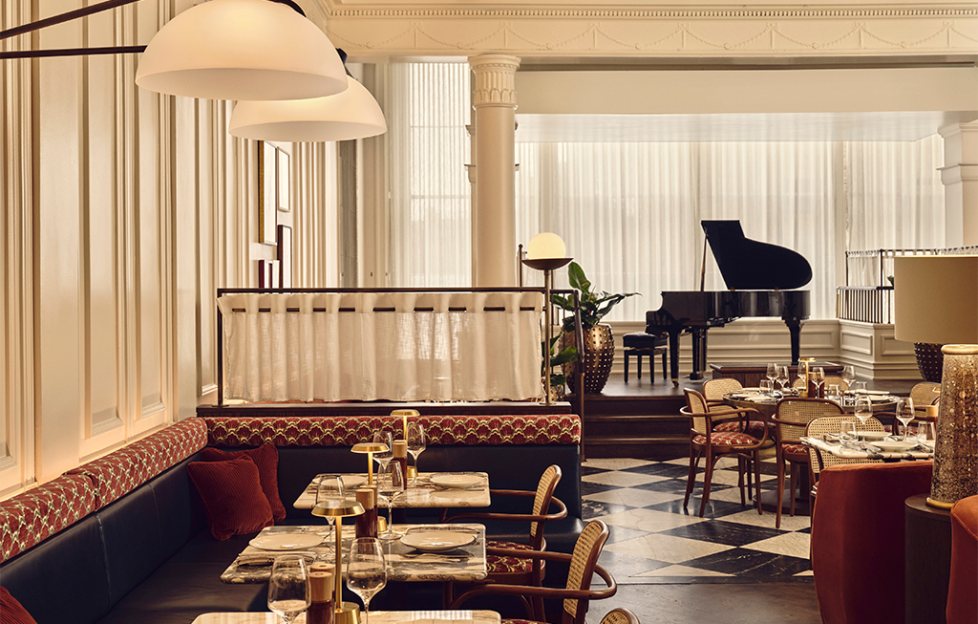 A great steak dinner is the culinary equivalent of a pair of jeans. Denims have been a constant in the world of fashion for well over a century. A wardrobe staple which sees many a change in style, but they are always there, a perennial favourite. And the same can be said of a steak dinner. It may not be at the cutting edge of culinary trends, but it's a luxury that spans a lifetime of dining experiences and features on many a list of memorable meals.
And for that reason the opening of Le Petit Beefbar, in the Intercontinental Edinburgh The George, caused a ripple of excitement at SF towers. One that was stirred up into a virtual tsunami following a chat with Ricardo Giraudi, the founder of Beefbar, who now has over 30 restaurants worldwide since opening his first in Monaco in 2005.
Giraudi is passionate about beef, his family business is meat imports, and now he's the creative force behind some of the world's best steakhouses. Le Petit Beefbar's arrival in Edinburgh showcases a menu similar to that of his huge flagship restaurants across the globe, but focuses on the signature dishes. 'I give the best chefs in the world, the best beef in the world and ask them to create something simple but luxurious', says Giraudi.
And while the menu does feature some of the best and most exotic beef from far flung locations, Giraudi is quick to point out that he works with local meat in all of his restaurants. 'We work with Scotch beef, because we think it's really important to work with local suppliers', he says.
And so to the food. I'm in the privileged position of attending a preview dinner at Le Petit Beefbar, which gives me the opportunity to try a little of lots of dishes. The menu is split into sharing plates, classics – which are main course sized dishes, sides and desserts.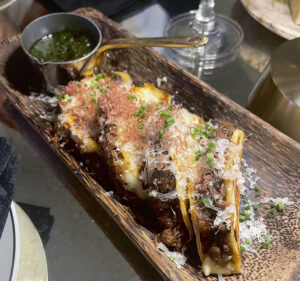 Sitting in the cosy bar area we're treated to a selection of sharing plates. One of the highlights was undoubtedly the Kobe Beef Jamon. If your environmental credentials overshadow your cravings then look away now, because this melt-in-the mouth, rich and salty treat is raised in Japan, cured in Spain and then aged for 18 months in Leon before hitting our plates in bonnie Scotland. But it is simply divine. The Baby Quesadillas with braised short ribs, mozzarella, chimichurri and Kobe karasumi are also eye-rollingly tasty, so much so that any fear of being a messy eater is soon a fleeting memory as the contents of this little parcel escapes down my chin. The Mini Big K Black Angus beef burger suffers a similar fate.
At this stage it's tricky to conceive that the main event still awaits. But we venture into the newly refurbished dining room, which is unusually light and airy with French brasserie vibes coming from the chequerboard tiles, wicker-backed chairs and grand piano.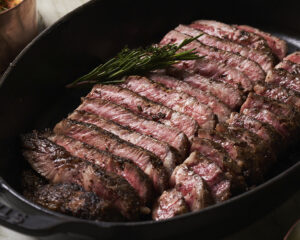 As the ivories tinkle we are spoiled with yet more incredible cuts of beef. The local offering is a Signature Fillet of grass-fed Aberdeen Angus, crusted with pepper and served up with a fiery pepper sauce. It's perfectly cooked, tender and rich – everything a good steak should be. The Black Angus Rib-Eye was equally delicious and went down a treat with La Sauce Beefbar, a buttery, herby and truffley delight. But the firm favourite for me was the Miso Black Beef, an eight-month milk-fed Holstein from Holland transformed in the style of the famous black cod dish, dispatching an incredible umami overload. This is all served up with some of the tastiest mash I've ever had and moreish parmesan and truffle fries.
Desserts were ambitious after such a meaty feast, but the caramelised brioche of the Signature French Toast was lighter than expected, but still a real indulgence with salted caramel sauce and creamy yogurt ice cream.
This is only the second Le Petit Beefbar in the UK, the first opened in London in 2021, but after experiencing the food and chatting with Giraudi I'm sure there will be more to come. With main courses priced at between £23 and £129 Le Petit Beefbar is perfectly pitched for a special occasion or an indulgent treat, but memories are priceless and this meal is without doubt one that will live on for many years to come.
beefbar.com/le-petit-beefbar-edinburgh/
Le Petit Beefbar
21-25 George Street
Edinburgh
EH2 2PB
Tel: 0131 240 7177