The delicious food at Dine is fine and dandy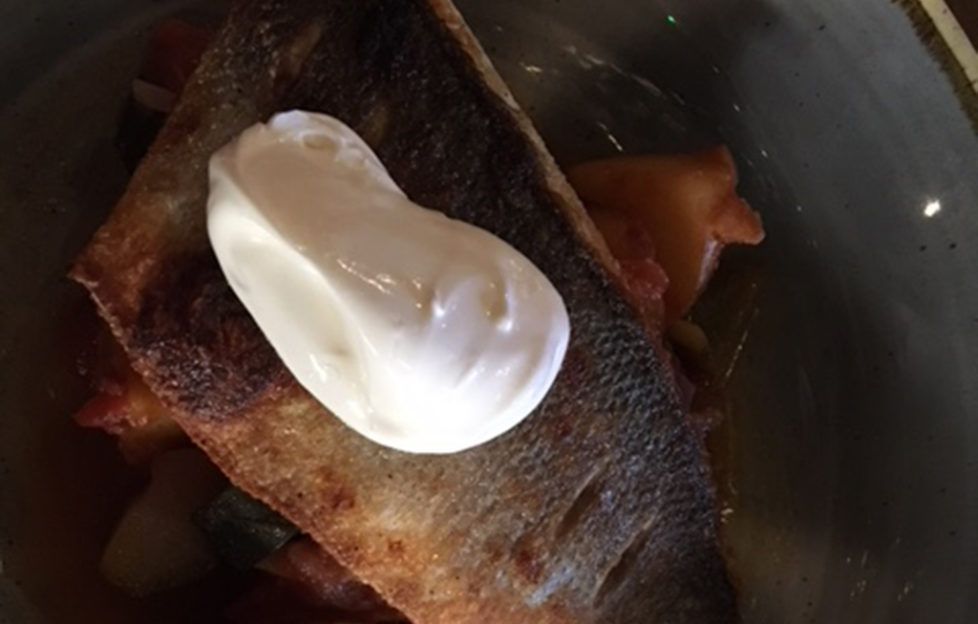 As we walk up the steps to enter Dine, passing the unusual moss covered wall emblazoned with the letters D.I.N.E. the 1980s Ottowan classic D.I.S.C.O. takes up residence in my brain and threatens to ruin what I was hoping would be an excellent lunch.
Thankfully there was much inside to distract me from this unwanted earworm.
The interior of the restaurant is understated and despite the launch of their festive menu and a (not Christmas) tree subtly adorned with baubles, they are keeping the décor classy.
The festive menu, like the décor, is a nod to the season but with not a turkey in sight you're assured that you won't be bored of the bird by the 25th .
Lunch kicked off with a glass of Champagne, well it is (almost) Christmas after all.
My caramelised goat's cheese provided a satisfyingly creamy contrast to the soused winter vegetables and bitter leaf salad. Mum's smoked salmon with lemon and dill cream cheese, compressed cucumber and toasted brioche elicited many compliments and was gone in a flash.
My main event was pan-fried sea bass, cooked to perfection with the skin just crispy, the harissa roast vegetables and gordal olives providing a rich and warm accompaniment to the delicate fish. Mum plumped for the crisp confit leg of duck with mulled wine cabbage, fondant potato, cardamom and orange puree. A real winter warmer if ever there was one. The duck was well cooked, and the fondant potato was crisp and delicious. Our only complaint was that the duck could have been a tad crisper.
The mulled wine cabbage and orange puree really got our festive juices flowing and I couldn't resist ordering the Christmas pudding with brandy cream. The little pudding was rich with fruit and the redcurrant garnish provided a welcome sharpness to cut through the sweetness of the pud and the richness of the cream.
Mum's apple crumble was perfectly executed and the spicing didn't overpower the apple. Again, providing just enough Christmas cheer without feeling like you've been slapped in the face by Rudolph.
Dine's mixologists have created an exclusive menu of seasonal cocktails including the Claus Martini with vanilla and pomegranate vodka, garnished with a chocolate and peppermint pretzel; White Mulled Wine with sloe gin, blanco rum, white wine bay leaves syrup and cranberry juice; the Snow Flake which is made with gin, maple and berries water and fresh lemon; and the return of 2017's best-selling Santa's Punch which is made with spiced gin, apple cider, cloves and lemon. We had just enough time for a quick gin concoction before we had to head once again into the madness of the post-Christmas city centre.
If you're looking for some respite from Christmas shopping and you're not ready to go full turkey then Dine is the perfect place to eat on the run-up to Christmas. The staff are friendly and attentive and the food is nothing short of excellent. We certainly found it to be D, desirable; I, irresistible……..
Prices start at £21.50 for two courses or £27.50 for three courses on the midweek Festive Lunch Menu (inclusive of tea or coffee).
For those who want to celebrate early or have a show to catch, the Festive Early Dining or Festive Pre-Theatre is £17.50 for two courses and £23.50 for three courses. Festive Midweek Evenings (from 7pm) are £23.50 for two courses or £29.50 for three courses. The a la carte menu is also still available.
Dine, Saltire Court, 10 (1F) Cambridge Street, Edinburgh, EH1 2ED
0131 218 1818