Try Chicken Skewers with Bramley Apple Salad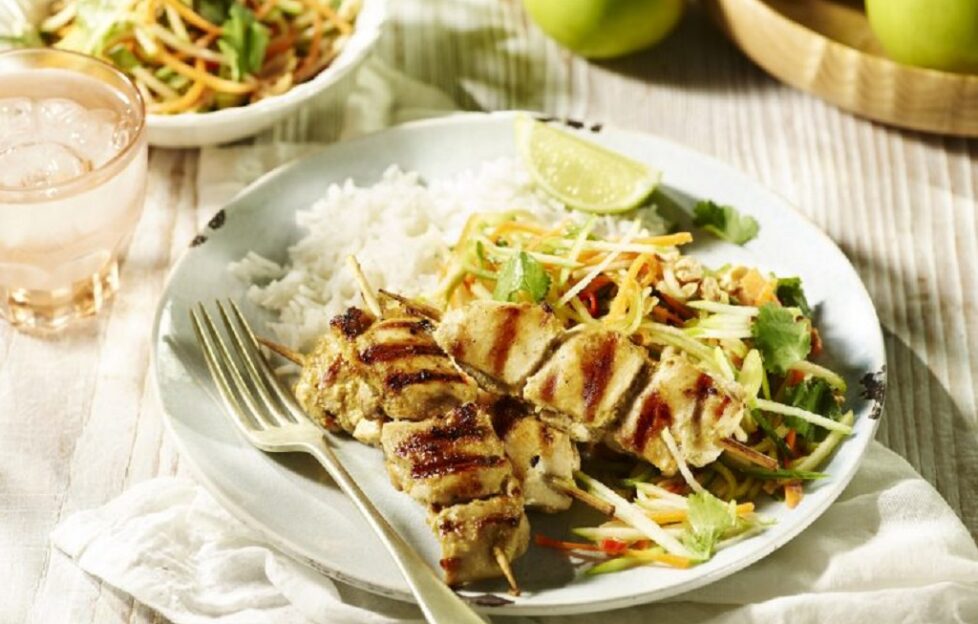 Chicken Skewers with Bramley Apple Salad
For the chicken skewers: 12 boneless, skinless chicken thighs, cut in two
Green Thai curry paste
For the salad: 1 large Bramley apple, peeled and grated
1 large carrot, peeled and grated
1 large cucumber, deseeded, peeled and grated
Handful of peanuts, toasted
Handful of coriander
Shop bought Asian salad dressing
Put the chicken thighs in a bowl. Massage the paste into the chicken thighs, cover for an hour (overnight is preferable if you have time)
Skewer the marinated chicken – three pieces per skewer. Heat a griddle pan until smoking hot, then reduce the heat to a medium flame
Brush the skewered chicken with a little sunflower oil and season, place on the griddle
After two minutes, turn the skewers – they should be nicely marked. Cook for another two or three minutes on the other side until cooked through.
Let the skewers rest for two minutes before serving
To make the Bramley apple salad, mix together the ingredients in a large salad bowl. Add the salad dressing and mix well
Serve with the chicken skewers, steamed rice and lime wedges
Recipe © British Apples and Pears | https://www.britishapplesandpears.co.uk/recipes/
Meat and fruit are a delicious food pairing, as we're demonstrating with our daily recipes this week.
With British fruit in season, and apples and pears dropping from the trees, it seems like the right time to celebrateand use them.
Courtesy of British Apples and Pears, here's a delicious recipe for chicken skewers.