Scots inspired to go on a cooking taste adventure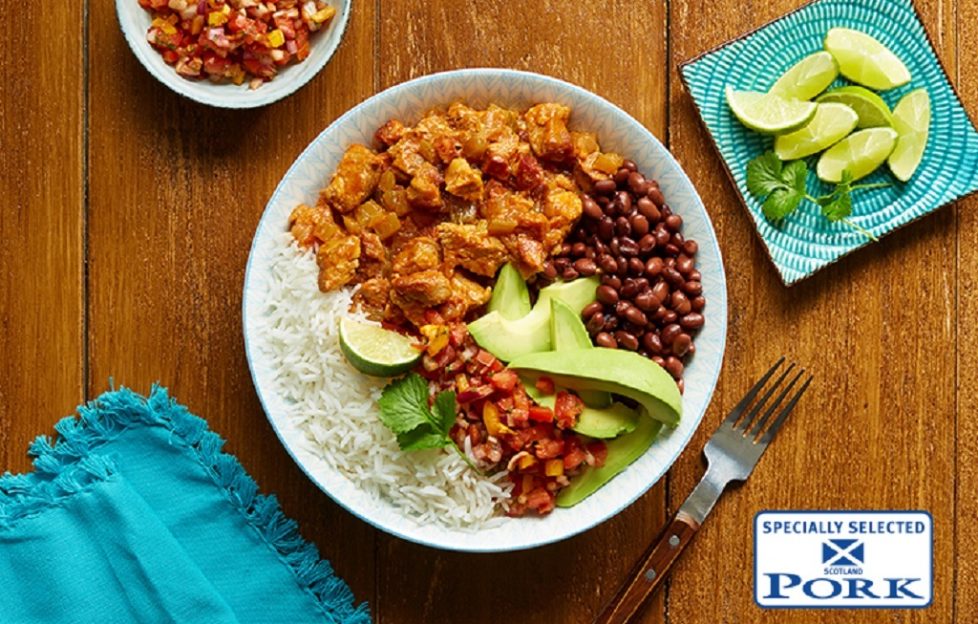 Brazilian style Pork with avocado and black beans (serves 4)
500g diced pork shoulder
1 x large onion
3 x cloves garlic
100g diced chorizo
2 x sticks celery
35ml olive oil
500ml water
2 x heaped tsp smoked paprika
1 x 425g black beans
1 x small red onion
1 x yellow mini pepper
2 x large vine tomatoes
25ml olive oil
Juice x 1 lime
15g fresh coriander
Pinch chilli powder
Sea salt and black pepper
200g (uncooked weight) long grain rice
2 x ripe avocados
Lime wedges
Peel and chop the onion. Peel and mince the garlic. Wipe and chop the celery
In a large frying pan – heat the oil – add the pork, chorizo and the onion and brown
Add the garlic, paprika and chopped celery and cook for a few minutes
Add the water, season with some salt and pepper – turn down the heat to a simmer, cover and cook gently for two hours
To make the salsa – peel the onion and chop finely
Chop the pepper finely – discard any seeds. Chop the tomatoes finely. Chop the coriander
Mix the chopped vegetables together along with the lime juice, chilli powder and olive oil – season to taste
Open the beans and pour into a small saucepan and heat through – then drain
Serve the pork alongside the salsa, white rice, black beans and sliced avocado with some lime wedges to squeeze
A range of simple recipes inspired by world cuisines have been launched as part of a campaign to get the nation cooking with Specially Selected Pork.
As part of Quality Meat Scotland's Go Places with Pork campaign, eight recipes that combine one of Scotland's best-loved ingredients with flavours from countries including Spain, Brazil and Greece are available on the Scotch Kitchen website.
Diners can choose from a range of versatile and delicious midweek dishes, and today we feature Brazilian Pork with Avocado and Black Beans.
Find the full range of simple and delicious recipes at www.scotchkitchen.com