Heads & Tales Gin bar launches Asian fusion menu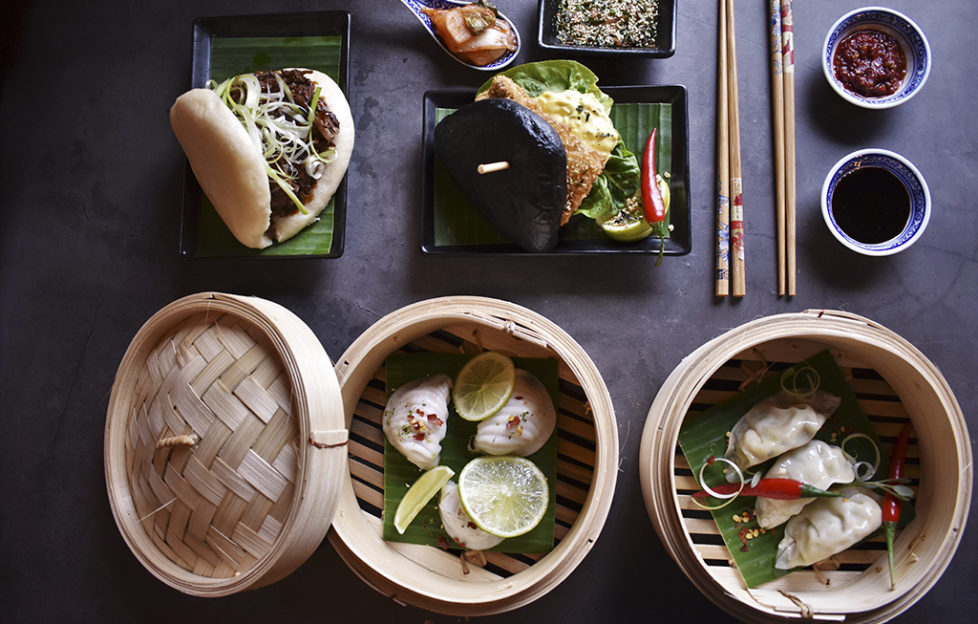 If someone even mentions Asian food, my taste buds set about tingling – and no, we're not talking about the European-style Chinese takeaway down the road where you pick up the awful chips and curry sauce combo.
We're talking about proper, authentic dumplings, noodles, bao buns, miso, fragrant lemongrass, chilli, fresh coriander, fish sauce, soy sauce… Anyone hungry yet? I certainly am.
So, when Heads & Tales Gin Bar launched their new Asian fusion menu, I was eager to find out how they compared to the incredible cuisine you find in the southern hemisphere. As my plus one and I headed down into the depths of the bar, nestled away between Ghillie Dhu and The Huxley, we were excited to see what we'd find. Though slightly sorry to wave goodbye to the glorious summer sunshine, we'd completely forgotten about the weather when we got the first glimpse of this rather magical looking bar.
Led away down the maze of corridors to the main bar, we passed three individual booths that could be booked out – all of them buzzing with groups enjoying a bite to eat and a cocktail or two. When we sat down at our table, we were welcomed warmly by the staff, all eager to advise us of their own personal favourites on both the food and cocktail menus.
First up, drinks. To say that their drinks menu is extensive would be the understatement of the century. There is certainly something for everyone on that long list. With our server advising that we tried the Hooked on a Feeling cocktail, with Edinburgh Gin, Aperol, Cacao Blanc Liqueur, strawberry, Peychaud's bitters and citrus, my plus one happily gave it a go. (A meringue-topped cocktail is something that both of us find incredibly difficult to resist.)
That said, keen to branch out, I opted for the Fly on the Wall, consisting of Blue Bottle Gin, peach, vanilla, orange bitters, apple, cardamom and citrus. Both were visually showstopping, and they tasted absolutely divine. Mine was beautifully sour – the type that catches the back of your cheeks – while my plus one's was a nice smooth, sweet treat to kickstart the evening.
When the food started arriving, we were not disappointed. First to arrive were the bao buns. We decided to share two different types – the master stock braised brisket bao with Chinese black pepper glaze and crispy onion, and the Crispy Miso Aubergine bao (£7 each).
The brisket was utterly decadent – sticky, sweet, with a chilli kick, it was unbelievably moreish and was easily the dish of the night for me. The aubergine was comparatively mild in flavour, but still highly recommended for the veggies out there. I could have easily devoured a couple of these bao buns, but we had more to look forward to.
Next up were the steamed dumplings (which cost £5 for a set of three). I ordered the King Prawn Har How with red Thai curry dip, while my plus one had the Pork Gyoza with chilli and garlic sambal. The prawn dumplings were a real highlight and were beautifully presented, and you could see they had been made to order. The garlic and chilli combo went down a treat with my plus one, who said they were wonderfully savoury and juicy.
The next dish was perhaps a step too far for us – the Okonomiyaki disco fries. (£6) An enormous bowl arrived that we couldn't even make a dint in. They were quite heavy and slightly out of place on the Asian menu, but still tasty. The hefty portion would undoubtedly be a welcome accompaniment to a round of beers after the rugby.
We had just enough room for a dessert to share which was the Rolo Prosperity Bao (£4). The small, squishy bao didn't look overly indulgent, but cut into the middle and a melted Rolo oozes out. With a caramel miso sauce on the side – a new combination that really blew my mind – it was a fabulous sweet end to a delicious meal.
Though perhaps one to save for a colder, darker evening when the sun's hidden away behind a cloud, Heads & Tales Gin Bar is certainly one to visit for an after-work drink and bite to eat. Some may argue that it's an unusual choice to pair Scottish gin with an Asian menu, but it was a welcome change to the usual sweet potato fries and onion rings found on most sharing menus around town.
Starting from £5, the dishes don't break that precious bank balance either. If you're not a cocktail fan, go for a beer or a glass of wine, and definitely order that glorious brisket bao bun – that alone is enough to encourage me back.
For more information, visit their website.