Bellfield Brewery opens tap room in Edinburgh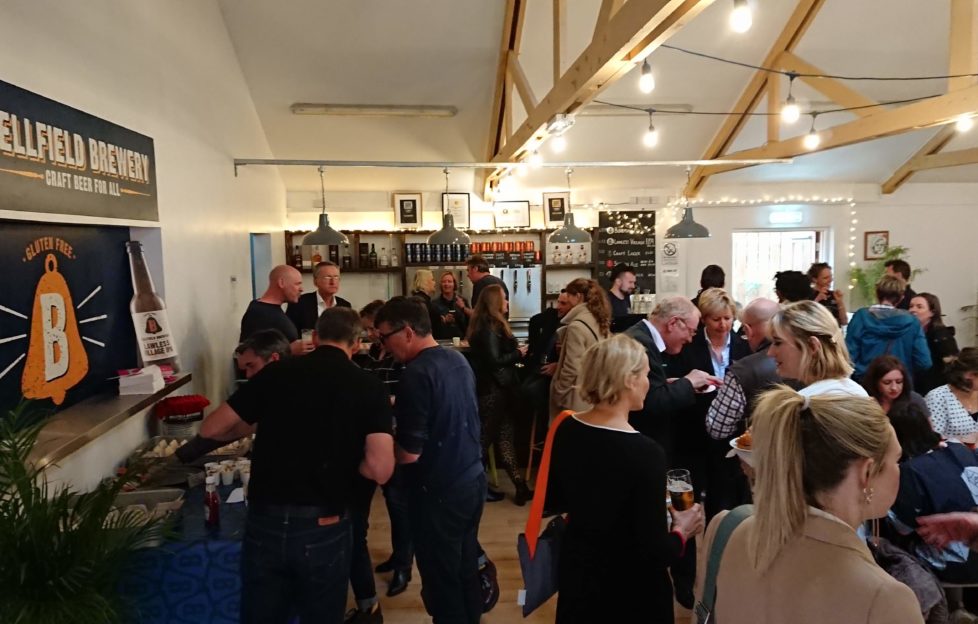 Peter Ranscombe joins the UK's first dedicated gluten-free brewery for the official unveiling of its bar in Scotland's capital.
NECESSITY is the mother of invention, or so the old saying goes.
For Alistair Brown and Giselle Dye, that adage came true.
Dye's husband, Robin Baillie, was diagnosed with coeliac disease in 2000, with Brown being handed the same diagnosis in 2014.
If a person has the disease then their immune system will start attacking their gut when they eat gluten, meaning that they need to have a gluten-free diet.
Wheat is one of the main culprits when it comes to gluten and so beer is normally a no-no.
Brown's diagnosis prompted him to setup Bellfield Brewery, the UK's first beer maker dedicated to making only gluten-free brews.
He roped in his friends, including Dye, to help set up the brewery in 2015.
Instead of "de-glutenising" its beers using enzymes, Bellfield uses a different brewing process.
Last night, the company held the launch party for its new tap room at its brewery in Edinburgh.
Tucked away on Stanley Place near London Road, it's a short walk from Holyrood, and close to The Safari Lounge, one of the brewery's early supporters and the supplier for last night's delicious grub.
As well as being available in certain branches of supermarket chains Morrisons and Sainsbury's, Bellfield's beers are also available at shops including Beer Zoo, Beerhive and Vino Wines in Edinburgh, with other stockists listed on its website.
Pubs serving its beers include The Black Cat, Cask & Barrel, and The Guildford Arms in Edinburgh.
Last night's official opening was a great opportunity to taste through Bellfield's range, which is far more than simply a collection of novelty gluten-free beers and instead holds its own against its fellow craft breweries…
Bohemian Pilsner (4.5%)
My pick of Bellfield's brews, with lemon, grapefruit and pine aromas on the nose, along with a yeasty note. The body feels richer than a standard pilsner, with a touch of malt and a bitter grapefruit finish, without becoming tart.
Craft Lager (5.2%)
Less expressive on the nose than the pilsner, with red apple and pine aromas, with green apple and a swish of caramel coming to the palate. A light and refreshing style, but maybe lacking the character of, say, Harviestoun's Schiehallion or Innis & Gunn's Helle-style lager.
Session Ale (3.8%)
A session ale is where you can really judge a brewer's prowess; after all, it's harder to pack flavour into lower-alcohol beers. Bellfield hits the spot here though, with pronounced grapefruit and lemon notes on the nose, alongside a bright and enticing floral aroma. It's a cracker on the palate too, with tonnes of fresh citrus flavours, plus a malty note and a good bitter finish.
Session Cask (3.8%)
The cask version of the session ale smelted maltier, with a touch of wood smoke. On the palate, there was a much more expressive caramel note in amongst the lemon and grapefruit flavours, with a rounder mouthfeel too. Really texture and distinct from its kegged brethren.
Lawless Village India pale ale (IPA) (4.5%)
The most malty of the kegged beers on the nose, with warm aromas of caramel and yeast. It was really well-balanced on the palate, with a meaty note and then bitter lemon coming to the fore. Lots of classic fresh hoppy elements on the finish too.
Read more of Peter Ranscombe's beer, wine and spirits reviews on his drinks blog, The Grape & The Grain.