WINE TO DINE – JULY 2019 – CRAB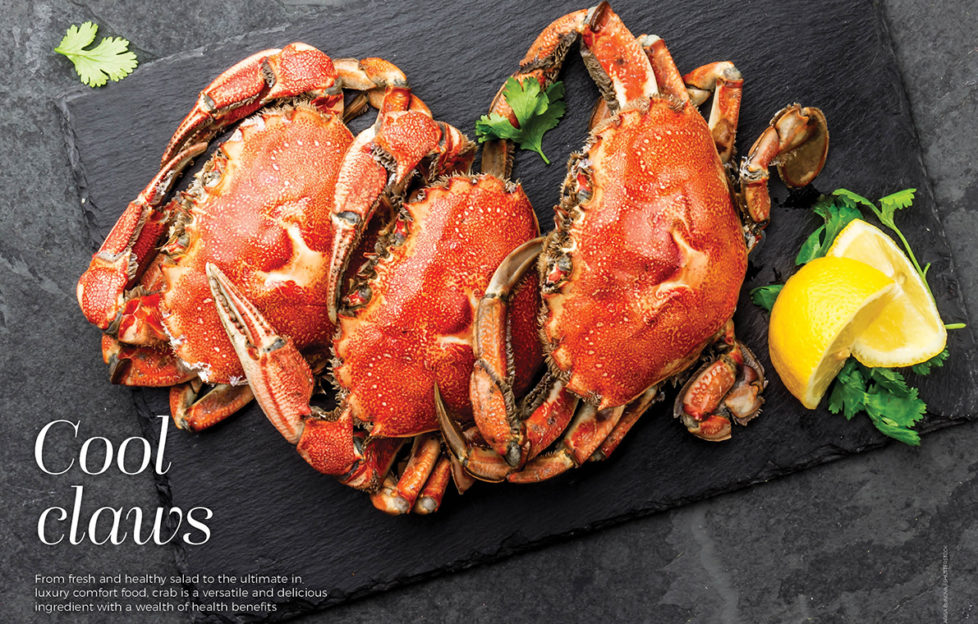 Scottish Field wine columnist and drinks blogger Peter Ranscombe scavenges the shore for five bottles to pair with crab dishes.
NOTHING screams "seaside" like crab, an ingredient that will bring back childhood memories of dressed crustaceans served in their shells or more recent reminiscences about elegant dishes in fine-dining seafood restaurants.
Crab is often selected for its earthier flavours, offering more robust notes than other shellfish.
That opens the door to a wider range of whites for food-and-wine pairings, including those from the Cotes du Rhone, Languedoc-Roussillon and other areas along the south coast of France.
Our guest chefs have put the star ingredient to good use in this month's Scottish Field magazine, but it's also worth flicking back to the April issue for ideas of wines that will pair with a wider range of seafood.
As well as the five listed below, it's worth exploring wines like albarino, chenin blanc and grillo as potential matches for your crab dishes.
Irresistible Marsanne, 2018
Co-op
£8
Traditional white Rhone varieties have an earthiness that works with crab's robust flavour. This example from further along the southern French coast in the Languedoc overdelivers in the flavour-to-price stakes. It's produced by Jean-Claude Mas, renowned for supplying quality in quantity, and is made from Rhone stalwart marsanne. Lots of lemon and green apple aromas, with a twist of lemon sherbet and a crack of white pepper, before launching into fuller lemon and red apple flavours on the palate. There's even a salty tang on the finish, which would work just as well with roast chicken as crab.
Veleros Leyda Sauvignon Blanc, 2018
Sainsbury's
£10
This sauvignon blanc's fresh acidity will cut through macaroni cheese without overpowering the crab. This was one of the stand-out whites for me at Sainsbury's spring press tasting, with pronounced peach, lemon rind, asparagus and green bean aromas on the nose helping it to stand out from a crowded field of sauvignon blancs. It delivered on the palate too, with enough fruity flavours to balance its acidity. It may seem expensive for a Chilean sauvignon blanc, but it comes from the cool Leyda valley, which benefits from its proximity to the Pacific Ocean.
Les Costiéres de Pomerols Beauvignac Picpoul de Pinet, 2018
All About Wine
£10.49
Fresh white wines like the South of France's Picpoul de Pinet love seafood – and the feeling is mutual. What grows together goes together, or so the old adage tells us, and nowhere is that truer than Picpoul, made in the fields surrounding the Thau lagoon, almost as famous for its oysters as our very own Loch Fyne. With its crisp acidity and juicy lemon and green apple flavours, well-made Picpoul is not only a classic match for oysters but for other seafood as well. Beauvignac has the textbook tingling acidity and a twist of lemon sherbet on the finish.
Escarpment Martinborough Pinot Blanc, 2017
Waitrose
£11.49
Pinot blanc is often dismissed as bland, but this New Zealand example proves why it's a fine match for crab. Hailing from the only pinot blanc vineyard on the North Island, its fresh nose boasts peach and red apple, leading into tingling acidity on the palate, balanced by apricot and lemon rind. I'd pair this with Neil Forbes's brown crab with mayonnaise and apple dish from Cafe St Honoré. I'm going to have "We love Larry" t-shirts printed – he may be known as "Mr Pinot Noir" but this white shows his talents extend to pinot's white incarnations too.
Finest Premier Cru Chablis, 2016
Tesco
£15
Splash out on some Chablis, a classic match for crab – and for avocado too, thanks to its crisp acidity. Not cheap at £15 for a supermarket label, but it's becoming harder and harder to find Chablis with that tell-tale minerality and this example from the Union des Viticulteurs de Chablis co-operative delivers in spades, with classic green apple, red apple and lemon rind flavours to accompany its characteristic freshness. Worth trading up to the better vineyards at premier cru level from Tesco's standard Finest Chablis at £12.