Mar de Frades: Doing albarino differently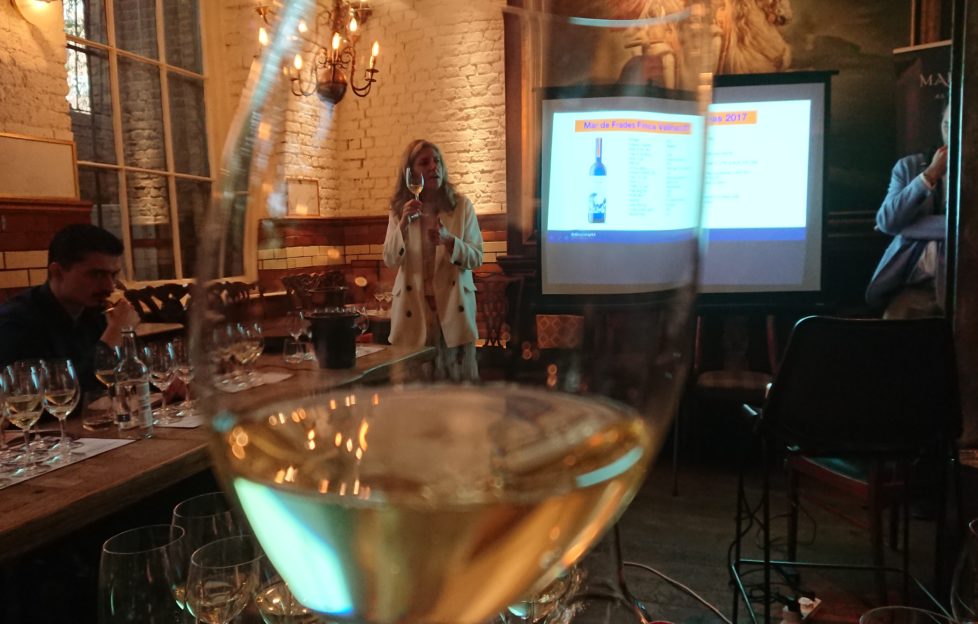 Innovation is the name of the game for Spanish winemaker Paula Fandino at Mar de Frades, as Peter Ranscombe finds out.
FOR a lump of old rock, granite is an incredibly versatile material.
It's been used to make everything from posh kitchen worktops to the carved faces of the American presidents on Mount Rushmore – plus almost all the buildings in Aberdeen's famously grey city centre.
And it's latest incarnation? A giant vat being used to make wine at the Mar de Frades winery in the Rias Baixas region of Galicia in Spain's north-west frontier.
Mar de Frades has a track record when it comes to doing things differently – it was the first to introduce the distinctive blue glass bottle, it was the first to incorporate temperature-sensitive labels into its packaging to tell drinkers when their wine was cool enough, and it was the first to develop a sparkling version of its region's signature albarino grape variety.
It is also an advocate of the "Ganimede" method, in which carbon dioxide – or, in some systems, nitrogen – is pumped into tanks to stop any oxygen from the air coming into contact with the developing wine.
Winemaker Paula Fandino also does things differently; instead of paying her growers based on the sugar content – and therefore ripeness – of their grapes, she also measures the fruit's acidity.
As average temperatures rise, Fandino wants to avoid the over-ripe "apple pie" flavours that are beginning to dominate some of the wines produced in the region, and so instead values freshness alongside ripeness.
Working so closely with the farmers who supply grapes to her is essential in Rias Baixas, which is a highly-fragmented landscape of vineyards woven around the sea lochs or "rias" along the coast.
Mar de Frades owns 60 hectares – making it the largest vineyard owner in the region – and has contracts to purchase grapes grown on a further 90ha.
The company is planting a further 20ha this year, with the fruit produced on those vines ready to go into its entry-level wine in five years and into its higher-quality wines after about 15 years.
It was already expanded from its heartland in the Salnes Valley into areas further north from the Portuguese border.
Waiting for godello
Fandino's innovations include experimenting with godello, a variety grown in other parts of Galicia but not normally found in Rias Baixas.
Last year she released the first godello made entirely from grapes grown in Rias Baixas and she was at Spanish restaurant chain Iberica's outlet in London's Farringdon district today to launch the follow-up vintage.
The first incarnation used fruit from other growers, but the latest version includes some grapes from her own 0.5ha plot.
The new 2017 Mar de Frades Godello (£25, Great Western Wine) was fascinating – whiffs of gunflint, green apple and pear on the nose led into wet-stone licking minerality on the palate, with more savoury lemon rind flavours and a healthy crack of white-pepper spice.
It was the rounded texture that had me hooked; Fandino is a fan of stirring the lees – the dead yeast cells left over from the fermentation that turns grape sugars into alcohol – to give her white wines body.
That technique not only helps to build up the mouthfeel of the wine but also prevents the liquid from becoming "reduced" through a lack of contact with oxygen.
A look back at the maiden vintage, the 2016 Mar de Frades Godello (£22.60, Exel Wines), revealed that same delicious texture, but with notes of flowers and sweeter lemon sherbet on the nose and more of the savoury lemon rind and dried apricot flavours on the tongue to balance the fresh acidity.
Stirrin' it
Despite all her experiments with godello and fizzy albarino, Fandino clearly hasn't been slacking when it comes to her day job either.
Her standard 2018 Mar de Frades Albarino (£15.25, Exel Wines) sang with fresh acidity, encased in fruity apricot, red apple, lemon and lemon rind flavours.
Even more impressive was her single vineyard 2015 Mar de Frades Finca Valinas (£23, Exel Wines), which exemplifies her messianic-like lees stirring mantra.
It's still full of albarino's characteristic high acidity, but the wine feels aged, savoury, textured in the mouth.
"I'm not afraid of this acidity when I work the lees," shrugs Fandino.
Long may her lees stirring – and her experimentation – continue, especially if it ever extends into innovations with other noble white grape varieties, like riesling or even gruner veltliner.
Read more of Peter Ranscombe's blog entries about whisky, wine and other drinks on The Grape & The Grain at https://www.scottishfield.co.uk/grapegrain/