Franciacorta: Enjoying fizz throughout the meal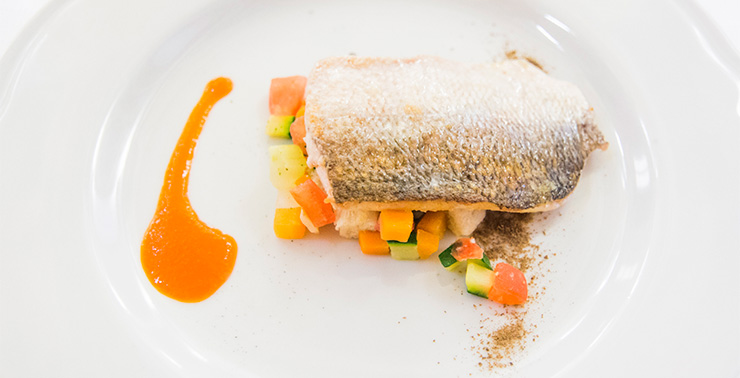 Franciacorta makes sparkling wines that can be served with a range of foods, as Peter Ranscombe reports.
BEFORE I visited Franciacorta back in 2017, I always wondered whether sparkling wines from the region would be a one-trick pony.
After all, the area sits at the foot of Lake Iseo and so I assumed the only food pairings for its fizz would be the pike and other lake fish landed on its shore.
How wrong I was – I'd underestimated the Italians' dedication to food.
While fish is indeed one of the primary matches for the region's sparkling wines, as you move away from the lake, the door opens to an exciting range of inland pairings with cheeses, pasta, and even meat.
I was reminded of Franciacorta's food-pairing prowess during an online tasting last night with Silvano Brescianini, president of the producers' consortium and general manager of his family's Barone Pizzini winery.
Serving sparkling wine with meals has been a long-running theme on this blog, even from its very earliest days, and so his food and wine matching suggestions were music to my very hungry ears.
Although Franciacorta has a long history of producing wine, its sparkling incarnation is a relative newcomer to the scene, and so is a bit of a hidden secret.
The area gained recognition under Italy's denominazione di origine controllata (DOC) system in 1967, with the producers' consortium launched as recently as 1990 to promote the area's bottles.
While Italy is best known for Prosecco, which is made under pressure in tanks, Franciacorta is a traditional-method sparkling wine, which means it's made inside bottles, like Champagne or cava.
Being so much further south than Champagne, Franciacorta's grapes tend to be riper and so – in general – less sugar is added to balance the sparkling wines' natural acidity.
What does Franciacorta taste like?
THE STYLE: Saten – made using only chardonnay and pinot blanc white grapes, saten wines have less pressure in their bottles, which gives them a softer and rounder texture.
THE WINE: Ferghettina Franciacorta Saten 2017 (2016: £29.95, Wine Raks) – a really complex nose full of peach, lemon, and foral notes, with a touch of biscuit already developing. Its high acidity is balanced initially by fresher green apple and lemon on the palate, before more layers of peach and apricot come to the fore, followed by more savoury lemon rind and nut notes. The creaminess comes into its own on the finish. Look out for diddy half bottles of the non-vintage version of Ferghettina's saten from Woodwinters too.
THE ITALIAN PAIRINGS: Risotto with asparagus and radicchio; roast chicken with crisp vegetables; spiny lobster; coregone (white fish).
THE SCOTTISH PAIRINGS: This would be my choice for a meaty white fish, especially if it's being roasted or baked and served with a simple sauce.
THE STYLE: Rosé – at least 25% of the blend must be pinot nero, with non-vintage wines ageing for at least 24 months before release and vintage wines clocking up at least 30 months in cellars.
THE WINE: Contadi Castaldi Rosé (£26.80, Alvini) – made from a blend of 65% chardonnay and 35% pinot noir, this pale rosé delivers raspberry, strawberry, and some deeper blackcurrant aromas, with touches of brown bread and peach. On the palate, there's a delicious concentration to the fruit flavours, which range from raspberry into richer red plum and even red cherry. The textbook high acidity is present and correct, yet balanced by the fruit, and there's an intriguing savoury roast meat note developing on the finish too.
THE ITALIAN PAIRINGS: Rice with crayfish; farfalle pasta with pesto; salamina mista sausage; salmerino (arctic char).
THE SCOTTISH PAIRINGS: Rosé with charcuterie is a match made in gastronomic heaven, with the sparkling wine's acidity slicing through the fatty meat. Pork or venison from East Coast Cured, Highland Charcuterie, or another of our talented curers and smokers in Scotland would be a great starting place.
THE STYLE: Zero dosage – no sugar is added before the final cork is put into the bottle.
THE WINE: Ricci Curbastro Gualberto Franciacorta Dosaggio Zero 2011 (around £34.46, Drinks & Co – although shipping appears to be an extra £21.74) – a seriously-impressive sparkler, not just in a Franciacorta context but for any fizz region. The nose is really expressive, with the aromas of biscuit, brown bread, brown sugar, peach, and red apple leaping across the kitchen as soon as the cork went "pop". Its acidity has settled really nicely in the decade since the grapes were harvested, with Brescianini hailing 2011 as "the best vintage ever". More brown sugar and red apple on the palate, but also a delicious savoury tang of lemon rind and salted nuts.
THE ITALIAN PAIRINGS: Perch; pike salad with fresh fennel; pork cheek with green sauce; beef in olive oil.
THE SCOTTISH PAIRINGS: Shellfish would be a great way to go, whether it's scallops or langoustine, or some oily smoked salmon to act as a foil to the wine's acidity.
For further Franciacorta food pairings, visit the consortium's website, which also features recipes.
And, for more of Peter's wine, beer, and spirits reviews, check out his drinks blog, The Grape & The Grain