Cask Trade gears up for its first whisky auction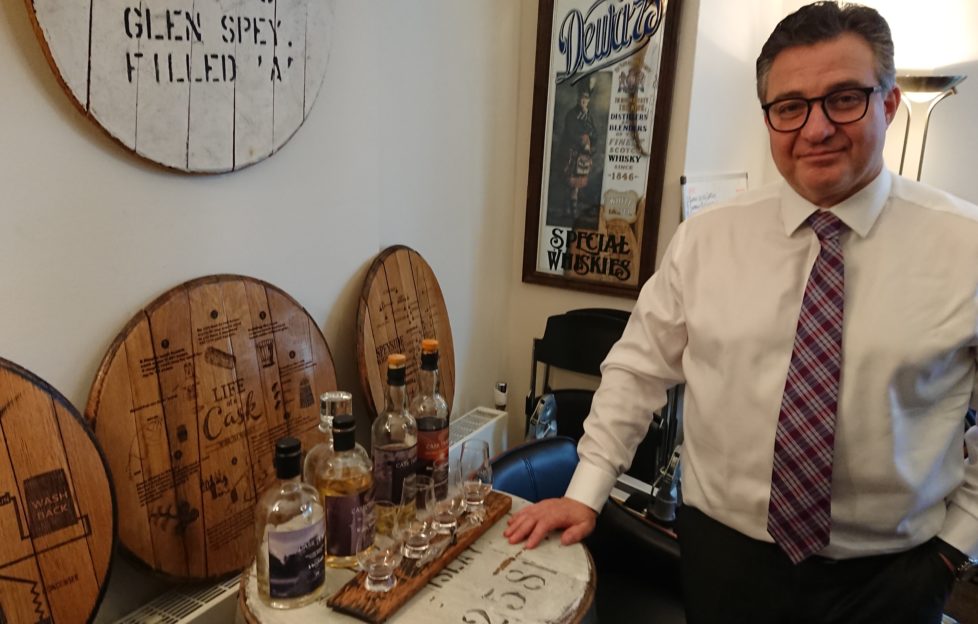 Peter Ranscombe meets Simon Aron, who has created a platform to put barrels of Scotch under the hammer.
BARELY a week goes passed when a whisky auction doesn't hit the headlines, with investors bidding for record-breaking Scotch in London, New York and Hong Kong.
Yet the vast majority of those spirits swap hands in bottles, whether they're rare editions from the 1960s or over-sized novelties that will never be opened.
Simon Aron has a different idea; the serial technology and property investor has set up Cask Trade, a company that – as its name suggests – is focused on barrels.
"Half our customers are investors and the other half are private bottlers," explained Aron as we sat in his office above a wet Regent Street in London.
"We have the same price for both – we don't differentiate between the two.
"Some of those investors are looking to buy for the long term, and so are some of the bottlers – not all bottlers buy casks that need to be bottled immediately, some will buy for coming years."
Bottlers from as far afield as Germany, Ukraine, Hungary, Czech Republic, the Netherlands, and Italy have already been in touch with Aron and his team ahead of the company's first auction, which takes place on 20 November, when up to about 25 casks will go under the hammer.
"Everybody's doing single malt whisky, and everyone has the taste for cask strength," he added.
"We've already sold some casks to bottlers, and we even had to buy back some bottles of one of them to show people just how amazing it was – that was a 2009 Bunnahabhain in a sherry cask."
As we tasted the 2009 Bunnahabhain Sherry Butt it was easy to see why Aron had wanted samples to show to potential investors or bottlers – on the nose, it was full of pronounced Christmas cake aromas, alongside vanilla and sweet sherry, with wood smoke, redcurrant and even a roast meat note.
It was much fruiter on the palate, with more of the Christmas cake and a big kick of brown sugar too.
"We sample everything that we buy, which is pretty disruptive, because normally people will buy 'blind'," explained Aron.
"We don't charge a sellers' fee, but we do carry out due diligence on each seller and they have to prove ownership and 're-gauge', to check how much whisky is inside the cask."
He contrasted his model with that of his rivals, which might sell the liquid inside the casks – a form of buying whisky futures – or wooden casks filled with newly-made spirit.
"We're not a bottler," he emphasised. "That allows us to work with both investors and bottlers, because we're not rivals.
"It means we can help customers to buy and sell casks – the investors are happy and the bottlers are happy."
Aron launched his company at the start of February, with its website built by Guy & Co in Edinburgh and its auction platform created by MTC Media in Dundee.
Following on from the Bunnahabhain butt, Aron unveiled a sample from a 10-year-old Fettercairn Bourbon Barrel, which had a subtler nose, with lighter vanilla, spun sugar and orange peel.
On the palate, the vanilla and spun sugar were joined by marzipan, almond and marshmallow.
Another interesting bourbon barrel-based whisky was the 10-year-old Glen Moray, with lemon, apricot and salted almond on the nose and then sweeter spun sugar, caramel and toffee joining the citrus notes on the palate.
With a drop of water, the Glen Moray opened up even further and helped to ease the heat from the 59.2% alcohol.
To finish, Aron poured a sample of a 26-year-old Aberlour Bourbon Barrel that sang with a mix of lemon, grapefruit, spicy cloves, coconut, sultana and spun sugar.
For such an old whisky, it was really light on its feet, with the addition of a drop of water bringing out red and green apples to join the caramel, spun sugar and marshmallow on the palate.
If the barrels going under the hammer match the quality of those samples then it will be fascinating to see the results of Cask Trade's first auction.