Calmel & Joseph: Finding the perfect blend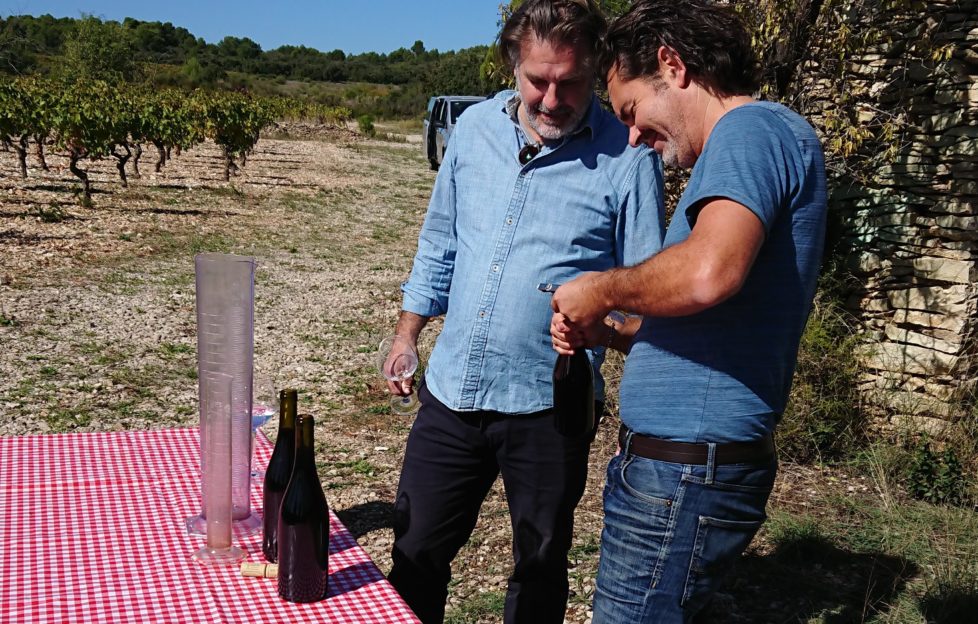 Peter Ranscombe returns to the Languedoc region in the south of France to learn how one négociant is taking the art of blending to the next level.
AFTER spreading the gingham cloth over the trestle table, winemaker Laurent Calmel quickly began setting up his array of bottles and measuring cylinders.
As the warm autumn sun beat down on the vineyard, his business partner, Jerome Joseph, cracked jokes with the assembled wine merchants and journalists, who stood around scratching their heads and wondering what was coming next.
The answer was an insight into the art of blending, a technique at which Laurent and Jerome have become masters.
The pair founded Calmel & Joseph in 1995 as a "micro-négociant", a type of company that traditionally would blend and bottle wines from other producers.
Having worked together at a winery in the Languedoc region, the two friends decided to go into business together so they could show the world the wide variety of wines that could be produced in their corner of the south of France.
They're now producing more than 50 wines, from familiar villages such as Corbieres and Minervois through to more exotic single-variety bottles using local specialisms like piquepoul noir and terret blanc.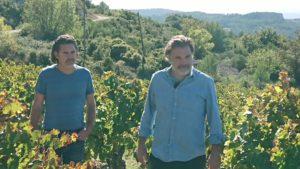 Yet the pair – who bear more than a passing resemblance to each other, with Jerome looking like a slightly shaggier version of Laurent with his wavier hair and fuller beard – aren't content to simply bottle other people's wines for sale.
Instead, they get involved in the growing of their grapes and the making of their wines, before taking control of the blending and bottling.
Each wine in the range requires a different type of blending to get the result Laurent and Jerome seek – to express the "terroir" of the vineyards.
Terroir isn't simply the soil in which the vines grow; it's also the tilt of the land towards the sun, the altitude of the field above sea level, the amount of wind and rain and sun the site receives.
In essence, it's about capturing a sense of place, highlighting the location's characteristics in the finished wine.
Standing behind the gingham alter, Laurent used Minervois as his example.
Like many red wines from the Languedoc, Minervois is made using a blend of syrah, grenache and carignan, with the syrah bringing structure and longer-lasting black fruit flavours, the grenache offering youthful red fruit flavours, and the carignan contributing fresh acidity.
Laurent invited his guests to try their hand at blending, with mixed results – bringing together even just three varieties isn't as simply as it may seem.
As well as blending varieties to make wines in their "Les Terroirs" range – which also includes Corbieres, Faugeres, Saint-Chinian and Cotes du Roussillon Villages alongside the Minervois – Laurent uses the same technique for their "Les Crus" label featuring Caramany, Montypeyroux, Terrasses du Larzac and Saint-Chinian Blanc, and for their "Les Cuvees Rare" selection of some of the best sites in the region: Les Arques, Les Elmes, La Planette, Le Roc, and La Ruffe.
To make the "Villa Blanche" selection, Laurent mixes grapes from various locations throughout the region.
This range of single variety wines is blended to give consistency year after year, stretching from chardonnay, picpoul de pinet, sauvignon blanc and viognier among the whites through to a grenache rosé and on to malbec, local variety marselan, pinot noir and syrah among the reds.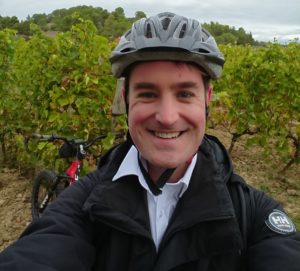 Laurent's final level of blending comes for La Madone, a blend of the best barrel of syrah and grenache grown in the 20 hectares of wines surrounding Calmel & Joseph's own domaine near the village of Montirat, to the west of the ancient walled city of Carcassonne, which we visited on electric dirt bikes.
Laurent and Jerome's dedicate to promoting the terroir of the Languedoc is a story I've heard repeated with Jean-Claude Mas, the Foncalieu co-operative and individual producers like Katie Jones.
Calmel & Joseph's commitment to growing both their own grapes and those from their suppliers organically is admirable – and the wines themselves are very impressive.
Six of the best from Calmel & Joseph
Les Elmes (£17.95, Love Wine)
My favourite tipple from Calmel & Joseph's range is part of its "Cuvee Rare" range and hails from Collioure on the Spanish border. It brings together grenache with mourvedre and syrah and has that moreish quality that reminds me of Edinburgh-based master of wine Giles Cooke's Thistledown wines from Australia, with a rich and rounded mouthfeel and enough tannin to tackle food. Red fruit on the nose gives way to darker notes on the palate.
La Planette
A close second for me was La Planette, a blend of 40% syrah, 40% grenache and 20% mourvèdre from La Livinière in Minervois. There's that traditionally wet dog smell mixed in with notes of freshly baked bread and wood smoke, but it's the blackcurrant and blackberry that leads from the nose into the rich and concentrated palate. Roast meat, vanilla and spun sugar round off the party.
Terrassess du Larzac (£17.12, Vinatis) (2016: £13.99, Waitrose Cellar)
Hailed by Jerome Joseph as "the most interesting appellation in the Languedoc", it's easy to see why with its aromas of blackcurrant refreshers, violets and spun sugar, more than hinting at its ripe and lush style. Its tannins are well-integrated and nicely balanced by blackberry and blackcurrant jam intensity.
Villa Blanche Grenache Rosé (£8.95, Love Wine)
The Languedoc's neighbours along the coast in Provence may have cornered the market when it comes to pale rosés, but this blend of grenache noir and grenache gris shows that the Land of 'Oc has some tricks up its sleeve too. There's all the acidity for which you could wish on a warm summer's day or to cut through some autumnal charcuterie and cheese, along with redcurrant and cranberry flavours.
Languedoc Blanc
Blending together the classic southern French combination of grenache blanc, roussanne, marsanne and viognier produces a white wine with savoury apricot and lemon rind aromas and a much more expressive palate centred around red apple. What's more, it's got a gorgeous texture that's crying out for roast chicken or meaty fish.
Blanquette de Limoux Brut (£14.99, Talking Wines)
Blanquette de Limoux lays claim to be the world's oldest sparkling wine, with a reference in 1531 pre-dating Champagne. Calmel & Joseph's example is packed full of bright lemon sherbet and green apple notes, alongside more savoury lemon rind. On the palate, it's those sweet apple sauce notes that balance its fresh acidity.