Beronia: where wine is made to go with food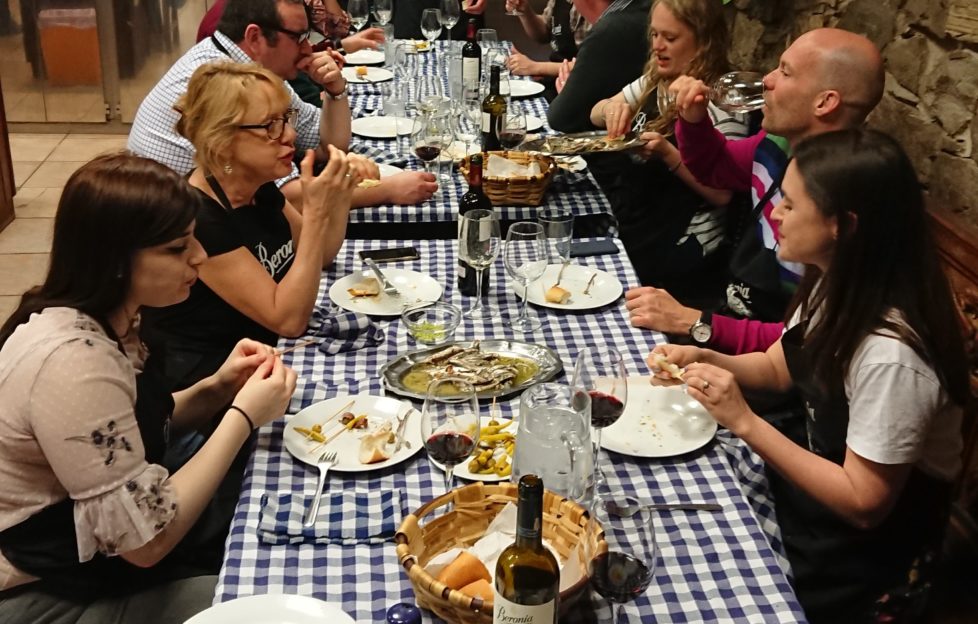 Scottish Field wine columnist Peter Ranscombe visits Rioja's Beronia winery to taste wines created for a local gastronomic society or 'txoko'.
SWAYING to the music on a makeshift lino-clad dance floor in a San Sabastian piano bar at 2am, it's impossible not to be immersed in the camaraderie of the Basque country.
One friend plays the piano, churning out tune after tune without a single scrap of sheet music in front of him, while another keeps the beat on a bongo drum, and others pass the microphone around, crooning cheesy pop hits from the 50s, 60s and 70s.
On the opposite wall, a white-haired pensioner sits on his favourite bench with his favourite beer in front of him, occasionally rising from his regular spot to jive with unsuspecting British journalists, his decades of confidence on the dance floor sweeping them off their feet.
That camaraderie – and love of music and song – is at the heart of the city's "txoko", the private gastronomic societies that can be found throughout the Basque country and further afield in Northern Spain.
More than 100 txokos operate in San Sabastian alone, with men coming together to cook, to eat and to burst into song.
Women are permitted to join their men in some of the cooking societies, but usually still aren't allowed in the kitchen.
Eli Susperregui, a culinary guide from the city's Mimo cookery school, grins as she explains that her fellow Basque women are strong characters, and so men set up their dining clubs to get out from under their wives' feet.
Songs of home
The Txokos' origin is tied in with the movement of countryside workers into the cities; with no cider bars in which to meet and drink and swap stories, the rural immigrants set up urban gastronomic societies instead.
And it was the city's txokos that gave birth to one of Spain's most familiar wine brands – Beronia.
Families from San Sabastian would travel south from the coast to La Rioja in the hills for their holidays and gathered to eat and drink and sing.
One group of friends bought a "merendero" – the local equivalent of a tkoxo – in the village of Ollauri where they could cook together and share wine.
Eventually, they decided to make their own wine to accompany their foods, focusing initially on the reserva and gran reserva styles of Rioja, Spain's flagship red wine.
The maiden vintage from their Beronia winery was made in 1973 and the wines began being distributed by sherry producer González Byass in 1982.
Over time, the shareholders began selling their stakes in the company to González Byass, which now owns 92% of Beronia.
Blending tradition with ambition
With that change of ownership came innovation, with younger crianza and sub-crianza styles introduced into the range in 1998 and now accounting for 70% of production, as well as white Rioja and an expansion into the Rueda region to produce other white wines.
Yet Beronia still has a very traditional Riojan style – the heavy influence of new oak barrels on its reds brings vanilla flavours that continue to delight drinkers in the UK, the United States and other markets with a sweet tooth.
Perhaps the most innovative part of González Byass' stewardship of the winery has been winemaker Matías Calleja Ugarte's use of wood.
In the past, cellar masters had to make the choice between using American oak barrels – which brought vanilla and coconut flavours to the wine – or French oak casks, which added more subtle spicy notes, before blending the two resulting wines.
Ugarte combined the two, using American oak staves along the lengths of his barrels with French oak for the top and bottom panels.
Tasting barrels samples with him in the cellar at Beronia, it was clear to see the differences between the standalone American and French casks, and then the balance brought about through the use of the hybrid barrels.
That balance was also on show in Ugarte's finished wines – over lunch at Beronia and during Susperregui's cookery lesson in a tkoxo and tour around San Sabastian's "pintxos" or tapas bars, it was obvious these wines are still made to match the local cuisine, whether it's being cooked by friends in a secret basement culinary society or out on the city's narrow streets as snacks on the way home from work.
Tasting notes
Beronia Rioja Crianza 2016 (£12, Exel Wines)
Beronia's workhorse red wine is a prime example of Ugarte's mixed barrels in action, with vanilla and spicy notes mingling with the raspberry, blackcurrant and cassis flavours that come from blending 8% garnacha and 1% mazuelo into the dominant tempranillo. Rioja's altitude keeps the acidity fresh.
Beronia Rioja Reserva 2014 (£14.49, Majestic Wine)
Rioja's Crianza wines must spend two years ageing before being released, including at least 12 months in barrels. Stepping up to the reserva level, the wine is aged for at least three years, again with a minimum of 12 months in wood. A combination of the longer ageing and Beronia's use of grapes from older vineyards produces what for me is a more balanced wine, with savoury blackcurrant and woodsmoke aromas and softer tannins.
Beronia Rioja Gran Reserva 2010 (£23.40, Exel Wines)
Five years ageing, including at least two years in barrels, earns a Rioja the right to be labelled as "gran reserva". Only French oak barrels are used in Beronia's version, so the woody flavours are more subtle, and its longer ageing allows for full integration. It's silky on the tongue, the milk and dark chocolate flavours from the oak are beginning to shine, yet the blackcurrant flavours are still ripe, making this my favourite from Beronia's red trio.
Beronia Rioja Rosé (£9.95 for the 2017, Ocado)
While 80% of Rioja's output is red, its white and rosé wines are growing in popularity. Beronia has shifted from producing a traditional 100% tempranillo "rosado" style to a much paler Provenance-like rosé blend of 65% garnacha and 35% tempranillo. The result is drier, fresher and has intense strawberry and raspberry flavours.
Beronia Rioja Viura 2018 (£8.95 for the 2017, Exel Wines)
The 2018 vintage of Beronia's white Rioja is on its way to the UK and it's a cracker, full of green apple and pear aromas, with redder apples coming through on the palate. This modern style is lightyears away from the old oxidised and dull Rioja blanco of days past.
Beronia Rueda Verdejo 2018 (£8.99 for the 2017, Waitrose Cellar)
Beronia has also spread its white wine wings into the Rueda region, where it makes an equally refreshing verdejo. For me, it had more roundness than the virua, with a touch of cream joining the pear on the nose before leading into lemon, lemon curd and red apple on the palate.
Going off-piste
Alright, alright, I know I was in Spain to study Rioja, but I'm a vinous magpie and if someone puts a glass of something left-field in front of me then I'm going to try it.
Three other wines from Gonzalez Byass' portfolio also grabbed my attention during the visit and are well worth exploring…
Vilarnau Brut Nature Reserva 2015 (£14.35 for the 2014, Cellar Door Wines)
Stunning sparkling wine, with gorgeous red apple, pear and cinnamon aromas on the nose. Fresher lemon, green apple and red apple flavours on the palate balance its crisp acidity. I was so impressed with this fizz and can't wait to see if any Scottish stockists will be taking the 2015 when it lands in the UK.
Txomin Etxaniz Txakoli 2016 (£15, Villeneuve Wines)
A walking tour around San Sabastian's pintxos bars with Eli Susperregui from the city's Mimo cookery school included Northern Spain's lightly sparkling white wine, served in tall fluted bottles. Think Portugal's Vinho Verde, but with the dial turned up to eleven. Its crisp acidity and fresh lemon and green apple flavours make it an ideal accompaniment for seafood or even garlic mushrooms.
Secastilla Old Vine Garnacha 2013 (£27.95, Oxford Wine Company)
I love old vine grenache – especially those made in Australia by Edinburgh-based master of wine Giles Cooke at Thistledown Wines – and this Spanish version from the foothills of the Pyrenees mountains blew me away when served with steak. Aromas of red cherry and red plum hold their own against woodsmoke and vanilla, with the firm tannins balanced by more of the red fruit flavours and sweet vanilla oak.