A rosé isn't just for summer, it's for life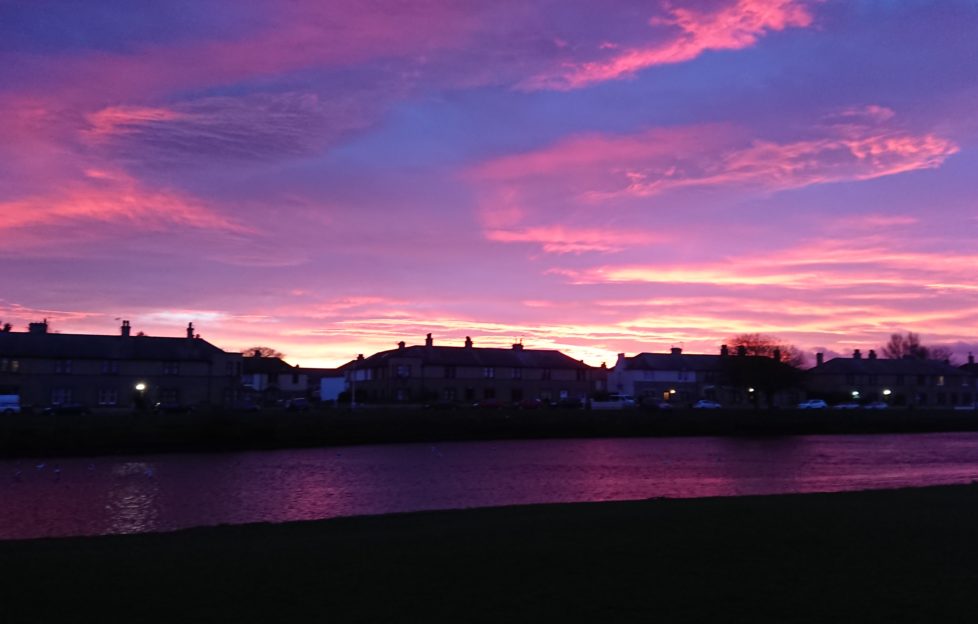 Storm Ciara may have receded, and Storm Dennis may be looming, but don't let the wintry weather put you off pouring a food-friendly rosé, writes Peter Ranscombe.
PICTURE the scene: it's a cold winter's day, the snow is gently falling outside, and the log fire is roaring in the hearth.
Ideal time for a rosé, right?
Nope, I've not been at the cooking sherry again; I'm here to convince you that pink wines aren't simply for warm summer's days.
While deep and rich reds or savoury and textured whites may be many wine drinkers' preferred options during the colder months, rosés still have a role to play – especially around the dinner table.
There are many ways to make rosé – ranging from leaving black grape juice in contact with its skins for just a few hours, all the way through to simply blending red and white wines in extreme cases – but in essence what happens is a bit of the tannin found in red wine is transferred into what's essentially a white wine, adding to its food-matching credentials.
That means you can often find the best of both worlds – a white wine's fruitiness and freshness, with a red wine's structure and body.
Rosés come in all sorts of shapes and sizes, from the palest Provençal pink through to the sweetest lurid Californian confection.
And that's before we even mention the rosé rainbow of colours.
Matching pink wines to food can be a bit of a minefield, but this handy guide will get you started on the basics…
THE DISH: Surf n' turf
THE ROSÉ: Provence
Arguably, the most-famous style of rosé, pink wines from Provence on the south coast of France are among the palest examples and are usually paired with salads during the summer. For a wintry warmer, opt for the 2018 Le Grand Cros L'Espirit de Provence (£17.25, Wadebridge Wines; 2016: £11.17, Berry Bros & Rudd) with a piece of sustainably-sourced cod wrapped in pancetta and luxuriate in the wine's sea salt notes in amongst the bright and attractive lemon, strawberry and raspberry aromas and flavours, all entwined with clean and classic bright acidity.
THE DISH: When meat meets fish
THE ROSÉ: Provence look-alikes
Provence rosé can sometimes be a little dear, but there are plenty of cheaper options as you venture along France's south coast into the giant Languedoc-Roussillon region, including this La Belle Angèle Rosé (£7.49, Majestic Wine), which is labelled as a "Vin de France" or table wine. I loved its bright raspberry and lemon aromas – giving it arguably the nicest nose in my little selection – and those fruit flavours were concentrated enough to balance its acidity.
THE DISH: Nibbles like dry-roasted peanuts
THE ROSÉ: Classy Italian
Looking for elegance? Then Provence isn't the only game in town. Head to the north of Italy and the ever-reliable Cavit co-operative. Its 2018 Cavit Terrazze della Luna Pinot Grigio Rosato (£7.65, All About Wine) is a triumph of attractive floral, lemon, strawberry and raspberry aromas, leading into crisp and delicate fresh acidity in the mouth. What a price for such a well-balanced wine, with Cavit once again proving pinot grigio needn't be bland.
THE DISH: Middle Eastern spices
THE ROSÉ: Lebanese libations
What grows together goes together – if you're opting for Lebanese, Eastern Mediterranean or even Moroccan cuisine then wines like the 2017 Ksara Sunset (£12.50, Wine Direct) will do the trick. Its exotic nose is full of eastern promise, with lemon rind, cranberry and pomegranate, plus crunchy red apple, richer red cherry and tangy fresh acidity joining the textured party on the palate.
THE DISH: Charcuterie
THE ROSÉ: Rockin' Rioja
Don't dismiss Riojan rosé – Spain's flagship wine region may be best known for its dominant reds, but those same grapes can make a mean pink wine too. Here, in the 2018 Ramon Bilbao Rosada (£10, Exel Wines) it's the black-skinned garnacha – also known as grenache – that takes the lead, alongside white-skinned viura. The combo produces a Provence-esque pale pink with a much richer than expected nose, full of red plum, raspberry and lemon. That fruit is much fresher on the palate, accentuated with crisp acidity that'll cut through fatty cured meats.
THE DISH: Curry night
THE ROSÉ: Zinfandel 'blush'
Tread carefully when it comes to zinfandel; in the wrong hands, the black grape can make a rosé that's cloying and confected. No worries here with the 2017 The Big Top White Zinfandel (£7.75, Wines of Interest; 2018: £7.65, Great Grog), which has the "blush" style's classic candy floss and strawberry ice cream aromas but enough acidity to provide balance, with the flavours more akin to strawberry jam on the palate. That off-dry hint of sweetness is ideal to combat the heat of a curry.
Read more of Peter Ranscombe's blog entries about whisky, wine and other drinks on The Grape & The Grain at https://www.scottishfield.co.uk/grapegrain/