The Barony becomes new foodie destination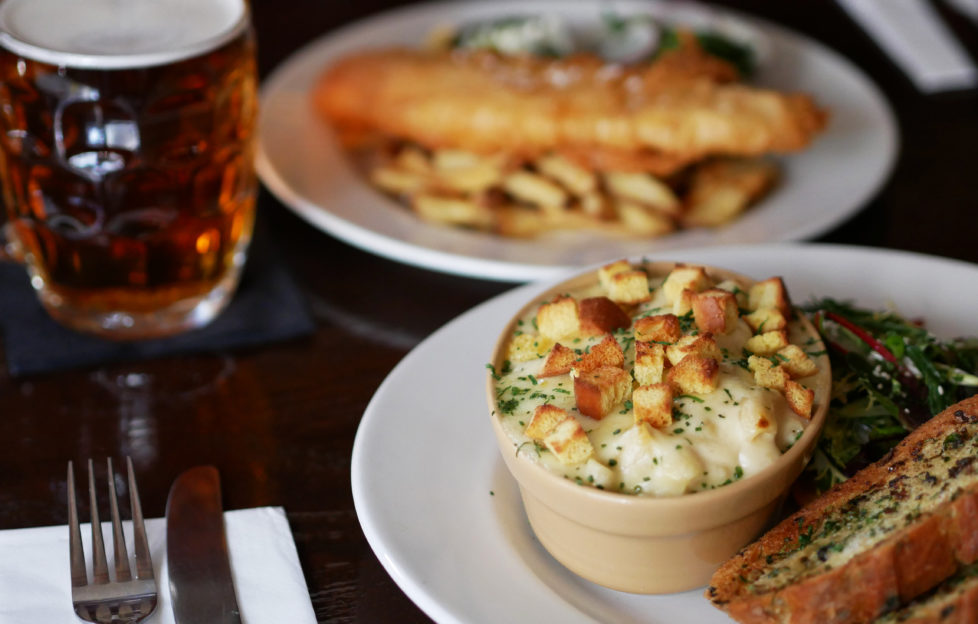 One of Edinburgh's most historic pubs has become the go-to place for foodies looking to try some of the best gastropub cuisine in the capital.
The Barony, located on the lively and bohemian Broughton Street in the heart of the city, is serving up a range of fresh new dishes as part of its gastropub menu, proving that pub grub doesn't just mean old-fashioned comfort food.
More than just a bar, The Barony is destination for foodies looking to tuck into top quality dishes in a relaxed setting. With the menu served throughout the day, customers can enjoy chilled out all-day dining in the atmospheric surroundings of the city centre gastropub – from bar bites to a three-course meal.
Diners can look forward to tucking into contemporary versions of classic pub favourites like truffle mac and cheese with brioche croutons and homemade garlic bread, or beer battered haddock and chips with garden peas and homemade tartare sauce.
The menu also includes fresh, flavoursome, seasonal dishes with a modern twist, such as warm couscous salad with hot smoked salmon, grilled veg, coriander and harissa yogurt.
The Barony focuses on using seasonal, local produce from Scottish suppliers to create exciting gastropub dishes. Produce is delivered daily from local suppliers such as David Lowry, Central Produce and Cromby's, before being transformed into mouthwatering plates by head chefs Mehnan McNab and Robert Johnstone.
Having previously worked at top Edinburgh restaurants including Bon Vivant and El Cartel, the kitchen team are bringing fresh, modern flavours to this historic pub and have created the spring menu completely in-house.
In addition to the delicious seasonal food on offer, The Barony also has an ever-changing wine, beer and spirits list for discerning drinkers. The bar has 13 lines of draught ales, lagers, stouts and ciders, including lots of local options, as well as an array of single malts, craft gins and a carefully curated selection of wines from across the world.
One of Edinburgh's last truly independent bars, The Barony began life as a wine and spirits merchant in 1896, before becoming a licensed pub under William Younger & Co in 1955. The beautiful Victorian venue still retains many of its original features, including the wooden bar, hand-painted 19th century tiles, brewery mirrors and real fireplaces.
Since taking over The Barony in March 2017, owner Rafal Karwacki has brought new life to the Victorian venue, adding a gourmet gastropub menu and contemporary drinks list, whilst still retaining the original character and atmosphere of the traditional pub. Visitors should look out for regular live music sessions on Saturday afternoons and Sunday evenings, as well as drinking and dining seven days a week.
Rafal said: 'As well as our classic dishes which are always available, we regularly add seasonal specials to the menu to make the most of the amazing Scottish produce on our doorstep.
'Our customers particularly love our fresh Scottish seafood dishes, expertly made by our talented and creative team of chefs. I can't wait to welcome both old and new customers to The Barony to show them how delicious our gastropub menu is!'
The Barony Bar & Gastropub is located at 81-85 Broughton Street, Edinburgh, EH1 3RJ.
Regular events at The Barony include pub quiz on Mondays, jazz afternoons on Saturdays and live blues music on Sundays.
For more info, visit www.thebarony.co.uk.