The main event is worth the wait at Otro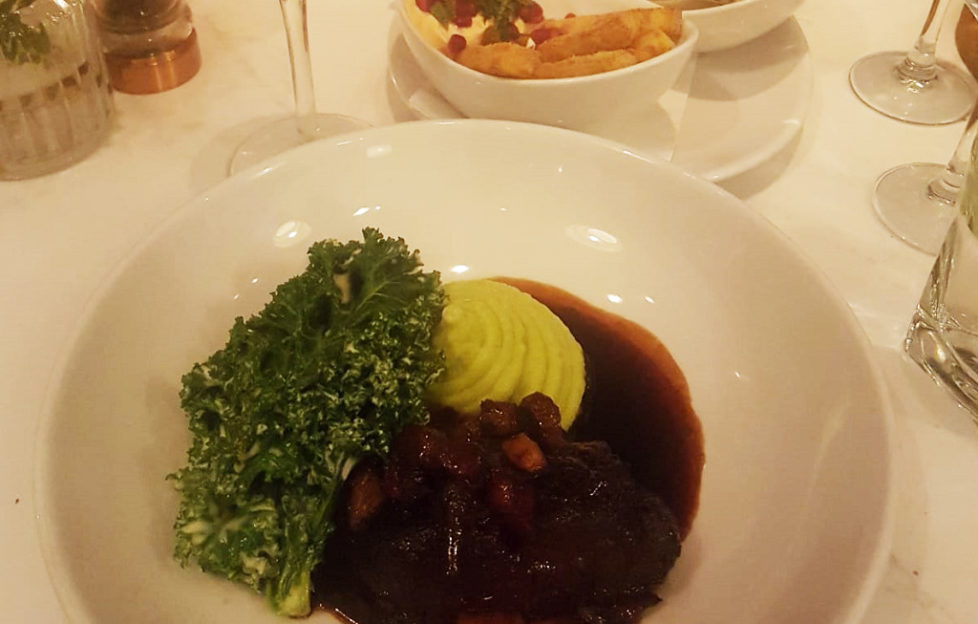 On a drizzly November evening my partner and I made our way to Edinburgh's West End, in the hope that a warm, comforting meal awaited us at our destination.
Thankfully away from the throngs of people flocking to the Christmas market and the surrounding festivities and not too far from Haymarket, we arrived at Otro – hungry and ready for a feast.
The restaurant has undergone a revamp and the deep navy walls adorned with old fashioned posters make for a welcoming and homely setting. Not against Christmas music in November, I was also happy to hear Bing Crosby's dulcet tones softly crooning away as we sat down.
As we perused through the menu we were offered a refreshing glass of prosecco and took a moment to cheers one another for making it to Tuesday. Our waitress was very smiley and friendly, offering us sourdough bread accompanied with butter and a delicious homemade olive oil and herb dip, along with juicy Gordal olives, to nibble our way through as we chose our courses.
For starters I chose the crispy camembert, beetroot salad with a honey and cumin dressing. The cheese was enjoyable enough but I wasn't completely convinced by the chunks of beetroot which tasted a little bland and lacked any sharpness which would have balanced the camembert nicely. The wafer thin slices of beetroot did offer more flavour, I just wished there was more of it.
My partner chose the pan-seared king scallops with coconut curry sauce, papaya and wild rice salad. The scallops were perfectly cooked, a challenge many fail to conquer. Sadly the pairing with a thai style curry sauce featuring a heavy use of ginger, just didn't seem to work.
We Scots love our seafood and we love our Thai curries so I can understand the temptation to try to combine the two but for my dining partner and I, it was perhaps a step too far.
My dining partner was obviously feeling fishy as his chosen main was the North Sea cod with parsley mash, sea vegetables and smoked mussel velouté. The fish tasted fresh and succulent while the parsley mash was delicious. Every element worked together to create a wonderful dish that my partner completely devoured.
My own main was the slow cooked beef cheeks with parsley mash, curly kale and bourguignon sauce. The beef melted in the mouth and the sauce added an extra layer of richness.
The creamy parsley mash was perfectly seasoned as was the curly kale. The miserable weather outside had prompted us to order additional sides to share with our mains. We opted for the creamy wild mushrooms and halloumi fries served with harissa yoghurt and pomegranate. The fries were the optimum size, not too skinny and not massive Jenga blocks while the yoghurt dip provided a lovely fresh alternative for dipping. The mushrooms were tender and covered in a creamy garlic sauce and worked well with the beef cheeks for a turbo charge of rich indulgence.
In the case of both my dining partner and I, there was a modest space left on our pudding shelves so we decided to share the chocolate and hazelnut brownie, praline cream and salted almond ice cream along with the apple and blackberry crumble served with clotted ice cream. Always the first to opt for a chocolatey pudding rather than fruity, we were both taken aback by how delicious the cosy crumble was and how much we enjoyed every single spoonful. The brownie wasn't quite share size, which was probably a blessing for us both.
Nevertheless the dish was a winning combo and the shards of caramel embedded with nuts were amazing, especially when dipped in the praline cream.
While our starters were slightly shaky, our fantastic mains and desserts more than made up for it and I would be very keen to return to taste what else Otro has to offer.
There's space downstairs for private dining if you have a special celebration or a big get together with friends. For Hogmanay, Otro has a special menu priced at £69 per person which includes a glass of champagne on arrival. The amazing beef cheek dish I had (and heartily recommend) is also an option for your main course!
Otro, 22 Coates Crescent, Edinburgh, EH3 7AF.
0131 556 0004