The Christmas dinner that's the perfect present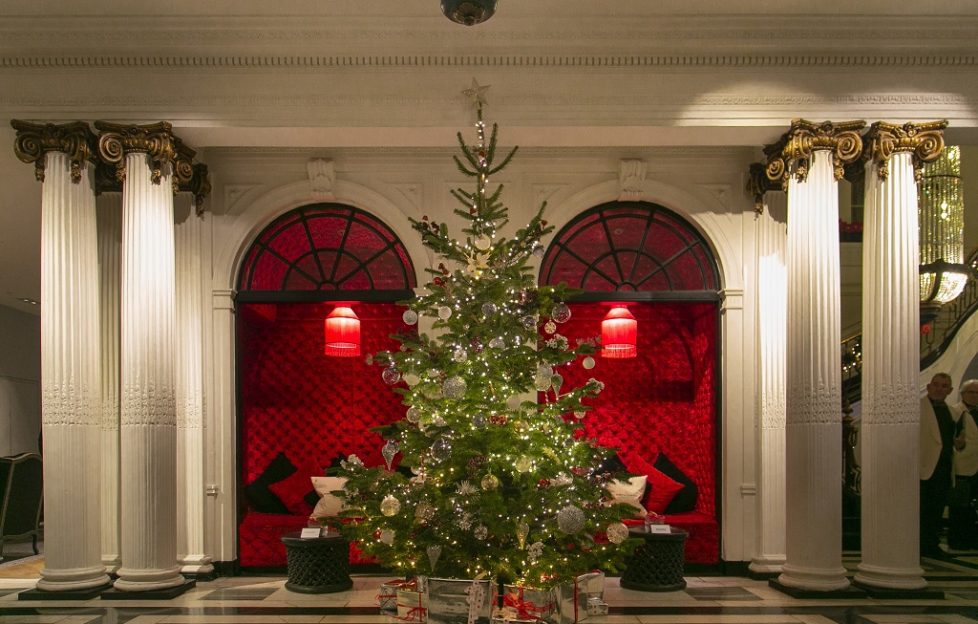 It's the most wonderful time of the year, with restaurants all over the country presenting their special seasonal menus.
The Blythswood Square Hotel in Glasgow is no different, as it prepares to revamp its restaurant in the New Year.
The surroundings are wonderfully decadent and there's a pleasant atmosphere as you enter the building, with attentive staff on duty.
With the staff being so smart and good at their jobs, the Christmas menu has a lot to live up to – and it does.
There are three options for the starter: Chicken liver parfait, apple gel, date purée, rocket and sourdough wafer; cream of celeriac and truffle velouté, Parmesan and rosemary croutons and herb oil; or my choice.
My starter was hot-smoked Scottish salmon. As a lover of smoked salmon, it was obvious from the moment I raised my fork to my mouth that this was a premium fish, as it came apart beautifully when I cut it, and the smoky scent was heavenly.
I tend to think of smoked salmon as something cooling and chilled, and as such, the accompanying cucumber and avocado made perfect sense. However, when married with the horseradish cream, it created a pleasant new, warmer taste, which was different and very appealing.
For the main, there was a choice of seared North Sea hake fillet, braised Puy lentils, kale, mussels, and white wine sauce; or the vegetarian friendly thyme-roasted butternut squash risotto, candied walnuts, flaked goat's cheese, pumpkin seed oil.
I can honestly say the risotto was like nothing I had ever tasted before. The texture of the risotto was beautiful, not too soft, and the taste was exceptional -the cheese was there, but it wasn't to the point of overpowering everything else, making it feel almost like a macaroni cheese.
But the real highlight for me were the candied walnuts, which gave a real crunch to the proceedings, a total contrast to the risotto. The sweet flavour worked well in partnership with the goat's cheese. A real highlight of the meal.
I was also given another main course, the Christmas dinner – proscuitto-wrapped turkey, with sage and onion stuffing, cocktail sausage, dauphinoise potatoes, roast vegetables, smoked bacon and Brussels sprouts.
The turkey wrap was wonderful – proscuitto is always a winner for me, and to have it combined with turkey was just heavenly. It was all wrapped around the central stuffing, and made for a superb mouthful when cut into, a combination of the perfectly cooked bird and a finely balanced stuffing.
And the potatoes were delightful – I took my time with these because they tasted so creamy and delicious, that I didn't want them to end.
The pigs in blankets were lovely – there's nothing worse than a fatty sausage wrapped in a burnt piece of bacon, and these were done to perfection.
There's another option available, steak frites, which comes with an £8 supplement, for a 6oz sirloin steak, fries, house salad, and pepper sauce.
And so to dessert. Options were traditional Christmas pudding, custard, rum 'n' raisin ice cream; dark chocolate mousse, Cointreau syrup, kumquats, marmalade ice cream; or Scottish cheese selection, oatcakes,
grapes, and quince jelly.
Chocolate is always a winner with me. Although the mousse was perhaps a tad darker than I prefer, it was still delicious, presented in an outer dark chocolate shell. The real sensation for me was the marmalade ice cream, which lightened the taste of the chocolate, and, although I'm not a fan of marmalade, this was delicious. Finding a little bit of marmalade in the ice cream was a pleasant surprise.
All in all, this is a a fantastic menu with superb options, offered good value for money, in a great setting in the heart of Glasgow.
For lunch, the cost is £20 for two courses and £25 for three. For evening dinner, it's £25 for two courses or £32 for three.
The Blythswood Square Hotel, 11 Blythswood Square, Glasgow, G2 4AD.
0141 248 8888
https://www.phcompany.com/principal/glasgow-blythswood-square/