Opening a New Chapter with the winter menu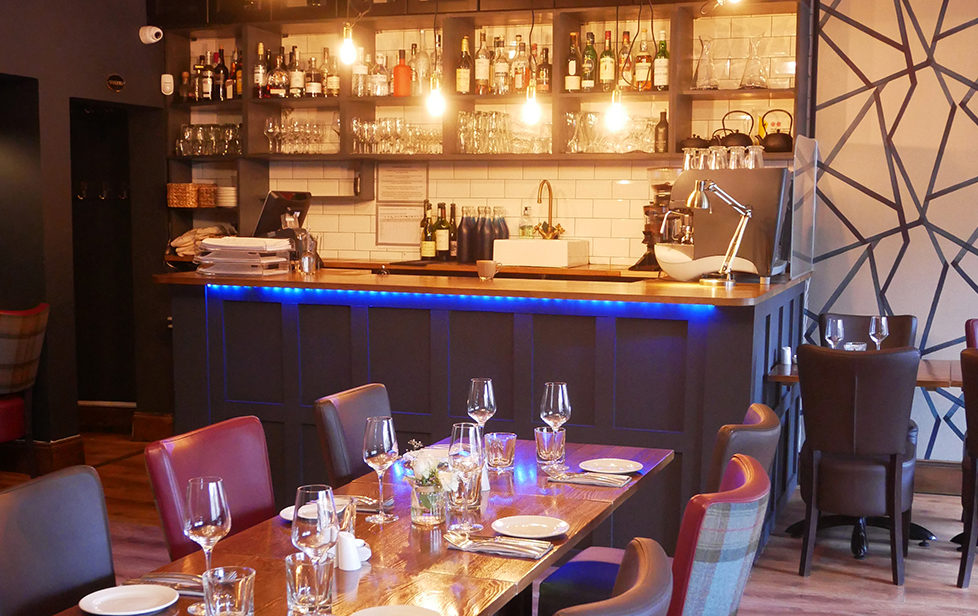 The cosy, candle-lit, dark grey and gold interior of New Chapter on Eyre Place was certainly a welcome port in a storm that felt as if it had lasted for days.
New Chapter opened around three years ago and despite our visit being on a particularly inclement weeknight it was busy with diners in the main restaurant and in the private dining area downstairs. New Chapter has recently launched its new winter menu and this was an evening just made for comfort food.
Our waiter brought warm homemade bread, butter and a herb dip along with advice on choosing a bottle of wine to go with our meal. I'd never tried the Portuguese Lagoalva that he recommended so he kindly offered to give us a small taster before committing to a bottle, which was a lovely touch.
The wild mushroom arancini, truffle custard and pecorino cheese (£8.00) was just the culinary cuddle I needed. Oozingly wonderful with delicate wild mushrooms and a light crispy coating, the truffle custard providing a rich, earthy sauce.
Mr B plumped for the hand-dived scallops, warm pork belly, black pudding terrine, cider and curried apple (£12.95). The scallops were perfectly cooked and stood up well against the rest of the dish despite my concerns that they might be overpowered.
Continuing with our wintery theme Mr B felt the need for some venison and chose the roasted haunch of roe deer, potato and braised shoulder terrine, cavolo nero and confit beetroot (£20.50). The venison was served pink and the terrine was bursting with flavour.
I'd struggle to find fault with my short rib of beef, parmesan puree, bone marrow crumb, pickled walnut, roasted carrot and purple kale (£18.50). With so many big flavours on one plate there was a danger that some may not sing, but this was as harmonious a dish as one could imagine. The hearty ball of beef was delicious and fell apart almost before my fork came in contact with it. The crumb added another layer of meaty flavour and a welcome crunchy texture.
A short break before dessert allowed our lovely waiter (by now my best friend) to bring over a small glass of dessert wine to match our choices of passion fruit posset with tropical fruits and coconut sorbet (£7.00) and chocolate and hazelnut brownie with praline cream and salted caramel ice cream (£7.95).
My tropical concoction provided a burst of refreshing flavours, the creaminess of the posset marrying beautifully with the coconut sorbet. The rich chocolate brownie with cream and ice cream was an unadulterated delight – a rich, sticky and decadent end to the meal.
As it's nearly that time of year I almost felt myself break into a ropey rendition of Baby it's Cold Outside when we had to return once more unto the breach. Almost, but to the delight of Mr B, not quite.
Service throughout the meal was really top notch. Our waiter even noticed that I was short a knife for my main course before I did after I sent it away on my side plate. That impressive attention to detail is something that is clearly as important in the kitchen as it is front of house.
New Chapter is a fabulous little restaurant providing a warm welcome and flawless food – what more could you want?
New Chapter, 18 Eyre Place, Edinburgh, EH3 5EP.
0131 556 0006