First class vegan options at The Ivy on the Square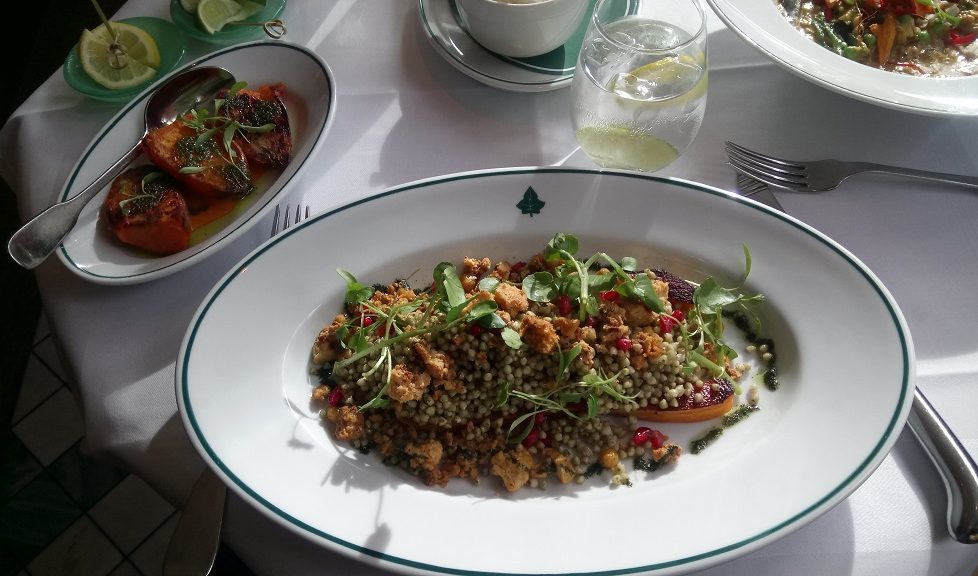 Restaurants all over Scotland are waking up to the fact there's a growing demand for vegan options on their menu. Edinburgh's The Ivy on the Square is no different.
No longer are vegan and vegetarian meals an after-thought, or, indeed, not even a consideration, as the hospitality sector looks to cater for all.
The Ivy on the Square recently announced the launch of their brand new vegetarian and vegan menu, which is now available at the Edinburgh restaurant.
The brasserie has an impressive menu, now augmented by these new dishes.
With my dining companion, we opted for from side dishes of salted smoked almonds, spiced green olives, and she added truffle arancini – fried rice balls with truffle cheese.
The options were many and varied, presented on their own special menu.
My starter, the warm Asian salad, comprised watermelon, pak choi, cashew nuts, broccoli, sesame, coriander and hoisin sauce, and was delicious. The hoisin brought the many flavours together, and I didn't want it to end.
When it came to the main course, I immediately knew what I was having – the roasted butternut squash with grains. I do enjoy my grains, and with buckwheat, chickpeas, pumpkin seeds and pomegranate, I was happy. This was accompanied by a crumbled bean curd, harissa sauce and a coriander dressing.
The butternut squash was roasted to perfection, and cut beautifully, with the assorted grains and dressing making it a party in the mouth with every bite.
I had a side order of baked sweet potato, with harissa coconut 'yoghurt', also with a coriander dressing, which was lip-smackingly good.
My companion opted for the sweet potato Keralan curry – with chickpeas, broccoli, coriander and coconut with rice. The flavour was heavenly, and the flavours were a delightful combination that really didn't make you miss the meat at all. Full of flavour and very filling – what more could you want?
After a brief pause for dessert (with an enjoyable cup of breakfast tea), I opted for a blood orange sorbet. I enjoy a sorbet at the best of times, and if I didn't know better, could have sworn this wasn't a vegan option. The flavour of the orange was strong and vibrant, giving my mouth a totally refreshed feeling after I had finished. First class.
My companion picked a non-vegan option for her dessert, going with the apple tart fine – a wonderfully presented tart with vanilla ice cream, and then given a Calvados flambe finish. Magnificent, in a word. It looked every bit as good as it tasted.
A word on the service – it's second to none. Think of The Ivy in London, and you think of VIPs and celebrities. We were made to feel that way, by all of the staff – they're really first class.
Traditionally, if you thought of a vegan dining option, you would imagine you'd be left feeling hungry afterwards, or within a short space of time. That's far from the case – I felt stuffed for the rest of the day.
The new vegetarian and vegan menu will run alongside The Ivy on the Square's regular a la carte menu, and is available for both lunch and dinner. The vegetarian and vegan menu is available from 11.30am-11.30pm Monday to Friday, 4-11.30pm Saturday, and 4-10.30pm Sunday.
The Ivy on the Square, 6 St Andrew Square, Edinburgh, EH2 2BD.
0131 526 4777