Try this rhubarb souffle with home-made custard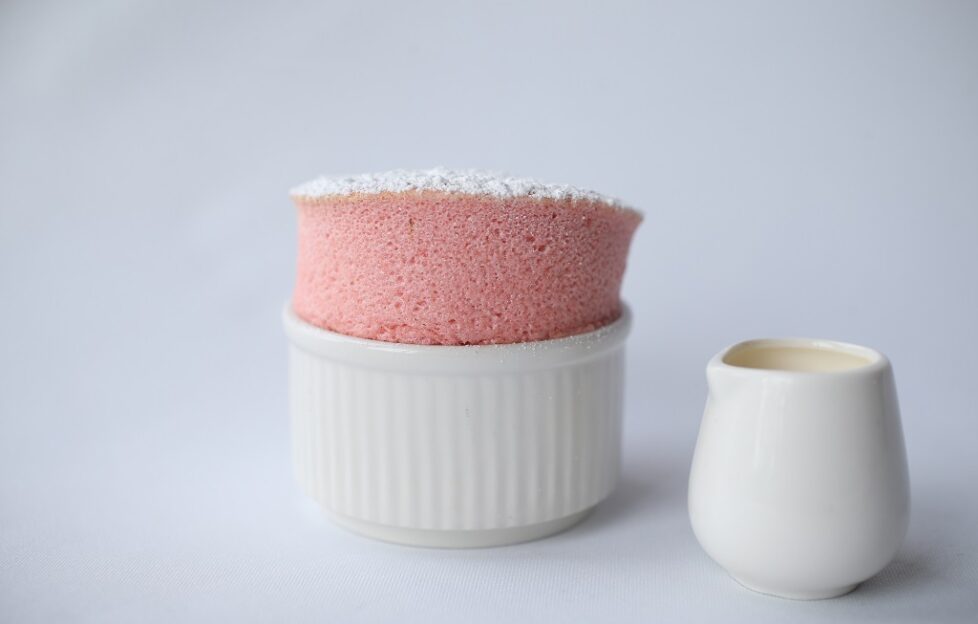 Hot rhubarb souffle with home-made custard
250g fresh rhubarb
50g caster sugar
50g water
100g soft ball sugar
Corn flour to thicken
3 egg whites
For the custard: 1 vanilla pod, seeds scraped out
150 ml/5fl oz milk
100 ml/3½ oz double cream
2 free-range egg yolks
25g/1oz caster sugar
Bring the rhubarb, water and 50g sugar to a simmer, then blend until it is smooth and pass through a fine sieve.
Return mixture to a clean saucepan and leave to the side.
Bring 100g caster sugar, and a little water to bind, to the boil and simmer on to the soft ball stage (110C).
Add this to the rhubarb mix, then bring the mixture back to heat slowly.
Dissolve the corn flour with a little water and thicken the raspberry mix to a crème pat consistency.
When thick, put into a clean mixing bowl and leave to cool, mixing with a whisk to speed up the process.
Whisk three egg whites to soft peaks and when the rhubarb mixture is cool enough, beat in half the eggs, then gently fold in the other half.
Pipe into the prepared moulds and place in a bain marie then bake at 190C for 10 to 12 minutes. Sprinkle the top with some icing sugar and quickly serve.
To make the custard, place a small saucepan over a high heat. Add the vanilla seeds and the empty pod, milk and cream and bring to a simmer.
Remove from the heat and allow to stand, letting the flavours infuse.
Meanwhile, beat the egg yolks with the sugar in a large bowl.
Next, remove the vanilla pod from the infused cream and gradually pour the vanilla cream into the egg mix, whisking well continuously.
Return the custard to the saucepan. Stir over a gentle heat until the custard thickens and coats the back of the spoon.
Sprinkle the top of each souffle with some icing sugar and quickly serve with the custard.
It's the weekend, so why not enjoy this sweet rhubarb souffle as a treat?

Lough Erne Resort Executive chef, Noel McMeel, has shared some favourite recipes for a range of mouthwatering dishes that you can make at home, which we're sharing this week.
Today, we conclude with a tasty hot rhubarb souffle with home-made custard.
Noel has cooked for an impressive range of dignitaries and celebrities, including Barack Obama and Sir Paul McCartney, but the talented chef remains focused on his particular brand of modern Irish cooking and a very simple philosophy: sourcing, preparing and serving fresh food in season.
From Pat O'Doherty's pork to fresh Kilkeel crab, Noel McMeel is a true champion for local produce, using only the highest quality ingredients in his recipes.