Pancakes with crispy bacon and stuffed with brie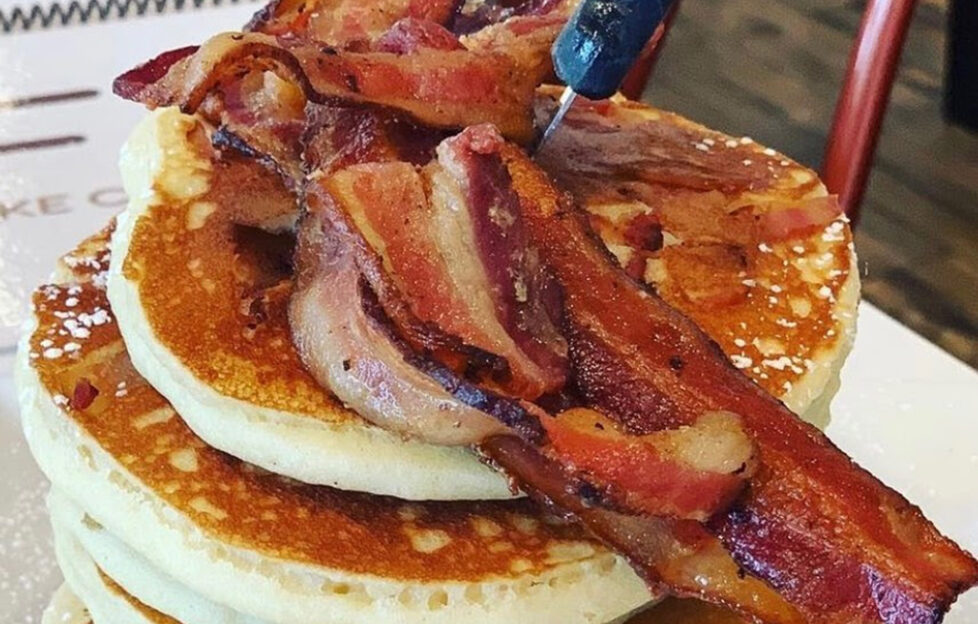 Brie-stuffed pancakes with crispy bacon (Serves 10 pancakes)
10 rashers of smoked streaky bacon
300g self-raising flour
1 tsp baking powder
Pinch of caster sugar
2 medium eggs, lightly beaten
300ml semi-skimmed milk
2 tbsp sunflower oil
25g salted butter, plus extra to serve
150g brie, thinly sliced
50g grated cheddar
Start by grilling the bacon on a high heat for 5 minutes until crispy, turning halfway through. Set to one side and keep warm.
In a large bowl, add the flour, baking powder, sugar and a large pinch of salt and whisk in the eggs and milk until a smooth, thick batter is formed.
Add a small knob of butter into a large non-stick frying pan over a medium heat, then spoon in 1 tbsp of the batter and spread out to a rough 10cm circle using the back of the spoon and top with a few slices of brie, a pinch of the grated cheddar, and 1½ tbsp more of the pancake batter.
Cook for around 2-3 mins until bubbles start to form on the surface, then carefully flip the pancake and cook for a further 2 minutes. Repeat until all the mixture is used.
Serve topped with some salted butter and the crispy bacon.
Today we present a tasty recipe for a more savoury pancake.

The UK's leading bottomless brunch platform bottomlessbrunch.com has compiled a list of unique pancake recipes for savoury and sweet lovers to whip up for an exciting brunch, lunch or dinner.
Today, we present brie-stuffed pancakes with crispy bacon.
Another savoury delight to try that's a little different is this brie and bacon pancake recipe. The buttery brie is melted into the middle of the pancakes to give them a rich flavour that's complemented by the crisp and salty bacon.