Lobster Taglioni with Cherry Tomatoes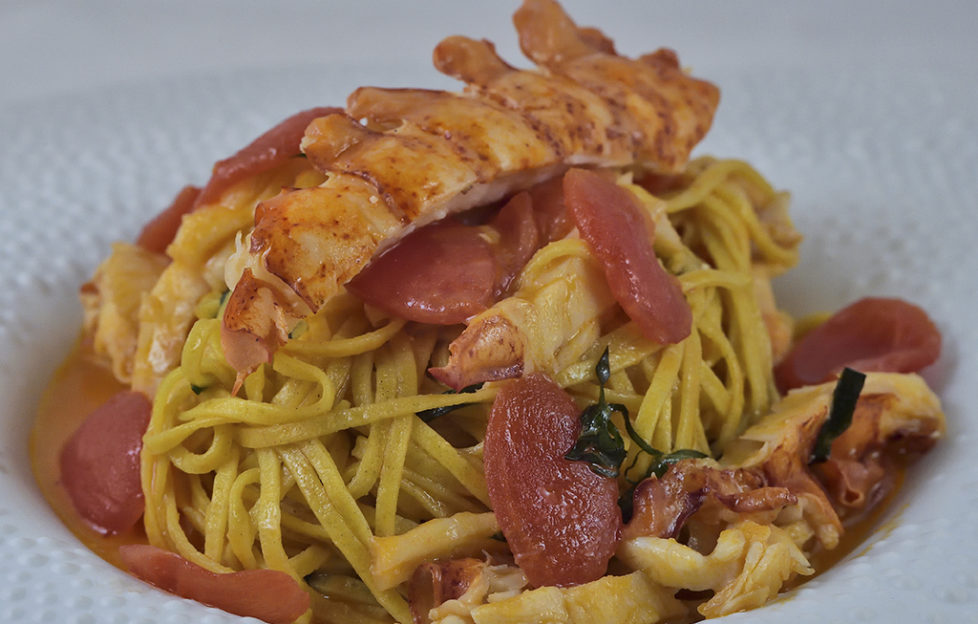 Lobster Taglioni with Cherry Tomatoes
Fresh egg tagliolini: 400g
Semolina: 300g
Flour: 100g
Eggs: 6
Lobster: 1 (around 600g)
Cherry tomatoes, peeled and pitted: 200g
Garlic: 1 clove
Lobster stock: 200ml
Extra-virgin olive oil
Fresh basil
A pinch of salt
Split up the lobster, chop the cherry tomatoes and peel the garlic clove.
Add the lobster to a pan with the olive oil, garlic and cherry tomatoes and cook over a medium heart for 2 to 3 minutes.
Carefully flip the lobster and let it cook for another 3 minutes on the other side.
When the lobster is cooked, remove from the pan but keep it warm.
Add the lobster stock to the lobster sauce and let it simmer.
Cook the pasta al dente in salted boiling water, then drain and add it to the lobster sauce.
Toss it all together adding the basil cut into thin strips and cook for another minute.
To serve, divide the pasta and place half of the lobster on the hot dishes.
Recipe © Christoph Bob, Ristorante Il Refettorio | http://www.monasterosantarosa.com/
In Italy, particularly by the coast, dinner traditionally involves a lot of seafood. This is where a dish such as Chef Christioph Bob's favourite Lobster Tagliolini comes in.
Created with fresh lobster and minimal ingredients such as garlic, basil, tomatoes and olive oil, it serves as the perfect starter or main course that is delicious yet simple.
Ristorante Il Refettorio at Monastero Santa Rosa on Italy's Amalfi Coast received its first Michelin star in November 2017 under the helm of Chef Christoph Bob. Christoph has worked in some of the world's most celebrated restaurants and his insatiable love affair with food is reflected in every dish on the menu at Il Refettorio. He has created an innovative Mediterranean gastronomic experience using the freshest ingredients from the surrounding Campania region including flowers that are grown in the hotel's own herb and vegetable garden.