Foraging for brambles for a Scotch Lamb recipe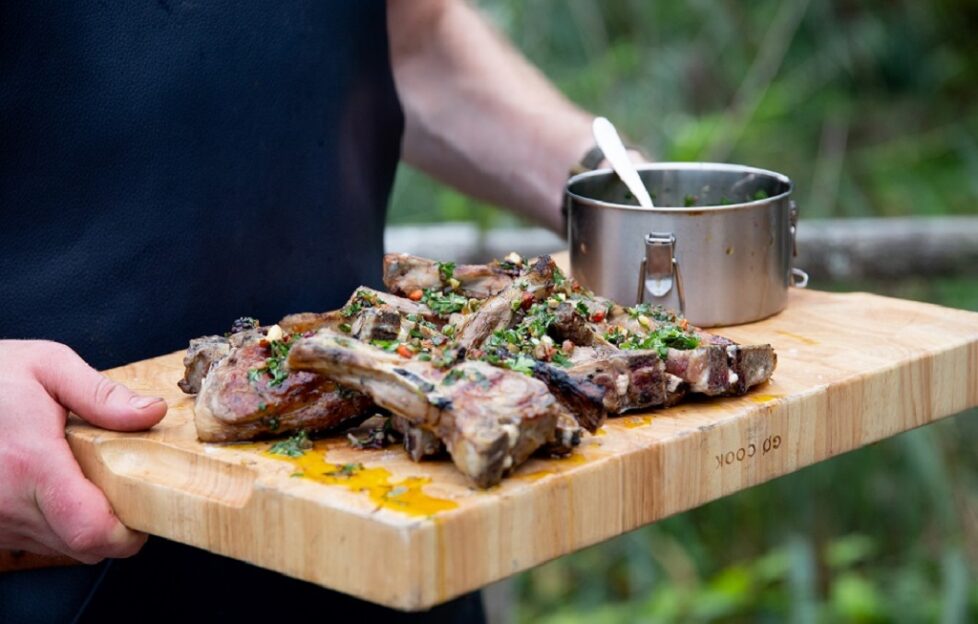 Lamb PGI chops and foraged salsa verde (serves three-four)
20 x rowan berries
30mls x water
30ml x white wine vinegar
20g x sugar
10 x Scotch Lamb PGI chops / cutlets, ideally around 2cm thick
2 x burger bun10 x brambles (substitute with shop bought blackcurrants or any other berry)
1 x large bunch parsley, roughly chopped
1 x small bunch basil, roughly chopped
1 x small bunch coriander, roughly chopped
1 x handful cobnuts (substitute with shop bought hazelnuts), roasted and roughly chopped
1tbs x capers, bashed or chopped
1tbs x cornichon, finely diced
1 x clove garlic, roughly chopped (or use pickled wild garlic)
1/4 x lemon juice
Rapeseed oil, approx 250mls
Add the rowan berries, water, white wine vinegar and sugar to a sauce pan and bring to the boil. Reduce until 90% of the liquid has disappeared and you get a jam-like substance.
Keep the lamb to one side and mix the all the ingredients, including the rowan jam, together in a bowl. Keep adding oil until you have a very loose mixture. Bash the mixture around a little so the ingredients explode and the flavours get to know each other.
Drizzle the lamb with a little veg oil and massage with a good helping of fine sea salt or table salt.
Crank the pan or bbq up and sear the meat on both sides - depending on the thickness you might need to sear for longer but they should only need 1-2mins on each side.
Cover and leave the meat to rest for 5-10mins whilst you get everything prepared.
Place the cutlets on a big dish and drizzle the wild salsa over the top.
You can leave some more sauce in a dipping bowl for everyone to help themselves.
Recipe © Andy Waugh
Andy Waugh, forager and chef-owner of Sixes and Mac & Wild restaurants, this week shares some tasty recipes with Scottish Field.
Use this recipe to celebrate the seasonality of Scotch Lamb by combining it with the beauty of what's growing in the wild. For making this dish in autumn, I recommend foraging for fresh brambles, cobnuts and ceps or chanterelles – depending on what you can get your hands on.
You can find brambles almost anywhere – woods, hedges, heaths and maybe even your own garden if you're lucky! And you can substitute them for practically any other berry you're able to find without impacting the flavour of the dish too much.
The ripest of cobnuts can usually be found in September or October when hazel tree leaves start to change colour. You'll know they're ripe enough to eat if the papery outer covering has started pulling back from the nut.