Cod with chestnut, parmesan and parsley stuffing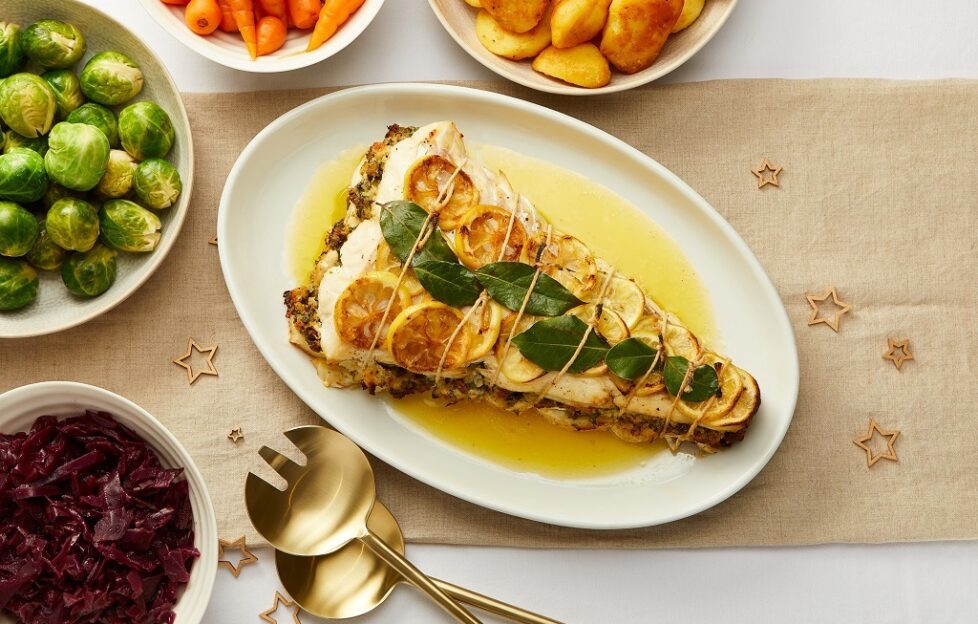 Cod with chestnut, parmesan & parsley stuffing
2 x 600g boneless tail-end cod fillets (one skin-on, one skinned)
3 banana shallots, finely diced
1 tbsp olive oil, plus extra for drizzling
180g chestnuts, roughly chopped
250g stale bread, blitzed or chopped into breadcrumbs
Zest of 1 lemon, plus juice to taste
100g Parmesan cheese, finely grated
300g butter, cut into cubes and divided into three
2 or 3 lemons, cut into rounds
Salt & black pepper
Fresh bay leaves, to garnish (optional)
Preheat the oven to 200°C/fan 180°C/gas mark 6. Cover a baking tray or roasting tin with baking paper.
Prepare the fish fillets by patting dry with kitchen roll, checking for bones and seasoning each side with salt and pepper.
For the stuffing, gently fry the shallots in the oil in a non-stick frying pan. Transfer to a large bowl and allow to cool.
Add the chestnuts, breadcrumbs, parsley, lemon zest, Parmesan and half of the butter to the shallots. Season with a generous amount of black pepper and pinch of fine salt, then, using your fingertips bring the mixture together. Cover and set aside until you're ready to use.
Place the first fillet of cod, skin-side down, onto the baking tray or roasting tin. Press a generous layer of the stuffing along the length of the cod fillet. Place the skinless fillet of cod on top. Layer the lemon slices over the top of the fish.
Using individual pieces of string, tie the fish across the centre, cutting the excess string away.
Add the rest of the butter to the top of the fish and drizzle with a little olive oil before seasoning with salt and pepper.
Place in the pre-heated oven for 35 - 40 minutes, or until the fish is cooked through.
Make a quick sauce using the pan juices left in the roasting tin by adding an extra squeeze of lemon juice. Serve the cod with your favourite side dishes and the sauce.
Recipe © Love Seafood | https://www.loveseafood.co.uk
Add fish to your celebrations this festive season with tasty recipes that are ready in no time.
This cod with chestnut, parmesan and parsley stuffing recipe is the perfect substitute to a roast turkey and it's packed full of healthy, affordable and readily available ingredients.
It's a true showstopper and makes a fantastic meat-free alternative to traditional roasts over the colder winter months.
Love Seafood is focusing on how seafood can Bring on Better Living, showcasing how easy and tasty seafood is to cook at home. It's simple, budget-friendly and encourages consumers from across the UK to bring more balance into their diets with a high-protein seafood option.
Shop your local fishmonger for a great choice of sustainably sourced seafood and for more recipe inspiration, visit www.loveseafood.co.uk.