British Classic Slow-cooked Spaghetti Bolognese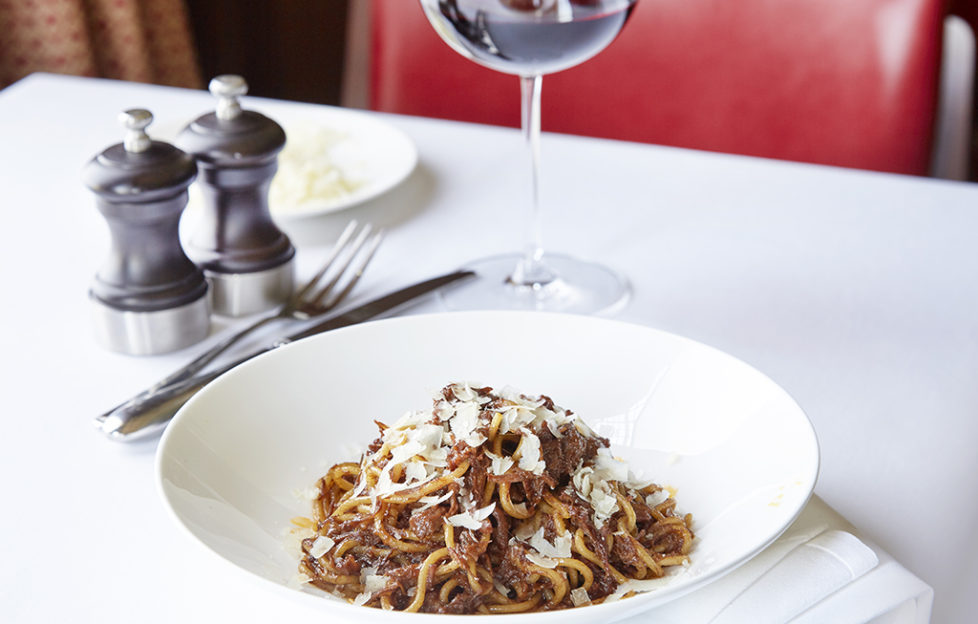 Slow-cooked Spaghetti Bolognese
Braising steak: 600g
Smoked streaky bacon rashers: 6
Garlic cloves: 4
Tin of chopped tomatoes: 2
Generous tbsp tomato paste: 1
Sprigs of thyme: 4
Bay leaf: 1
Medium onion: 1
Celery stick: 1
Red wine: ½ bottle
Beef stock: 2 litres
Butter: 1 tbsp
Pre heat your oven to 140c.
To make the Bolognaise sauce heat the butter in a large oven proof sauce pan, season the steak with salt a pepper and brown with the bacon for about 20 minutes.
Finley chop the celery, garlic and onion, add to the pan, and continue to cook until softened.
Stir in the tomato paste, bay leaf and thyme, fry gently for minute, add the wine and let bubble a little allowing the alcohol to evaporate.
Dilute with stock, cover with grease proof paper and place in the oven for 3hrs checking every 30 minutes or so, add a little more stock if it starts to dry out.
Once cooked allow to rest stir with a wooden spoon to break the tender meat into smaller chunks.
To serve cook the spaghetti for 2 minutes less than it says on the packet reserving some of the cooking water, warm up the bolognaise sauce add a little of the pasta cooking water stir in the pasta and boil for a minuet allowing the pasta to soak up the sauce.
Serve hot and for an extra British touch, serve it with freshly grated Berkswell cheese, its slightly similar to parmesan which naturally works well too.
Recipe © Chef Tristan Welch from Parker's Tavern, Cambridge | http://www.parkerstavern.com/
Chef Director of Parker's Tavern restaurant is well-known for his unbeatable spaghetti Bolognese, which always goes down a treat with patrons of all ages at University Arms hotel's destination restaurant.
A classic British dish, it is a staple on the menu at Parker's Tavern, which specialises in reimagined British classics, using locally sourced ingredients from the surrounding fields, fens and seas. Headed up by Tristan, it is an English tavern inspired by the communal dining halls synonymous with Cambridge Colleges, designed by interior designer of the moment, Martin Brudnizki.
Alongside the 110-cover restaurant, Parker's Tavern also has a 61-cover bar which leads into the hotel's beautiful library which serves a 'Historical Cambridge Afternoon Tea'. To make Tristan's famous Bolognese at home, Tristan advises really pouring time and love into the process, which will elevate this home classic to an unforgettable delight, as Tristan notes, all good meat dishes like this are a labour of love.