A pineapple topping pizza recipe for three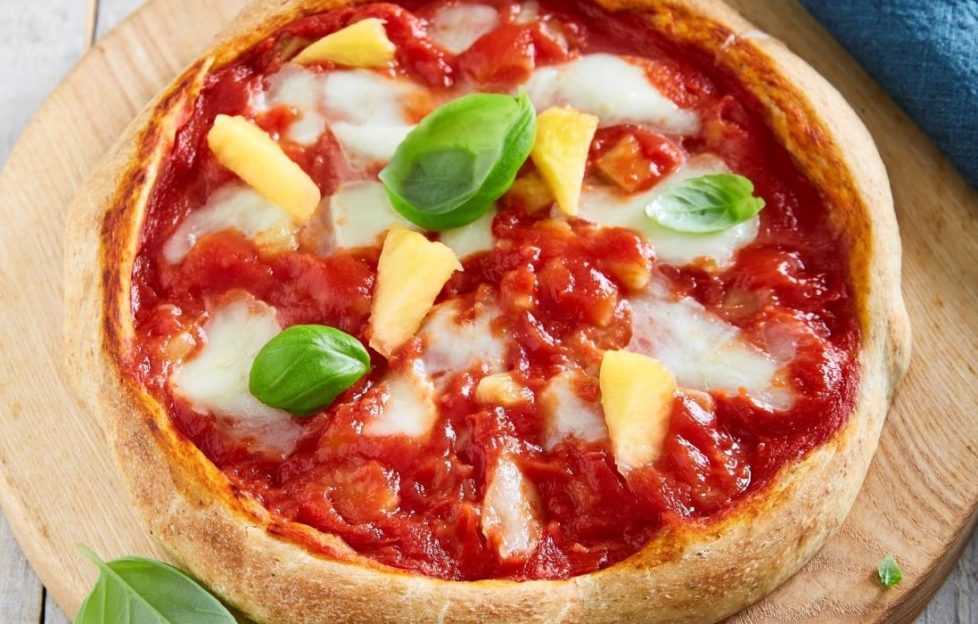 Pineapple Pizza (makes three pizzas of 28cm of diameter)
250 g of all purpose wheat flour
250g whole wheat flour
5g dry instant yeast
310g of water (room temperature)
30g of extra virgin olive oil
10g of fine salt
250g Mutti pizza sauce classica
200g mozzarella diced
3 tablespoon extra virgin olive oil
10g honey
200g fresh pineapple cutted in pieces
Knead together wholemeal flour, yeast, honey and water. This first dough will be very liquid. Cover it with a cling film and put it in a warm place for 1 hour. Then add the all purpose flour, oil and salt. Knead for 15 minutes until the dough is smooth. Put the dough in a bowl and cover with a cling film.
Leave the dough in a warm place (or in oven 40 celsius) for 2 hours it must be double in volume.
Divide the dough into three balls of equal weight. With a brush put oil in 3 pizzas pans (28-30 cm of diameter).
Roll out the dough in each pan. Spread them with oil using pastry brush and leave to rise for 30 minutes.
Bake the dough 220 celsius for 15 minutes. Then put on top pizza sauce and bake for 10 minutes more.
Put the mozzarella on top of the pizza sauce and bake again for 5 6 minutes. When the whole pizza is ready put on top pineapple pieces.
Recipe © Mutti | https://mutti-parma.com/en/
One of the most biggest arguments that people have with their pizza toppings is pineapple – to go or not to go?
For those of you who say 'yes', then stay with us, as we have a delicious pizza to make at home with a pineapple topping.
Courtesy of Mutti, an Italian firm who produce organic tomatoes, we this week present a selection of tasty recipes, with a tasty pizza today.