A delicious seared scallop recipe to enjoy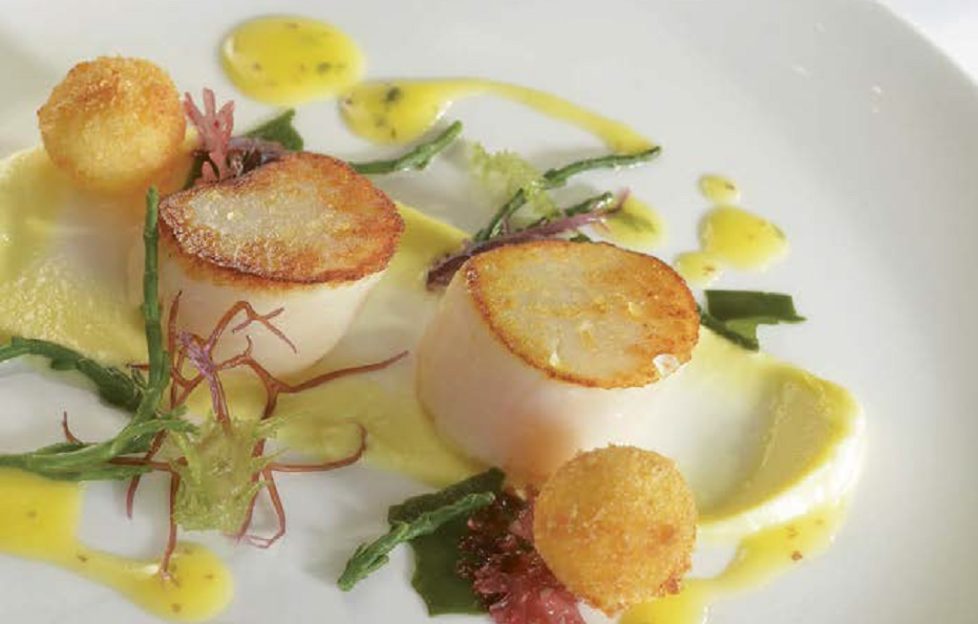 Seared diver-caught king scallops with smoked salmon fritters and a fennel puree
4 king scallops
Smoked salmon fritters
100g smoked salmon chopped
25g butter
25g flour
200ml milk
1 egg
50g breadcrumbs
1 tbsp flour
Fennel puree: 1 bulb fennel
25ml rapeseed oil
1 clove garlic
Juice of one lemon
Pinch of salt
Seaweed butter: 1 chopped shallot
100ml white wine
1 tsp white wine vinegar
100g butter
20g soaked, dried seaweed mix
Melt butter and add flour. Cool for 1 minute, then add milk a little at a time and cook gently for 2 minutes. Remove from heat and mix in chopped smoked salmon and allow to cool. Shape into small balls and coat in flour, then add beaten egg and finally breadcrumbs. Set aside in fridge.
Fennel puree: Boil the chopped fennel in salted water until soft. Drain off water and liquidise with garlic, oil, lemon juice and salt. Set aside.
Seaweed butter: Reduce the white wine, vinegar and shallots until syrupy then whisk in butter and set aside. Deep fry the smoked salmon fritters until golden and keep warm. Heat a frying pan with a little oil and sear scallops for 1 minute on each side and rest on a warm plate.
On a serving plate spread a spoonful of the fennel puree. Top with the scallops, fritters and scattered seaweed. Spoon butter sauce over and serve.
Recipe © Steve McCallum | https://kinlochhouse.com/
Strong childhood memories of food remain an inspiration for Kinloch House chef Steve McCallum.
As a child, Steve would spend time on the west coast with his uncle, a lobster fisherman in Tarbert, bringing in the creels and aquiring a taste for fresh food.
'I still have a fondness for those early memories of eating fish and shellfish, especially the difference it makes to eat something you've caught yourself.
'The freshness is amazing and because something grown wild is at its best, you want to make sure it's prepared and cooked correctly.'
This is the philosophy behind the food Steve prepares for the guests at Kinloch House near Blairgowrie in Perthshire where he has access to what he describes as 'the best larder around.'
(This recipe was originally published in 2016)