Hubble, bubble, (no) soil or subtle: science meets fantasy at The Cauldron Pub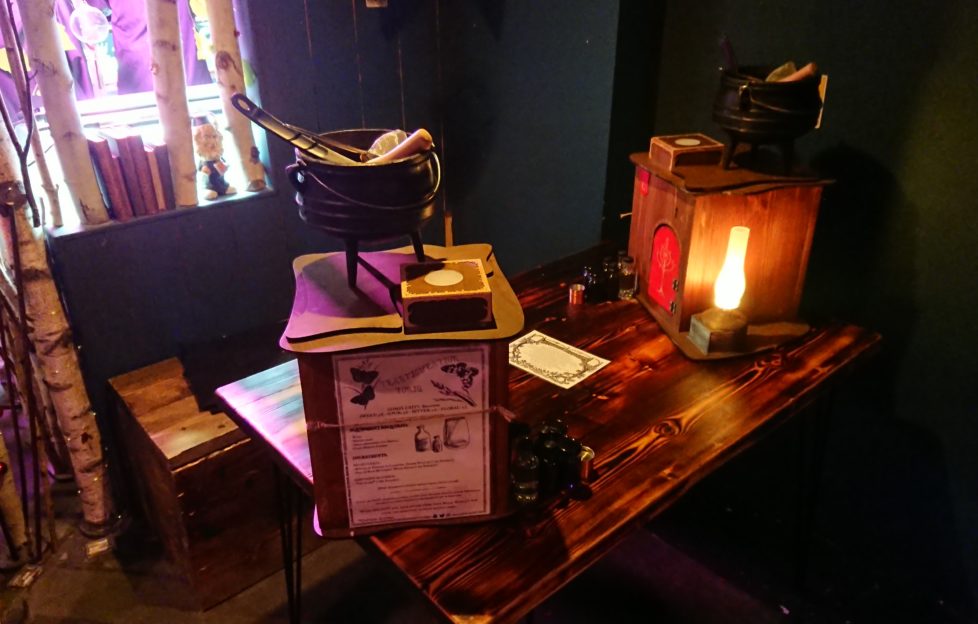 Edinburgh's magic-themed pop-up bar has gowns, wands and even a hydroponics bay, writes Peter Ranscombe.
WHEN a press release lands on my desk announcing the opening of a pub, it's not often that it carries a disclaimer.
"The Cauldron, and The Magic of Things, are broadly inspired by fantasy and science-fiction and is a place for fans of magic," began the epistle.
"All of our magic wand designs are original," it continued.
"Neither these companies nor these products are endorsed by, affiliated with or associated with Warner Bros or JK Rowling or otherwise connected with Harry Potter or JK Rowling's Wizarding World.
"Nor are they endorsed by, affiliated with or associated with Lord of the Rings, Game of Thrones, Rivers of London, The Magicians, Dune, The Name of the Wind, Star Wars, or otherwise connected with any one specific text or series (although we do love those texts and think that they are the bees knees).
"We are but geeks."
Good to have that cleared up from the start.
But founders Matthew Cortland and David Duckworth are more than mere geeks.
Their "imagineering" studio, "The Magic of Things", has used science to turn fantasy into reality and create an interactive cocktail experience unlike any other in Scotland's capital.
The pair opened the first pop-up version of The Cauldron Pub in London two years ago and, after a five-month run, transferred to first New York and then Dublin for similar outings.
They launched their Edinburgh pop-up with little fanfare back in June and are now gearing up for a festive push, with last night's press preview packing journalists and instagrammers into their basement bar on Frederick Street.
Immersive experience
Guests book tickets in advance – £35.99 each for Friday after 5pm or on Saturday, or £30.99 each for Friday before 5pm or on Wednesday, Thursday or Sunday – for the one hour and 45-minute experience.
After being issued with a "magic" wand, with a clever electronic transmitter inside that allows customers to control parts of their visit, they are decked out in a witch's or wizard's gown, complete with pointy-tipped hood.
They are then taken through to the "Magical Menagerie" to choose their welcome drink – either a dragon-blood cocktail dispensed through the head of "The Great Dragon", a pint of the Three Sisters Pale Ale from "The Basilisk" or a satsuma and lychee "mocktail" from "The Innocent Lion-Lamb".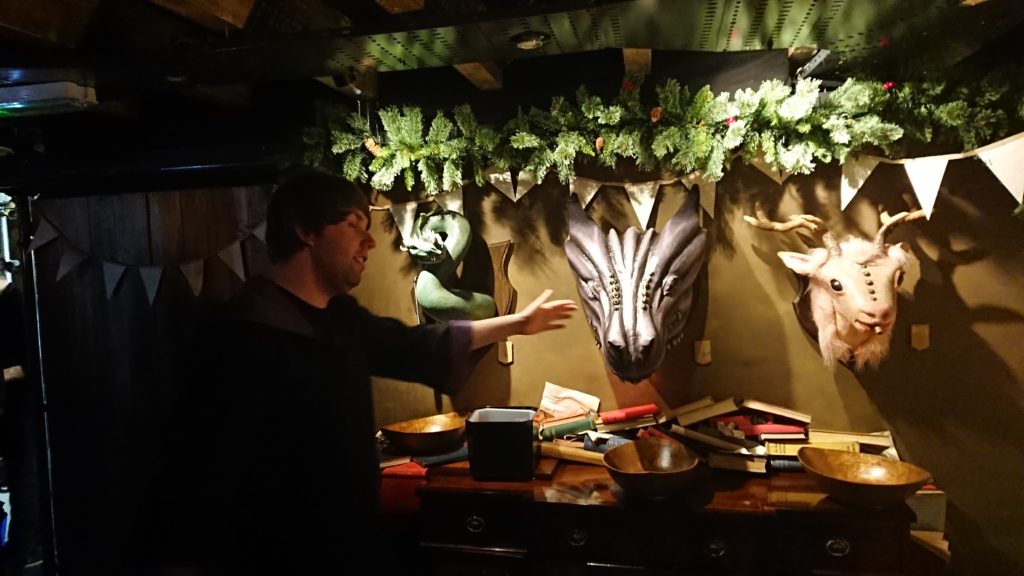 The Three Sisters Pale Ale is perhaps the most intriguing of the concoctions, having been brewed by Edinburgh-based Innis & Gunn.
There's a cracking pale ale hidden inside there that's just bursting to escape from the honey, rosemary and thistle that's been added to the brew.
It may have echoes of traditional Scottish recipes, but I found a whole pint to be too sweet and cloying and should probably have opted for a half.
The ale proved very popular with other reviewers though, especially those who normally find beer too bitter.
Once guests have enjoyed their welcome drink, they're guided to the tables – or potion benches – where members of the waiting staff or "potion masters" guide them through a cocktail-making class, complete with coloured liquids and instructions printed on scrolls.
The ticket price includes two cocktails and visitors have the chance to step inside the hydroponics bay, where basil, mint and other garnishes for the cocktails are grown using nutrients dissolved in water instead of soil.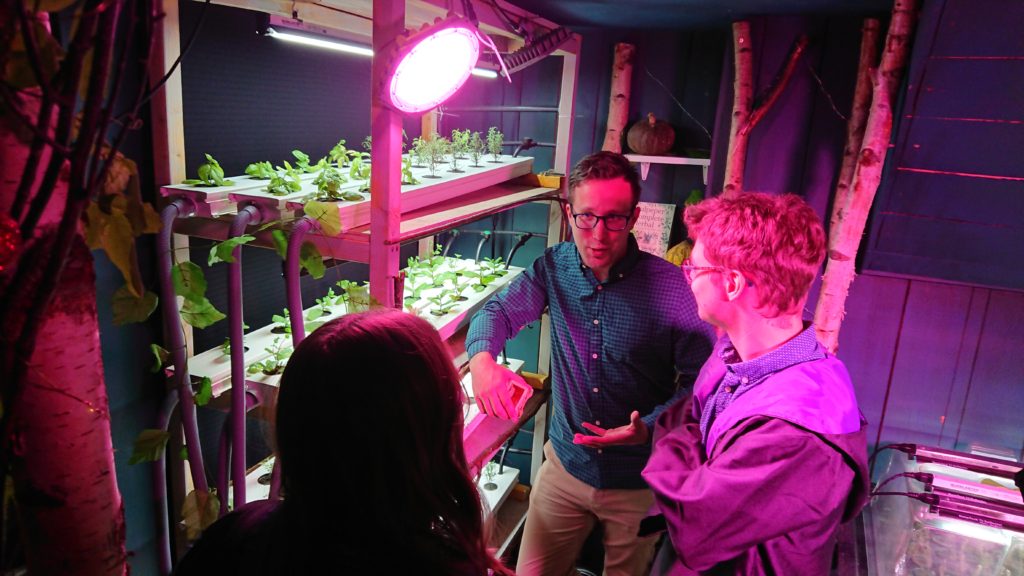 Festive frolics
In the run-up to Christmas, Mrs Claus – otherwise known as drag queen Ellie Diamond – will visit The Cauldon's grotto on 7, 14 and 21 December from 5pm to judge whether revellers have been naughty or nice and dispense an appropriate drink.
Mrs Claus will also return on Sundays to lead ornament making for children, who will also have the chance to pose with an owl and hear Scottish folklore from a professional storyteller.
Tickets, priced £15 each, include hot chocolate with marshmallows and whipped cream.
The Cauldron is also collecting children's fantasy books to distribute to schools – and the book drive is going well, judging by the number of volumes stacked against the walls in the entrance foyer.
At more than £30 a ticket, the experience looked at first like it was still priced for London or New York, but given that you could easily spend thirty quid for three cocktails on nearby George Street, it's actually not bad value, with the added bonus of the atmosphere and the interactive cocktail making class.
I wasn't sure if the concepts of a magic-themed bar and a speakeasy – accessed by a discreet door and set of stairs from Frederick Street – would work together, but they did, with the interior design team making the most of the venue's exposed bricks and beams.
What was most impressive though was the attentive service from the staff; if they weren't wearing gowns and elf ears then they would fit perfectly into any classy cocktail bar in the capital.
Cortland and Duckworth want Edinburgh to become the first permanent home for The Cauldron Pub and, if they can keep up the high standard they've set for themselves and continue to innovate with fresh cocktail ideas and experiences, then it would be a welcome edition to this already most magical of cities.
Read more of Peter Ranscombe's blog entries on The Grape & The Grain at https://www.scottishfield.co.uk/grapegrain/