Scotland's biggest chippie opens its doors in Edinburgh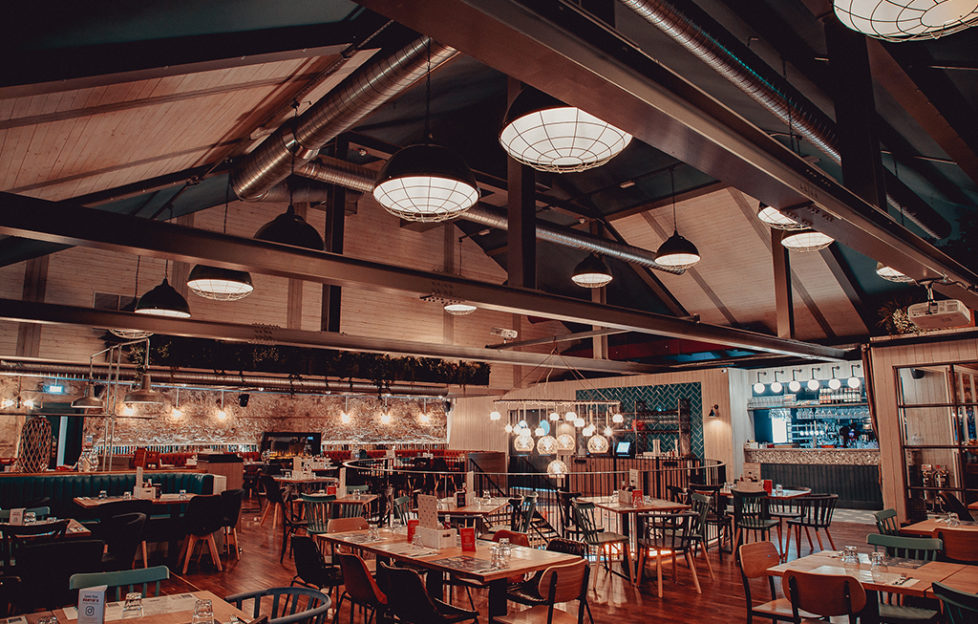 Scotland's biggest fish and chip restaurant has opened on Edinburgh's Victoria Street.  
The 300 – cover Bertie's Restaurant and Bar in Edinburgh's Old Town is the group's first foray beyond the Italian food markets, having opened their first restaurant in 1970 in the Leith neighbourhood.
The 11'000 sq.ft restaurant in the former St John's Church offers an affordable menu that reinvents some traditional British 'chip shop' dishes and celebrates specialities including fish and chips – along with contemporary twists on the chip shop experience and boasts several light options, all under ten pounds.
Dishes include: Steak Pie – Shoulder Steak, Red Wine Gravy, Puff Pastry, Garden Peas, Mash or Twice Cooked Chips; Bertie's Sea Dog – Battered Cod, Toasted Brioche Bun, Crushed Peas, Marie Rose sauce, Twice Cooked Chips; Bertie's Fish Curry – Malaysian style Curry with a selection of Fish and Seafood, Coconut Milk, Coriander Rice; Hagis, Neeps and Tatties – locally produced Haggis, Mashed Potatoes, Bashed Turnip and Bertie's Steak Burger –  6oz Aberdeen Angus Steak Burger, Toasted Brioche Bun, Lettuce, Tomato, Twice Cooked Chips.
Naturally, traditional British chip shop favourites will be at the heart of the all day menu and include haddock or cod suppers; Battered, Breaded or Baked; Battered pork sausage – Locally produced Pork Sausage; Whitby Scampi – 8 pieces of whole tail Scampi in breadcrumbs and white pudding- traditional White or Mealy pudding battered and deep fried and all served with Twice Cooked Chips. The menu also features a vegan fish and chips and a variety of vegetarian dishes.
Bertie's cocktail menu, that aims to balance Scottish ingredients "with the zest of the Seaside", include Irn Bru Spritz – Barr's Irn Bru with Prosecco, Apérol and Angostura; Bertie's Butter Beer – Butterscotch Schnapps topped with Cream Soda and a Buckfast Bramble – a combination of Gin and Buckfast.
Local design team MD Hospitality along with the main contractor Pride Commercial Interiors were appointed by Vittoria Group to develop the three million pound investment in Bertie's Restaurant and Bar.
Michael Dunn of MD Hospitality said: 'Our design brief was to create a restaurant space of theatre, fun and excitement. We wanted Bertie's customers to fell wonderful while they dined in a magical space. We believe this is what we have created over three floors embracing many of the original features of the former St John's Church on Victoria Street.'
Bertie's Restaurant and Bar has created over 50 new jobs with the expansion of Vittoria Groups restaurant portfolio in Edinburgh and the Lothians. 

Vittoria Group are also behind Italian restaurant brands Divino, Vittoria on the Bridge, Vittoria on the Walk, La Favorita and La Favorita Delivered as well as Taste of Italy.
Bookings for Bertie's Restaurant and Bar are now open.