Why Clare Valley can't make enough riesling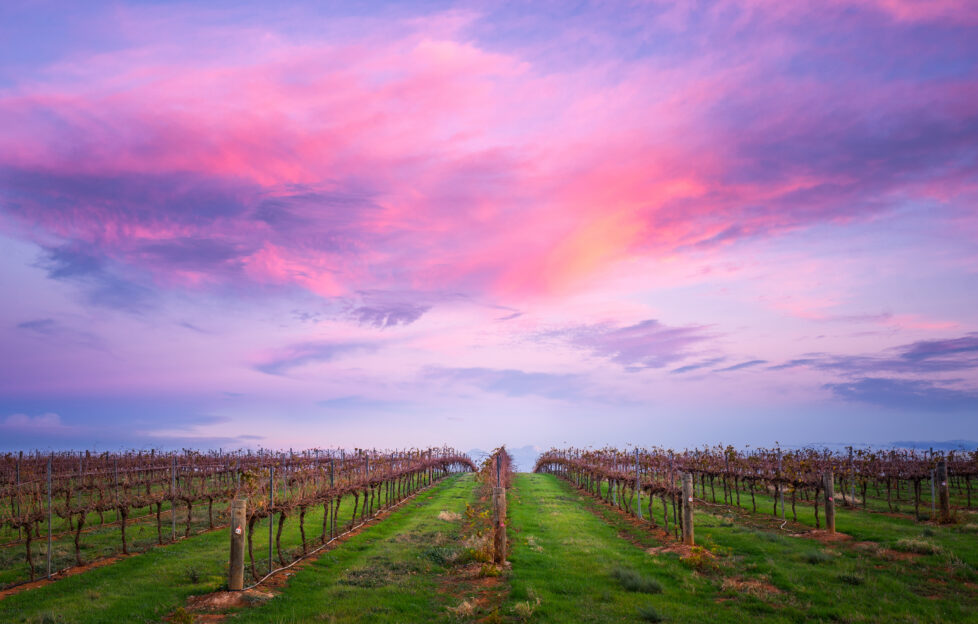 Australia's Clare Valley produces riesling that goes with a wide variety of foods, writes Peter Ranscombe.
RIESLING has a dual personality – it's beloved by the wine trade, yet shunned by many consumers.
That doesn't seem to be such an issue in the Clare Valley, about 100 kilometres north of Adelaide in South Australia.
"The only problem we have with off-dry riesling is that we can't make enough of it," chuckled Stephanie Toole, owner and winemaker at Mount Horrocks Wines during today's online wine tasting, live from the valley.
As we've explored before, part of riesling's problem with UK consumer is it's versatility; it can be made into so many styles of wine – from bone dry to super sweet – that drinkers can find it hard to tell one bottle from another.
Yet that versatility is also one of the grape's major strengths when it comes to food and wine matching.
Justin Knock, the master of wine who hosted this morning's webinar on behalf of trade bodies Wine Australia and Clare Valley Wine & Grape Association, asked each of the six winemakers who presented their bottles to share their own pairings.
Knock recounted a tale from his youth back home in Australia, sitting on the harbourside in Sydney and drinking riesling while cracking the shells off fresh prawns.
Seafood and riesling is a classic pairing, and it's often how I've used the grape in my Wine to Dine column in the printed Scottish Field magazine.
Steve Baraglia, chief winemaker at Pikes Wines, ticked the seafood box with his 2020 Pikes Traditionale Riesling (2019: £17.50 Lea & Sandeman), with its classic Clare Valley lemon and lime aromas on the nose, which were joined by complex touches of smoke, peach, and floral notes.
On the palate, it was incredibly clean and focused, with more minerality joining the lime flavours.
Keeping acidity in check
Baraglia also made a nod towards riesling's more recent emergence as the wine of choice with many spicy dishes, such as pork tacos with jalapeno peppers, and Asian dishes featuring ginger and soy.
Toole's comment about the popularity of off-dry riesling, which contains a touch more sugar than the standard dry style, is – in part – linked to its ability to soften spicy flavours, as well as pairing with desserts.
Her 2020 Mount Horrocks Watervale Riesling (£22.49, Noel Young Wines) displayed the region's characteristic fresh acidity, with more petrol and lime aromas, plus a textured and savoury palate that would work well with seafood or Asian cuisine, while Toole recommended trying it with ham, leek, and gruyère cheese tart or rolled pork shoulder roasted with fennel and granny smith apples, served with a cider gravy.
While the acidity in the area's wines is still crisp, it's not the gum-aching acidity from back at the turn of the century, about which Knock probed the winemakers.
Toole explained that she hadn't needed to acidify her wines for more than a decade, which she attributed to her organic and biodynamic farming, which had improved her vineyard's soil health and therefore the balance of the components in her grapes.
Jeffrey Grosset – one of the best-known names in the valley – has also had no need to acidify his wines, which again he attributed to balance in the vineyard being reflected in the grapes.
His 2020 Grosset Wines Polish Hill Riesling (£30.99, Roberson Wine) marks a step-up in price, but reflects that balance between the acidity and the fruit in the bottle.
Its bright lemon and lime aromas morph into rounder lemon and lime curds on the palate, with plenty of juiciness to the fruit, and an interesting minerality on the finish, which Grosset himself paired with oysters.
Hilary Mitchell put that acidity to good use in her recommendation, which paired her bargain-priced 2020 Mitchell Watervale Riesling (£14.40, Tanners Wines) with the creaminess of a korma.
Enticing aromas of apricot and pear, with some floral touches, led into high acidity on the palate and really intense crisp green apple, pear, and lemon flavours, which would cut through a curry sauce.
Leaving wines to age
Today's final two rieslings aimed to demonstrate how the grape begins to age in the Clare Valley.
There's already a thicker and richer mouthfeel to the 2018 Pauletts Polish Hill River Aged Release Riesling (£16.50, Aitken Wines), another bargain at that price.
Biscuit notes are starting to appear beside the richer lemon curd and tinned peach on the nose, with honey spread across toast joining on the palate, as well as more striking minerality.
Winemaker Matt Paulet came up with perhaps the most intriguing food pairing when he explained that he served the wine alongside sirloin steak in a rich creamy sauce during a dinner at his winery.
That suggestion sparked stories in the webinar's chat box from the other participants, including how riesling was served alongside venison in Germany's Mosel region.
Clare Valley's citrus aromas and flavours were the factors chief winemaker Adam Eggins picked out for his food and wine pairing.
Concentrating on dishes that would feature preserved lemons, he suggested light stews like chicken tagine or bouillabaisse to sit alongside his 2015 Wakefield St Andrews Riesling (£25.49, Flagship Wines).
Its classic nose was full of lime, petrol, wood smoke, and some peachier notes.
There's no compromise yet when it comes to the wine's high acidity, but it's well-balanced by the intensity of the flavours, with a richer and more buttery mouthfeel complementing its flavours of heavily-buttered toast.
That combination of sweetness and tartness summed up the style of the older wines, many of which will age for 20 or more years.
Why it all comes down to water
After looking back at older wines, Knock rounded off the seminar by gazing into the future.
While the UK is the biggest export market for many of the Clare Valley's producers, several of the winemakers commented on the struggle to keep up with demand in the home market.
Baraglia explained that a lack of access to water was holding back farmers from planting more riesling.
Although Clare Valley is synonymous with riesling in the UK, he pointed out that it's only the third-most grown variety in the area, behind shiraz and cabernet sauvignon.
Grosset added that the valley's past four vintages had been its best in 40 years, with cool vintages in 2020 and 2021.
"We can mitigate against the effects of [weather patterns] La Niña and El Niño for the next 10 to 20 years – if we get high quality water then we can still make high-quality wine," he added.
Read more of Peter's wine, beer, and spirits reviews on his blog, The Grape & The Grain