How local grapes could be Romania's new ambassadors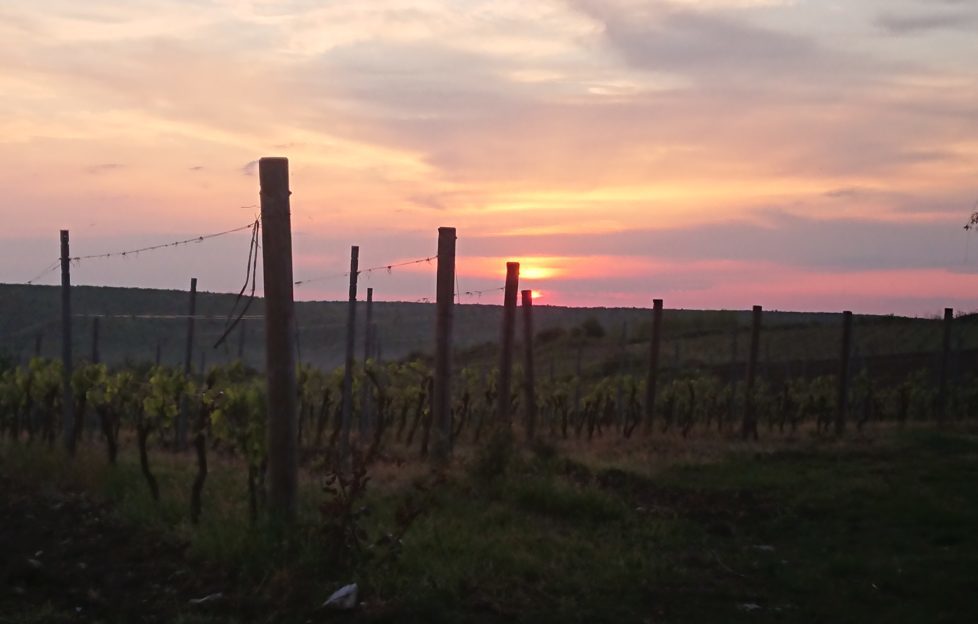 In the second of his reports from Romania, Peter Ranscombe meets the winemakers who are creating premium wines from the country's indigenous grape varieties.
MENTION "Romania" and a series of well-known images are bound to spring to mind: Nicolae Ceaușescu waving from his balcony as the 1989 revolution reached Bucharest; Ilie Năstase winning the French Open in 1973; Anneka Rice crying as she uncovered the horror of the country's orphanages in 1990.
Yet, away from those famous and infamous moments, Romania is a country with a rich and complex history, which it is celebrating this year as it marks its centenary.
It's a nation of writers, of musicians, of painters – and of winemakers.
"Wine is a cultural asset, not just a drink," explains Cristiana Stoica as we sit eating local cheeses and sipping her wines at the Avincis winery in the Dagastani region.
"Wine can be the best ambassador for Romania."
Cristiana's family bought the villa and vineyards on the hillside back in 1927 but lost the land to the state during the Soviet era.
Having trained as lawyers, Cristiana and her husband, Valeriu, were armed and ready to take back control of the land when restitution began, buying back other parcels of land that were given to other claimants.
They hired architect Alexandru Beldiman to design their winery and renovated the derelict family mansion, creating a contrast between the traditional and the modern that links the proudly restored villa across the lawn from the winery buried in the hillside, its roof protruding like the top of a Maya step pyramid.
The boutique winery, which opened in 2010, produces around 200,000 bottles from its 42 hectares, growing a mix of both international and local varieties.
Keeping it local
And it's those indigenous grapes that shone as we sat listening to the call of the cuckoos and admiring the view across the vineyards and down to the Olt River.
It seems rude to say the 2017 Avincis Cramposie Selectionata (£12.70 for the 2016 from Theatre of Wine) reminded me of an Italian white – with its floral and pear aromas on the nose and its concentrated pear and green apple flavours to balance its tingling acidity – but a familiar reference point is useful when introducing local varieties.
The 2016 Avincis Feteasca Regala – sadly not currently listed in the UK – is less floral on the nose, but shares those green apple notes, which give way to lemon and a twist of fresh lime juice on the palate, striking a balance with the softer acidity.
Consultant winemaker Ghislain Moritz – who is now also making pinot noir back in his native Alsace, and who works alongside Italian consultant Stefano Saderi and new local winemaker Alex at Avincis – also blended the grape to produce the 2015 Avincis Feteasca Regala Pinot Gris (£15.20, Theatre of Wine), and plans to alternate between bottling feteasca regala as a single varietal in the good years and then blending it with pinot gris in only the best years.
And this is definitely pinot gris as opposed to its cousin pinot grigio; there's honeysuckle, peach and green apple on the nose and then peach and lime supported by lemon on the palate, with the gris adding a rounder and waxier mouthfeel than the feteasca on its own, making it sing alongside those cheeses.
Among the reds, the 2014 Negru de Dragasani (£16.40, Theatre of Wine) – or "black grape of Dragasani" – stood out for me thanks to its dry but well-integrated tannins and its concentrated blackcurrant flavour.
Negru de Dragasani illustrates the effect that vintage variation brings to finer wines – the warmer 2015 vintage over dinner reminded me of the syrahs I tried last year in the Northern Rhone, while the cooler 2014 had a whiff of pencil lead that brought to mind cabernet franc.
Tourism a big part of Avincis's business plan, with holiday apartments perched on top of the winery to make the most of the view, and visitors to the cellar door will soon be able to sample the firm's first sparkling wine, with Moritz offering a sneaky preview during our visit.
A prince among wines
The story of Cristiana's family reclaiming its land is echoed in that at the Prince Stirbey winery further along the hillside.
Baronin Ileana Kripp's ancestors have lived in the area for 300 years but fled during the Communist period.
Hers was the first family winery to be returned to its rightful owners following restitution in 2001.
While the villa belonging to Cristiana's family was left to fall into disrepair, the state took care of Ileana's former family home.
"If it was good enough for a prince then they must have thought it was good enough for Communist party officials," says Baron Jacob Kripp, Ileana's husband, with a wry smile.
The estate's winery – which looks more like a Tuscan villa than a factory for fermenting grape juice – had been used by the local state-run wine company until 1992; while the equipment needed replacing, it meant the 1910 building's infrastructure was again intact.
While the Kripps have international varieties such as cabernet sauvignon and sauvignon blanc among their 24 hectares, again it's the local grapes that are really shining, including the 2016 Prince Stirbey Tamaioasa Romaneasca (£10.50, The Wine Society), with its aromatic muscat-like scents of grape, pear and lemon and its crisp acidity to balance its concentrated pear and red apple flavours.
German winemaker Oliver Bauer ages the 2016 Prince Stirbey Negru de Dragasani (£14.50, Oddbins) in large oak vats instead of his usual choice of Romanian oak barrels and the result is a wine that's full of fresh and fruity blueberry, blackberry and black cherry flavours, with subtler oaky vanilla notes.
For me, the most interesting wine we tasted over lunch was the 2015 Prince Stirbey Novac (£13.50, The Wine Society), another local variety, which has been likened to pinot noir, but which Bauer hit the nail on the head when he compared its young incarnation to a Fleurie from Beaujolais in France, with violets, blackcurrant yoghurt and blueberry on the nose and a soft yet dry mouthfeel.
Bauer's assertion that it resembled a cool-climate syrah as it aged sounds like it's worth exploring and he also sang Novac's praises as a rosé and sparkling wine too, contributing to the winery's 100,000-bottle output.
Novac was created in 1987 by crossing nergu vartos from the south of the country with Georgian speciality saperavi, demonstrating how local grapes can still be used to innovate.
Full of eastern promise
Over in the east of Romania, it was another set of feteascas – the white feteasca alba and the black feteasca neagra – that are the focus at Crama Aramic, one of a number of small wineries that have sprung up around Buzias, an area close to the beautiful city of Timisoara.
Founded by Cosmin Craciunescu and his father, Adam, in 2010, Aramic's 46 hectares of vineyards were brought together by buying a raft of tiny parcels from local landowners, allowing the winery to produce around 100,000 bottles a year.
Cosmin's wines aren't available in the UK yet, but his 2017 Crama Aramic Feteasca Alba would be worthy of a place on our shelves and is packed full of floral and white peach aromas on the nose, with some whole grapes left in the fermenting wine helping to build up a more-rounded mouthfeel.
The 2016 Crama Aramic Feteasca Neagra is a much bigger beast at 14.8% alcohol by volume, with chalky tannins, a mix of tart cranberry and jammier red cherry, and fresh acidity – it's a bit like a supped-up pinot noir on steroids, with more body and more tannin.
Feteasca negra is also being used to make higher-quality bottles at some of the bigger wineries, including Cramele Recas, Romania's biggest exporter, which is owned and run by Philip Cox, who hails from Bristol and who has been making wine in the country since 1993.
His 2017 Selene Feteasca Neagra (£14.50, Tanners Wines) from the surrounding Recas region near Timisoara offered chocolate, vanilla, blackberry and blackcurrant on the nose, with richer and more concentrated black plum and black cherry on the palate, while retaining those noticeable tannins.
A bottle of the 2015 gave more aromas of wood smoke and damp earth, with the fruit developing into drier blackcurrant and redcurrant.
Combining local and international
It's not all about local varieties in Romania – my first report explores how winemakers are producing clean and fresh international varieties like merlot, pinot grigio and pinot noir for supermarkets and restaurants.
Wineries are also bringing together indigenous grapes with their international cousins, like at Serve – which bills itself as the first private winery to open after the fall of Ceaușescu, having been founded in 1994 by Frenchman Guy Tyrel de Poix with local partners – which sits in the Dealu Mare region to the north of Bucharest, in the foothills of the Carpathian Mountains.
Sadly its wine aren't yet available in the UK, but the winery – which produces 800,000 bottles a year from its 1,200 hectares – brings together 60% sauvignon blanc, 20% riesling and 20% fetesca alba to form its 2017 Serve Cuvée Amaury, which combines aromas of light smoke, cream and ripe pear and red apple with fresher lemon and green apple on the palate, accompanying crisp acidity and a creamy mouthfeel.
Its red sibling, the 2011 Serve Cuvée Charlotte, is a blend of cabernet sauvignon, merlot and feteasca negra, producing leather, wood smoke, plums, figs and red plum on the nose and then roast meat, chocolate, more figs and prunes, and fresher black fruit on the palate.
At the nearby Budaresca winery, Northumbrian-born winemaker Stephen Donnelly is also creating concoctions; his 2017 Budaresca Fume (£11.45 for the 2016 from Transylvanian Wines) may bring together three familiar international varieties – a third each of pinot gris, sauvignon blanc and chardonnay – but the result is unique to Romania and indeed Donnelly, with creamy and toasty notes mixed with lemon curd.
His stand-out blend for me was the 2015 Noble 5 (£12.95, Transylvanian Wines), which brings together feteasca neagra with cabernet sauvignon, merlot, shiraz and even pinot noir to form a wine that combines soft blackberry and blackcurrant fruit with rounded vanilla, milk chocolate and cinnamon notes and dry tannins.
It reminded me of Porta 5, the Portuguese blend created for Majestic Wine by Scottish master of wine Norrel Robertson.
"I made this wine for me, not for the market," admits Donnelly. "We made 5,000 bottles during the first year, but we now have to make 50,000 bottles a year to keep up with demand."
Whether it's as standalone varietal wines or clever blends with international names, Romania's focus on its indigenous grapes is surely the way forward for the country to make its mark on the global wine scene and carve out a niche that will still be going strong even after wine bar drinkers grow bored with pinot grigio.