Five of the best beers from Flavourly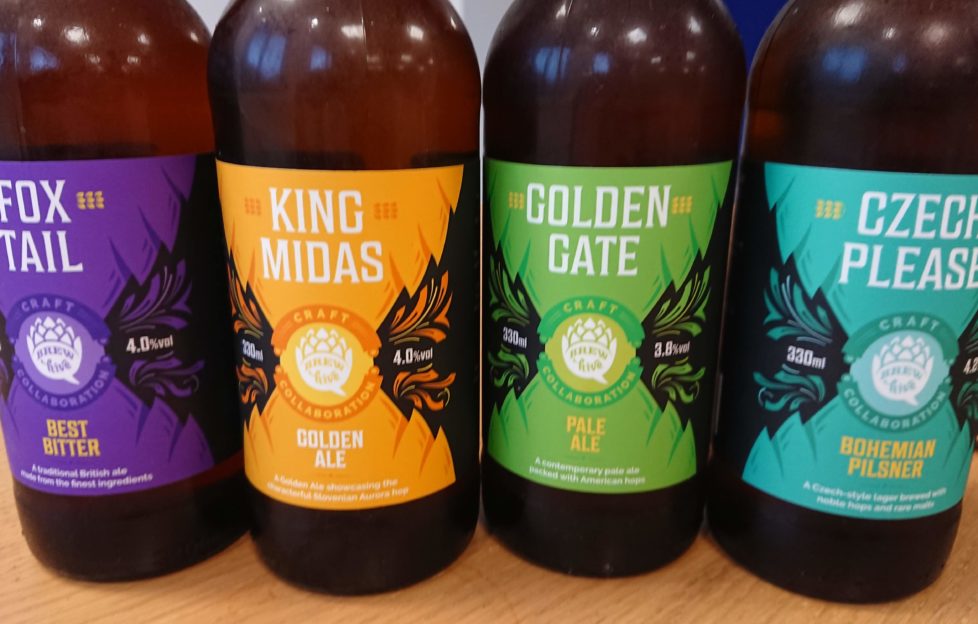 Peter Ranscombe picks some of his favourites from craft beer specialist Flavourly.
TRYING to choose a pint has become complicated.
Wind the clock back 20 years and the choice was simple.
If you were standing at a bar then you could have a watery lager, an over-sweet 80 shillings, or that ubiquitous stout from Ireland.
It was a similar situation when perusing the aisles in the supermarkets or the shelves in your local bottle shop – same old brands, same old beers.
Then along came the craft beer revolution and – thankfully – the world changed forever.
After Gordon Brown introduced a tax break for smaller brewers in 2002, micro-breweries began springing up throughout the country, producing a plethora of styles, from India pale ales (IPAs) through to amber, golden, and red ales.
It's been a wonderful journey for beer fans – but, for anyone who's trying beer for the first time or who just can't keep up with the number of new breweries and brews, it can be a bit mind-bending.
Step forward Flavourly.
Since 2012, the Edinburgh-based beer website has been curating packs from some of the most exciting breweries.
It's given a leg-up to scores of new brewers, buying their beers in bulk to help generate cash and introduce their bottles and cans to a wider audience.
Perhaps its biggest contribution has been its collaborations with breweries, teaming up to create limited edition beers – a great way for brewers to experiment with their wilder ideas.
A recent tasting with Rob Gilmour at Flavourly's nerve centre in Edinburgh revealed some excellent discoveries – here are five of my favourites…
Brewhive Fox Tail (4%)
My pick of the two dozen or so beers I tasted. Brewhive is Flavourly's revamped collaboration range, with the first four beers made in partnership with Northern Ireland's Hilden Brewery. This best bitter's gorgeous nose has subtle chocolate, leather, cigar smoke, and gentle biscuit that then leads into more chocolate biscuits and roast meat on the palate. Really satisfying. Look out for the King Midas Golden Ale and Golden Gate Pale Ale from the Brewhive range too.
First Chop Brewing Arm USA (4.5%)
A west coast session IPA made not in the USA but in Manchester as part of Flavourly's collaboration with First Chop Brewing Arm. A complex nose drifting from malty notes through pine to lemon. It's so well balanced on the palate too, with well-integrated malty flavours balanced by pine and cereal touches.
First Chop Brewing Arm NZL (4.1%)
Also part of Flavourly's partnership with First Chop, this New Zealand ultra pale ale has exciting aromas of orange blossom and honeysuckle, which suggest it's going to be a lighter brew, but it then takes the drinker on a clever journey through grapefruit and lemon to a malty, biscuit finish.
Wild Beer Company Comet (4.5%)
Flavourly's collaboration with Somerset's Wild Beer Company has produced this fantastic lager. I just couldn't stop smelling its fresh nose full of lemn, grapefruit and pine – really addictive. The palate is nicely balanced too, with a rounded texture and plenty of citrus.
Loch Lomond Brewery Come on Pilgrim (5%)
Closer to home, Flavourly has teamed up with Loch Lomond Brewing to create this New England IPA. It's truly excellent – attractive lemon and orange on the nose and then a great hoppy and malty mix on the palate.
Read more of Peter's beer, wine, and spirits reviews on his drinks blog, The Grape & The Grain.