A taste of the season at No.35 at The Bonham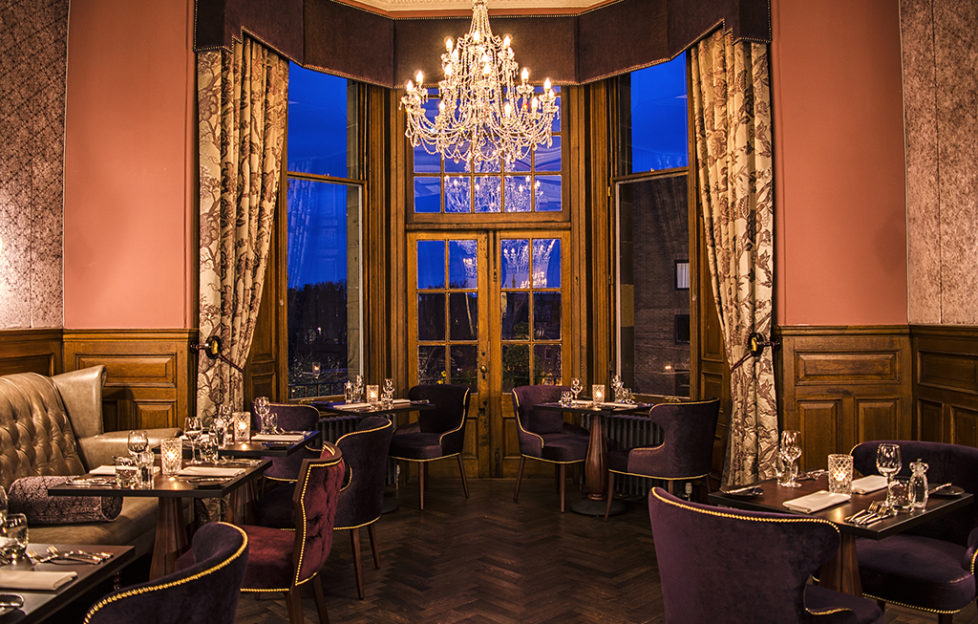 As the season changes and the chill really sets in, one of the easiest ways to lift the mood is by sitting down to a hearty meal in cosy surroundings.
My friend and I were excited to do just that when we went along to No.35 at The Bonham to try out their new Autumn menu.
Having stayed and dined in The Bonham before, I was excited to see what new delights were on offer and while my perpetually late best friend made her to way to the restaurant, I sat and enjoyed a chilled glass of prosecco.
Covered in dark wood with soft lighting, plush purple velvet chairs and grand portraits on the wall, the restaurant boasts classic elegance and a lovely atmosphere.
For our first courses, my friend opted for the Orkney scallops with black pudding & pork terrine presse, cider gel and oyster leaf. The scallops were cooked perfectly, with the black pudding providing that classic but delicious salty balance. I plumped for the Brydock Farm pork rillette with pear mayonnaise, pickled pear, honeyed walnuts and Pat's sourdough. I have to say I was rather disappointed with this dish. The pork was very dry and the sourdough was in fact two very small slices of what seemed more like melba toast. Underwhelmed, I had higher hopes for my main.
Opting for the venison saddle with baby beets, beetroot elements, watercress, hazelnuts and red wine jus – the meat was cooked well and was delicious when paired with a bottle of the house red. The 'beetroot element' component of the dish was similar to what I can only describe as a scattering of a few small pieces of pink sponge. They were slightly sweet but unfortunately didn't seem to add anything to the dish apart from confusion.
My friend's steak and chips was much more successful although she noted that it was more on the rare than medium rare side. The hand cut and chunky chips were potato perfection and I managed to pinch more than a few myself. As an additional little side we got the halloumi fritters with chorizo mayonnaise. Unsurprisingly, they were very tasty.
To finish we had the farmhouse cheese selection with oatcakes, frozen grapes, spiced pear and apple chutney, along with the marshmallow and apple, oat and nut crumble. The cheeses were lovely and the chutney was a perfect accompaniment. We both thought the frozen grapes were an interesting touch and that the toasted marshmallow in the other dish was a perfect nod to autumn.
Although there were some definite hit and misses, I'd be keen to try more of this new autumn menu especially with the likes of Scottish grouse, Shetland salmon and heritage pumpkin risotto on offer.
35 Drumsheugh Gardens
Edinburgh
EH3 7RN
0131 226 6050