Kestin designs uniforms for Kimpton Charlotte Square hotel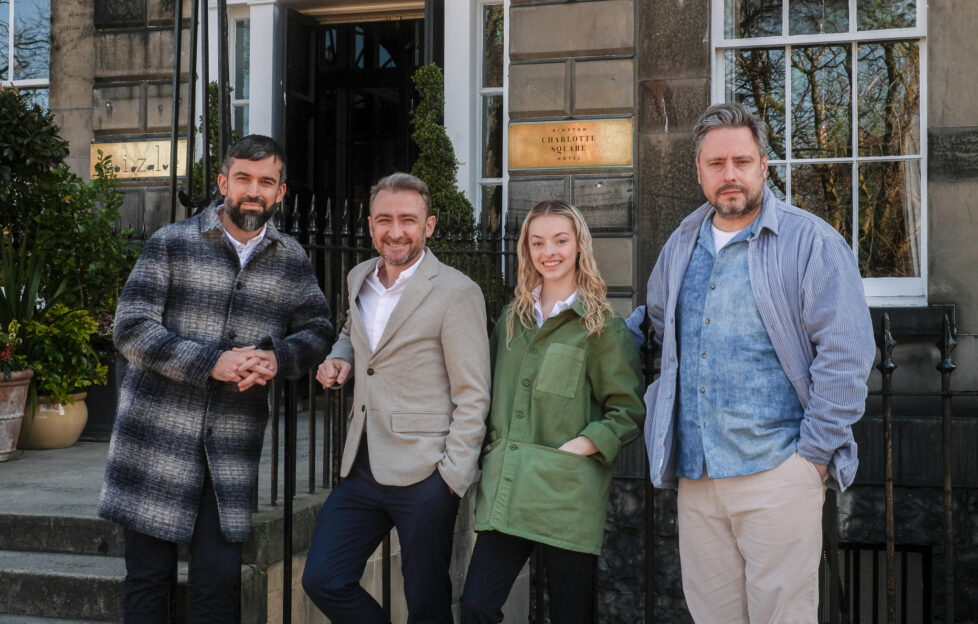 SCOTTISH menswear brand Kestin has designed new unisex uniforms for the front of house staff and concierges at the Kimpton Charlotte Square hotel in Edinburgh.
Members of the front of house team have been given a "Vineyard Green Rosyth Shirt Jacket", which has been described as: "A versatile workwear-inspired overshirt [that] epitomises the label's utilitarian aesthetic, cut from a mixture of herringbone and twill, and garment-dyed to this custom colour to complement the interior design features of the hotel's inner courtyard garden and lobby areas."
Concierges have been fitted in an "Edinburgh Overcoat in navy check", which was described as: "Tailored and finished in the designer's London factory, it is cut from a super soft, thick Italian virgin wool blended fleece that's inspired by 'Americana' traditional textiles, blankets and colourways, and fused with a traditional Scottish check reference."
Kieran Quinn, general manager of Kimpton Charlotte Square, said: "We wanted to create a more modern and inclusive look for our team with sustainable, quality pieces that suit all staff and reflect our brand.
"We embrace diversity and work with local partners to create a distinctively unique guest experience, yet we have a global outlook. This fits well with the Kestin brand.
"So, we reached out to Kestin Hare and his team to discuss creating a new look for our concierges and front of house staff, and spent time with them researching the highest-quality, sustainable fabrics and products.
"The Americana touch to the coat fabric is a nod to Kimpton's roots as the first boutique hotel and restaurant brand in the US.
"These original, high quality sustainable pieces look great on our team, and we're delighted to unveil this new, more inclusive and relevant look for 2023."
Founder and creative director Kestin Hare added: "Working with Kimpton Charlotte Square on creating a new identity feels like a natural extension of their brand and ours and it has been a real pleasure.
"Kimpton shares our values of quality and timeless design, so we understand each other.
"It's been an interesting project to work on, it's our first hotel collaboration, and the design process has been simple and well balanced."
Read more stories on Scottish Field's fashion and beauty pages.
Plus, don't miss more fashion each month in Scottish Field magazine.