Cask and Still Magazine Issue 7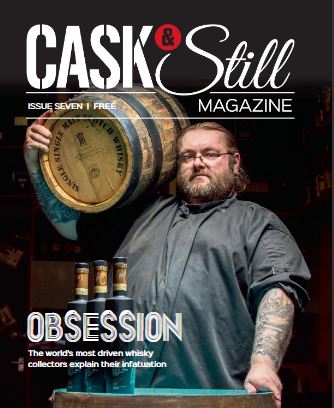 In issue seven of Cask & Still, we meet the world's most driven whisky collectors who explain their infatuation with the water of life.
As we continue to look at whisky bars around the world, we take a look at glorious Greek styling at CV Distiller bar in Athens.
Harry Potter and Whisky Galore! star Sean Biggerstaff talks tipples as he reveals his favourite drams in Glasgow's Pot Still pub.
We learn how Vic Cameron swapped distilling for a deity, and we warn of the sham of sherry casks, where whisky isn't always what it seems.
We are offered six of the best whisky cocktails from The Devil's Advocate, and we take a look at the rise of Taiwanese whisky.
Our bluffer's guide this month takes a look at copper pot stills.
Cask & Still meet the he father-daughter
team behind Angels' Share Glass.
We also put gin provenance under the spotlight after its breakout year.
Dr Brooke Magnanti knows port is not just for Christmas, and we look at alcohol-light beersm as Genius lager has more taste and less booze.
We ask when is craft beer not craft beer, and conclude with Toulouse-based whisky blogger Anne-Sophie Bigot sharing her love of whisky.
This issue was originally published in April 2018.
Read issue seven of Cask & Still HERE.