Seven Scots take honours at wine and spirits awards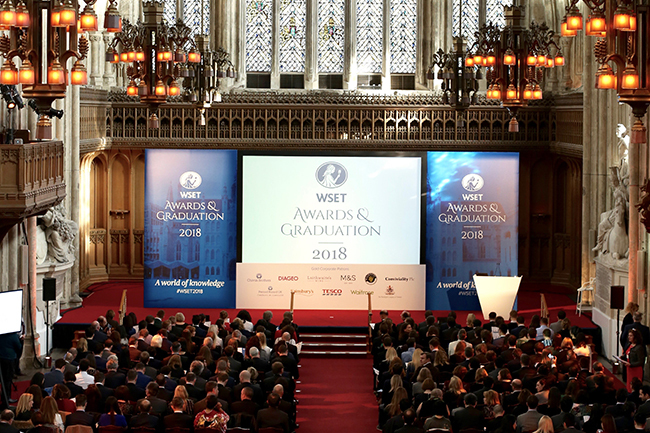 Seven Scots were honoured as some of only 440 people in world this year to be awarded the coveted WSET Diploma from the Wine & Spirits Education Trust (WSET).
Three outstanding individuals were also announced as the winners of prestigious wine and spirits industry awards.
Over 500 of the most influential wine and spirits professionals in the world gathered at the historic Guildhall, City of London, to celebrate the annual WSET Awards & Graduation.
Hosted for the first time by new WSET honorary president, Steven Spurrier alongside WSET chief executive, Ian Harris, the occasion attracted attendance from industry leaders and including Marius Berlemann, Laura Jewell, Richard Paterson and Jancis Robinson.
The Scottish WSET Diploma graduates were honoured in the annual procession, marking their achievement as one of just over 9000 people in the world to have ever held the accolade.
The Diploma is WSET's highest qualification and recognised globally as one of the most distinguished achievements in the sector. The course develops an in-depth knowledge of wines and spirits, from production, regions and styles, and the global trade in wines and spirits.
The Diploma is also universally viewed as the stepping stone to the Master of Wine qualification. Upon successful completion graduates receive a WSET certificate and lapel pin, and are able to use the post-nominal DipWSET and associated WSET certified logo.
Fiona MacDonald from the Isle of Jura was the winner of the Worshipful Company of Distillers' Prize as a student working in the UK wine & spirit trade who achieved outstanding results in her WSET Level 2 Award in Spirits. Fiona, who studied for her WSET award at Case Studies Wine School, is a tour guide at Whyte and Mackay. She will receive funds from the Worshipful Company of Distillers to study a spirit producing region of her choice.
She said: 'It's been an interesting journey and it's not over yet!  As a tour guide every tour is different, never knowing what to expect, I enjoy meeting visitors from all over the world. I learn something new every day and with visitors sharing their own experiences. My employer offered the WSET course, which I thoroughly enjoyed, developing my knowledge about other spirits. I'm over the moon on winning the award.'
Norbert Pere from Edinburgh was the winner of the Gran Orden Caballeros del Vino Award as a student from the UK wine & spirit trade who achieved outstanding results in his WSET Level 3 Award in Wines. Norbert, who studied his WSET award at Lothian Wine School, is Trainee Manager at Majestic.
He receives one year's Honorary Membership and a study trip to Spain, as a guest of the Gran Orden de Caballeros del Vino in association with Wines from Spain.
He added: 'I have always been interested in wine but just a couple of years ago decided to follow my heart and pursue a career in the wine industry. I took my wine interest to a more serious level when I did WSET Level 2 Award in Wines & Spirits in 2014, followed by Level 3 Award in Wines last year. I enjoyed every second from the theory to the tasting and learned a lot. A WSET qualification on your CV opens doors in the wine trade; it played a big part to get my job at Majestic Wine as a Trainee Manager. I feel honoured and very happy to have won the award. I hope to build great relationships with people in the Spanish wine industry as well as learn more about Spanish wines and the industry in general.'
 Miriam Reynolds from Edinburgh was the winner of the Moet & Chandon Prize as a student from the UK wine & spirit trade who achieved outstanding results in the WSET Diploma Unit 5 – Sparkling wines of the world exam. Miriam, who studied her WSET Diploma at WSET School London, is Founder of The Sipping Point, a WSET course provider. She receives a study visit to Champagne as a guest of Maison Moët & Chandon.
Miriam said: 'I was just getting geared up for the Viticulture and Vinification examination of the Diploma when my Dad passed away unexpectedly. My Dad was not one for giving up – so I decided to proceed, happy in myself that he would have wanted me to do just that. Two years later I sat the Unit 5 exam on his birthday. I felt the exam went very well but I never, ever dreamed that it would culminate in this amazing award. I'm sure my Dad is so pleased and so proud. I enjoyed learning, and re-learning in many instances, the details and significance of the many subjects that make up the silent story behind every glass of wine. I hope to remain in love with wine, and to succeed in promoting the story and appreciation of both wine and winemakers.'
Other WSET Diploma graduates from Scotland included:
Ewan McAllan from Edinburgh; Gregor Reid from Edinburgh; John Marshall Bass from Glasgow; Madelaine Webster from Glasgow; Victoria Anderson from West Lothian; and Vladimir Gasnarek from Aberdeen.
To learn more about WSET courses and find a local Approved Programme Provider visit the website at www.WSETglobal.com