Scotland's top accessible venues named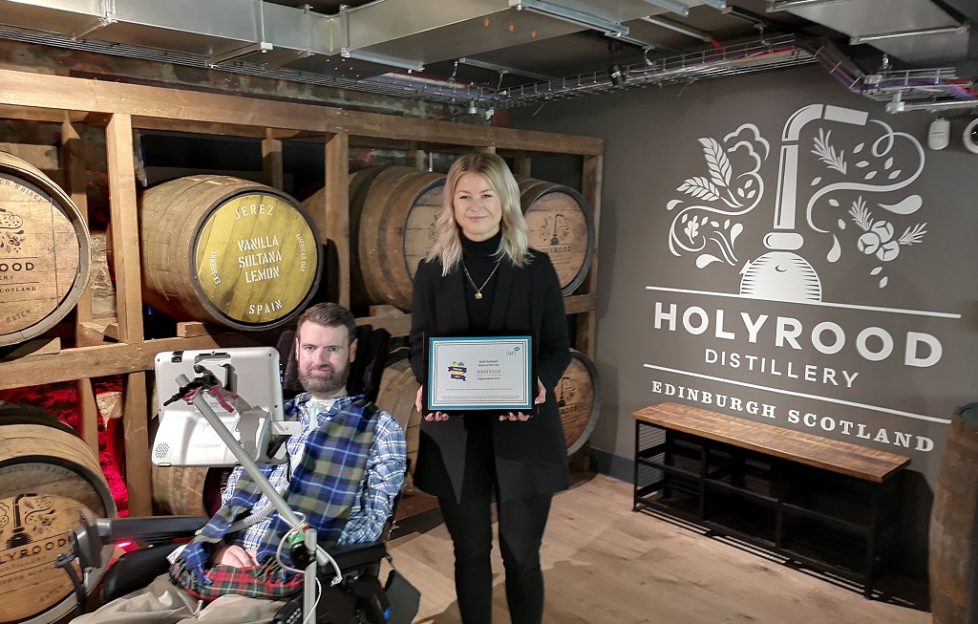 Holyrood Distillery and Culloden Battlefield and Visitor Centre have been named Scotland's Venues of the Year by disabled access charity Euan's Guide.
The awards, which are now in their second year, recognise the best accessible venues in eight regions across the UK, based on public nominations and reviews shared on Euan's Guide.
Holyrood Distillery was named Southern Scotland's Venue of the Year.  The new attraction received high praise from voters, one of which named it as 'the only perfect venue' they have ever been to.  The venue has achieved high levels of accessibility through their staff training and a considered layout.  A good sized lift and accessible toilet help to ensure everyone can enjoy the experience.
Euan MacDonald, co-founder of Euan's Guide said: 'Holyrood Distillery has created an inclusive visitor experience by considering their disabled access from the outset.  In doing so they have ensured that the whole attraction can be accessed by everyone regardless of their access requirements.  What brings this venue to life however is its team of staff who provide outstanding customer service.'
Debs Newman, visitor experience director at Holyrood Distillery said: 'We are incredibly proud that the first award for our distillery experience, within just six months of opening, recognises Holyrood Distillery as an inclusive and accessible venue and attraction, with people to match.
'From initial conception, it was always a priority to ensure that what we do at the distillery, both in production and experience, can be enjoyed by as many people as possible – taking them on an interactive and immersive journey into flavour, and the science and enjoyment of Scottish gin and Scotch malt whisky.
'We welcome family groups, offer fully guided tours in a variety of languages, and are as physically accessible as possible.  We are looking forward to introducing BSL experiences and making other enhancements to access as we continue to develop.'
Culloden Battlefield and Visitor Centre received the Northern Scotland award.  This important historic site is surprisingly accessible with step free access, audio guides, and pen pals for those with visual impairments.  The National Trust for Scotland has taken great care to ensure this experience is interesting and accessible for all.  Voters highlighted Culloden's knowledgeable staff who help bring history to life.
Euan MacDonald, co-founder of Euan's Guide said: 'Culloden Battlefield and Visitor Centre makes it possible to learn about Scotland's history by removing the barriers of physical access and cost.  The attraction offers step free access with plenty to see and do even for those who choose not to participate in the paid element of the experience.  This sets a great example for other businesses to learn from and for that, it should be rewarded.'
Raoul Curtis-Machin, operations manager at Culloden Battlefield and Visitor Centre, said: 'This is fantastic news – at the Trust, we want everyone to experience and value Scotland's heritage, and we will be researching ways to improve our accessibility at Culloden even more this year.  We will celebrate this award with pride."
Disabled people nominated hundreds of venues for the awards.  Eight regional winners were selected who each provide an outstanding welcome for disabled visitors.
Arts and learning centre Barbican received London's Venue of the Year while George Best Belfast City Airport received Northern Ireland's Venue of the Year.  A family favourite, Cadbury World was named Midlands' Venue of the Year while the immersive open air Beamish, The Living Museum of the North was awarded Northern England's Venue of the Year.  Awards also went to two animal attractions Newquay Zoo, Southern England's Venue of the Year, and Folly Farm, Wales' Venue of the Year.
Disabled access information can often be hard to find which is why disabled people use the disabled access review website Euan's Guide to share their own experiences and find new places to visit that have been recommended by other people.  The website holds thousands of reviews for all types of places making it easier for people to find great accessible places to go.