More and more Scots are choosing a staycation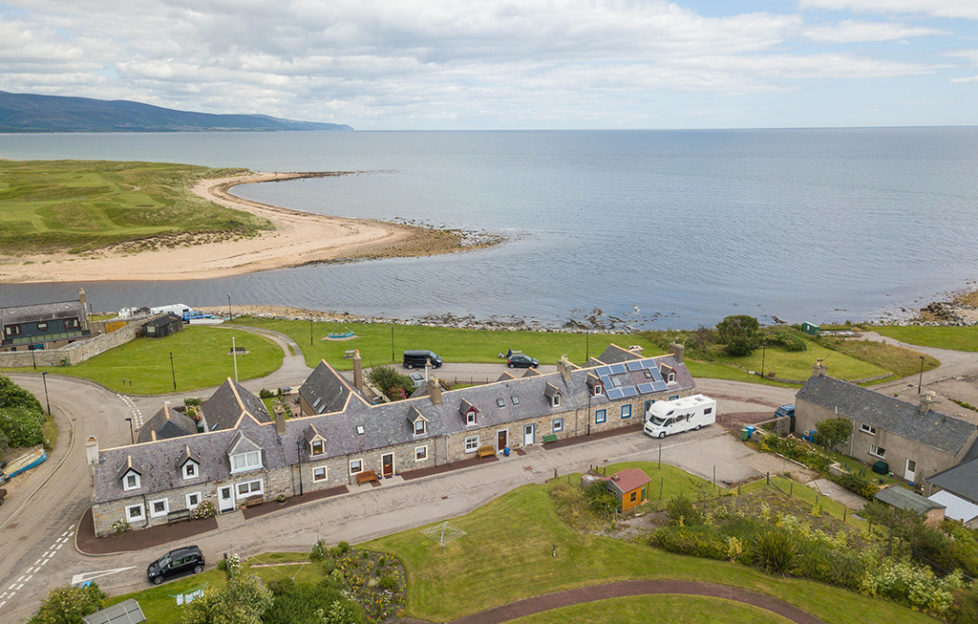 The Easter holidays are popular for family staycations in Scotland.
Cottages & Castles, Scotland's leading specialist holiday lettings agency, has witnessed an increase in family and group bookings this year.
With the Easter holidays just around the corner you may be wondering if it's too late to book that much longed for family getaway, but Cottages & Castles has witnessed a last-minute rush of people booking breaks in Scotland as the delayed start to Spring has now eventually brought with it some welcomed sunshine.
Cottages & Castles' Easter bookings have increased by 20% over the past five years, with the top five most popular self-catering holiday destinations for Easter 2018 being the Isle of Arran, Ullapool, Applecross, Inverness and Perthshire. Location is key for the perfect family holiday and each of these five regions offer plenty of local amenities and attractions within walking distance or only a short drive away.
Customers staying at Cottages & Castles properties in 2017 were primarily from within Scotland (55%), with 5% from overseas and 40% from the rest of the UK, proving that a staycation is still a popular holiday choice.
In a recent survey published by the Association of Leading Visitor Attractions (ALVA), Scotland outperformed the rest of the UK in attracting 13.9% more visitors to its tourist attractions. So together with its dramatic landscapes, heritage and culture, it's no surprise that Scotland is a top destination of choice.
Sue Bourne, manager of Cottages & Castles, said: 'Easter is when many families take their first getaway of the year and our figures have shown that Scotland is still very much in favour with staycationers keen to get away without having to endure long flights and transfers. We have witnessed an increase in bookings from the family and group market with our large houses proving very popular.
'We understand what families are looking for in a staycation and have compiled a great portfolio of large family-friendly properties in some of Scotland's most stunning locations, offering the ideal base for exploring the great outdoors.'
Cottages & Castles has some fantastic properties in beautiful locations offering perfect Easter staycations for all ages to enjoy, with country cottage gardens ideal for a fun Easter egg hunt to castles located in beautiful countryside settings perfect for egg rolling or bunny spotting.
Some of the properties still available at Easter with Cottages & Castles include:
Estuary View is a lovely holiday home in Brora, Sutherland – two traditional fisherman's cottages converted into one offering spacious holiday accommodation. Sutherland is an area which has become a very popular holiday destination with a quiet sandy beach on your doorstep and the village offering a good range of shops and places to eat. The East Coast offers many golf, bird watching and walking opportunities, with a drive up the North Coast and to Orkney possible for day trips. Drive inland and you have got breath-taking scenery of Strath Naver, Loch Brora, Sandwood Bay and Cape Wrath, making Estuary View the perfect self-catering holiday cottage from which to explore the wild and rugged Sutherland.
Estuary View is available from £545 per week and sleeps eight.
Larachmhor is a lovely holiday house in a delightful and hidden away part of Perthshire offering the perfectly base to explore the west coast and the Cairngorms or even visit Edinburgh for a day trip. The nearest town is Dunkeld with its National Trust buildings, charming shops and restaurants by the River Tay providing entertainment for the whole family. The property has recently been renovated offering a stylist and comfortable property with an attractive garden backing onto open fields and allowing you to become immersed in this part of rural Perthshire.
Larachmhor is available from £765 per week and sleeps eight.
Eastertown of Mayen is a fantastic country home set in the beautiful Deveron valley near Huntly. The property has spacious and charming rooms throughout with an emphasis on comfort and outside, dogs and children will love the enormous fully fenced garden. The area around the Moray/Aberdeenshire border has an abundance of outdoor activities and being just a short drive from many coastal communities like Banff, Sandend and Lossiemouth, you will have a chance to explore the historic harbours and long sandy beaches of The Coast Trail. Nearby Duff House is a great place to start the Castle Trail exploring the area's beautiful historic buildings.
Eastertown of Mayen is available from £760 per week and sleeps eight.
Borenich is a 19th century, stone-built farmhouse situated above Loch Tummel and enjoys stunning views of the far side of the loch. This spacious farmhouse is just perfect for families, and the glorious garden with access to the loch (via a short walk through the fields) is a delight. The Queen's View is on your door step and Pitlochry is just seven miles away. The outdoor enthusiast will be spoiled for choice with many woodland walks on your doorstep to cycling, golf and much more.
Borenich is available from £700 per week and sleeps six.