All set to celebrate 200 years of the Union Canal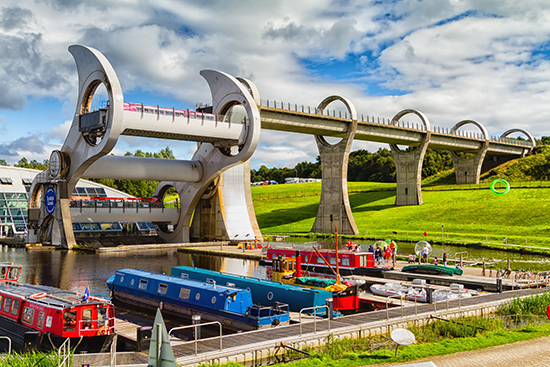 The famous Union Canal linking Edinburgh with Falkirk and Glasgow is this year celebrating its 200th birthday.
The first turf was cut in Edinburgh to begin construction of the Union Canal on 3 March 1818.
When there were no major roads between Scotland's largest cities, the canal was the motorway of its day, and the 31.5 mile canal took four years to complete at a final cost of £461,760 and was a contour canal with no locks until it reached Falkirk.
This engineering marvel includes three masonry aqueducts, one of which remains the second biggest in Britain, and Scotland's only canal tunnel at that time.
The Union Canal has seen many fluctuations in its fortunes over the past 200 years, before the voluntary sector came to its rescue to play a pivotal role in its restoration for the millennium, and a continuing life on the canal for years to come.
The canal is now important part of Scottish heritage, and provides a recreational and tourist attraction that many envy, but few have on their doorstep.
The occasion is being marked by a series of celebratory public events along the length of the canal, being coordinated by a number of the voluntary Societies and organisations whose interests and activities were fundamental in the restoration and re-opening of the canal and the subsequent ongoing maintenance, ensuring the canal continues to function today as an important local facility and tourist attraction.
The Lowland Canals Volunteer Group was formed to further the work of the voluntary sector on our canals, and includes each of the Canal Societies, Social Enterprises, Scottish Waterways Trust, Lowland Canals Association and Scottish Canals.
Linlithgow Union Canal Society was formed in 1975 when the Union Canal was derelict, and blocked in a number of locations. The society is still 100% run by volunteers, bringing life and activity to what is now regarded by many as an important local attraction and facility for Linlithgow, West Lothian and beyond.
The Bridge 19-40 Union Canal Society, based around Broxburn and Winchburgh, one of the smallest and friendliest canal societies on the Scottish Lowland Canals, takes its name from the section of the Union Canal upon which it operates. Through use of their boats they aim to encourage the people living in the communities along the canal to take an interest in the canal and help maintain it as a pleasant amenity for boating, walking, cycling or fishing.
The Edinburgh Canal Society's main base is Ashley Terrace Boathouse at Lockhart Bridge, near Harrison Park in the Polwarth area of Edinburgh. In partnership with the other canal societies on the Scottish Lowland Canals, Edinburgh Canal Society campaigned for many years to have the Union Canal rebuilt, refurbished and re-opened.
Re-Union Canal Boats is a registered charity and social enterprise established in 2004 based in Edinburgh at Lochrin Basin and Lock 16 in Falkirk. Re-Union offer a combination of volunteering projects and activities including health and wellbeing, RYA training and lock keeping, as well as selling trips on their wide beam canal boat and day boat to the general public. Re-Union co-ordinate the Edinburgh Canal Festival which this year is being held on 16 June 2018.
Founded in 1978, Seagull Trust Cruises offers free cruises on Scotland's canals for people with special needs. A completely voluntary charity, cruises run from branches at Ratho near Edinburgh, Falkirk, Kirkintilloch and Highland at Inverness.