Hotel Du Vin – Edinburgh's Bonnie French Bistro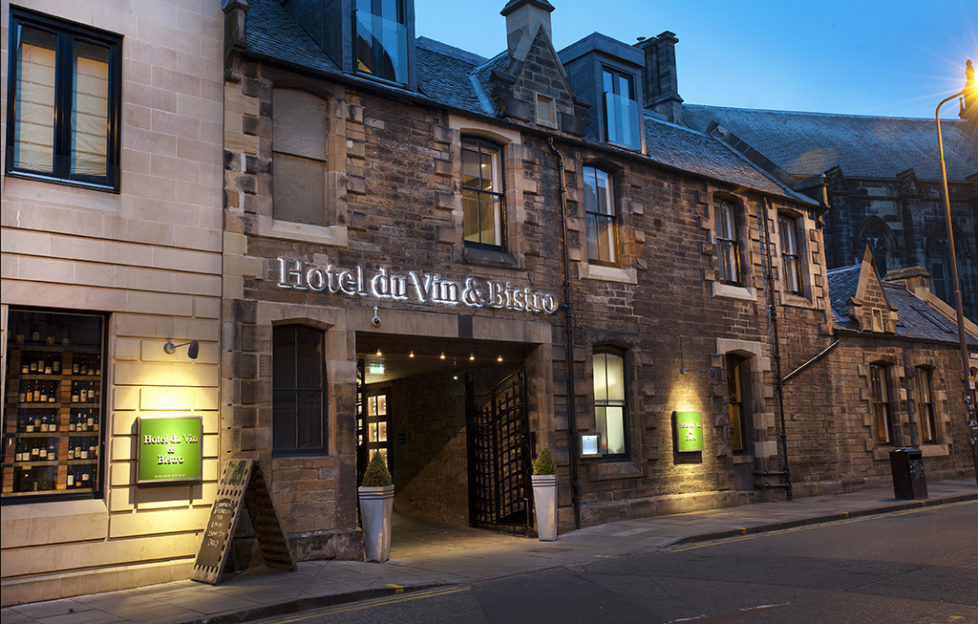 SPONSORED CONTENT. Celebrating its tenth birthday this year, Edinburgh's Hotel du Vin looks to 're-focus' on its authentic French bistro experience.
Tucked away in Edinburgh's Old Town, Hotel du Vin & Bistro invites visitors and locals to escape the busy city in their relaxing boutique hotel.
A historic establishment, Hotel du Vin Edinburgh occupies an 18th century building, embracing an interior that combines sleek modernity and original stone wall features.
Bursting with character, the venue is well-placed for exploring the capital's attractions. Located on Bristo Place, it is a stone's throw from the Royal Mile and within a 15-minute walk from Princes Street.
'We are in a fabulous location five minutes from the Royal Mile, tucked away in a beautiful corner of the Old Town', said Benjamin Bel, the hotel's general manager.
Renowned for their bespoke luxury and quality, the elegant Edinburgh hotel features 47 stylishly designed rooms and suites, which include custom 'sleigh' beds and monsoon showers. Inside, visitors can relax at a mezzanine-level bar, choose from a selection of wine in the Laroche wine tasting room, sample a selection of malts in the Whisky Snug, or even smoke a cigar in the heated Cigar Bothy.
'The quality of the location, quality of the building and the quality of the food and beverage products we sell are what really set us apart', said Bel.
Now in its 10th year, the venue is looking to put its Bistro du Vin kitchen at the forefront of the brand and promising customers traditional French cuisine and exquisite wine.
Bel said: 'We're a French brand, we're all about the wine and the dining. We are selling a French dining experience, as well as the quality of the hotel, the rooms, the accommodation, the quirkiness of the location, the building and the design.'
The new spring menu focuses on seasonal produce with al fresco dining options becoming fully operational moving into June.
'Sunday Brunch is a great option for locals,' says Bel, 'we also have live music every second Sunday as well as a courtyard where we do a lot of al fresco throughout the day so you can have breakfast, lunch and dinner outside.
'Then you've got the normal a la carte and the star of the show is the seasonal menu that changes every three months, which is great value for money and allows us to introduce amazing seasonal products throughout the year.'
It is hoped that the new menu will generate more local visitors to the hotel, further selling the Hotel du Vin experience. 'Customers who stay with us in the hotel love to dine with us, but we are also concentrating on attracting local visitors this year too,' Bel said.
'We work with a lot of local producers and products to deliver some of the best French food in Edinburgh.'
'Local visitors make all the difference, and we have some fantastic things to offer. What we would like to do is remind the locals that we are here.'