Eight castles you must visit in our trail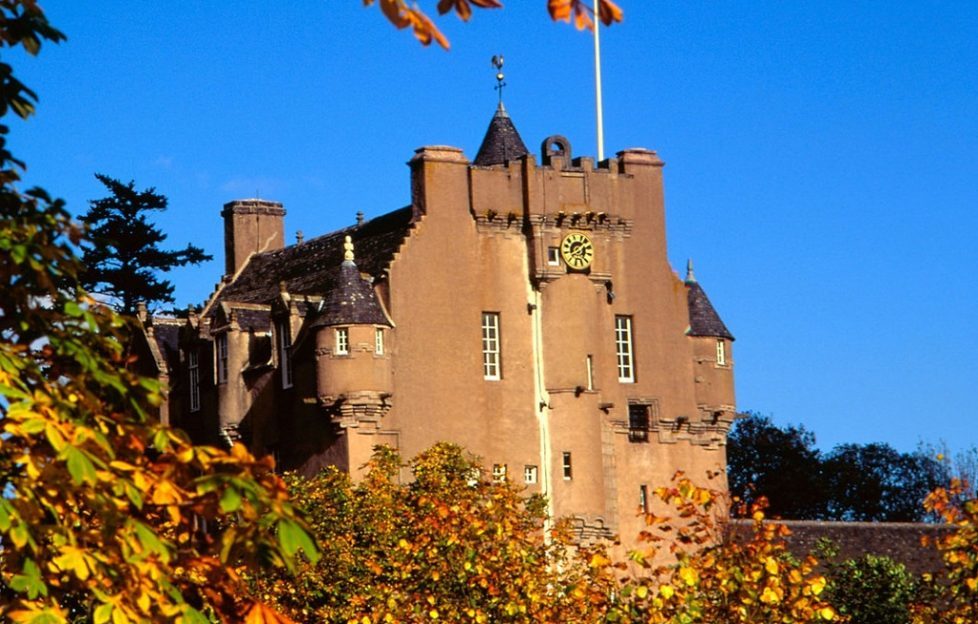 Aberdeenshire is known as Scotland's Castle Country, with more castles per acre than anywhere else in the UK.
From candyfloss pink Craigievar Castle to quirky Castle Fraser and its Laird's Lug, Aberdeenshire's 300 castles, stately mansions and ruins have something for everyone this spring
The castles are preparing for a busy season of activities, from music festivals to mini Highland Games and gin tasting events.
Here, Scottish Field highlights our very own eight-stop castle trail taking you on an enchanting journey the length and breadth of the region.
1. Crathes Castle, Banchory. Despite its towers, turrets and tales of a resident ghost, Crathes Castle is far from ghoulish. The breathtaking 595-acre estate contains a selection of habitats including woodlands, ponds and streams. However most striking of all is the assemblage of mature trees from around the world, which were planted around the castle in 1860 by Sir James Horne Barnett. The land of Leys was granted to the Burnett family in 1323 by King Robert the Bruce and the ancient Horne of Leys is displayed today in the Great Hall, representing his gift. With events such as the National Trust for Scotland's 'Annual Plant Fair' on 19 May to the opening of the brand new Lord Funt Hospital Playground on 5 July and the filming of BBC 1's Antique Roadshow on 1 July, Crathes Castle's programme will be jam-packed with entertaining activities.
2. Drum Castle, Drumoak, Banchory. Established over 700 years ago, Drum Castle is central to the rich history of Aberdeenshire. For his service at the Battle of Bannockburn (1314), William de Irwyn was awarded the Royal Forest of Drum and Drum Castle in 1323, which remained in the Irvine family until 1975 when it was handed over to the National Trust for Scotland. Castle Drum's beautiful Garden of Historic Roses is perfect for those with a green thumb, displaying how roses have been cultivated from the 17th to the 20th centuries. Nature lovers and agriculturalists will delight in the opportunity to explore this botanical wonderland, located just eight miles outside of Aberdeen.
3. Craigievar Castle, Craigievar, Alford. Said to be the inspiration for Disney's Cinderella castle, Craigievar Castle is a fairytale example of some of the finest Scottish Baronial architecture Aberdeenshire has to offer. The stunning pink tower offers a spellbinding visual experience for adults and children. Construction of Craigievar Castle began around 1576 and was completed by 1626. The castle was home to the Forbes family up until the 1960s until it was also taken over by the Scottish National Trust, which gives the property an exterior very much of yesteryear while still maintaining a certain contemporary familiarity within the castle walls. Craigievar's grounds are equally impressive, with an unusual Scottish glen garden, a Victorian kitchen garden and two woodland trails.
4. Castle Fraser, Sauchen, Inverurie. Castle Fraser – originally known as Muchall-In-Marr – was built between 1575 and 1636 by the sixth laird Michael Fraser and is regarded as one of Scotland's most magnificent tower houses. The most elaborate z-plan castle in Scotland, it has many quirks and oddities such as secret staircases, hidden trapdoors, a spy hole, a wooden leg and the 'Laird's Lug', a chamber hidden above the Great Hall so that the Laird could eavesdrop on his visitors. The wider estate of Castle Fraser brags extensive walks with breathtaking views of the castle. It hosts a wide range of events such as film screenings, Easter egg hunts, gin tastings, murder mysteries and the annual Castle Fraser Steam Fair. However, a standout event is Castle Fraser's Mini Highland Games taking place on 27 May, which will include an attempt to perform the world record for the largest strip the willow yet.
5. Leith Hall, Kennethmont, Huntly. Ten generations of the Leith-Hay family lived in Leith Hall until just after the Second World War when it was donated to the National Trust for Scotland along with all of the family's furnishings and art, making it one of the most complete collections in the organisation's care. Boasting lush furnishings and eccentric curios, Leith Hall has 286 acres of open parkland, wooded areas, a landscaped pond, a churchyard and extensive gardens, making it ideal for a springtime walk. Walkers can enjoy any of the three waymarked trails to see a brilliant variety of wildlife and magnificent views from the National Trust's highest altitude garden, which is 186m above sea level.
6. Fyvie Castle, Fyvie, Turriff. Once a royal stronghold, Fyvie Castle has a rich, 800-year history, which includes folklore, legends and ghost stories. The Castle has had a vast array of royal guests over the years such as William the Lion, Robert the Bruce and Charles I. Each of the five successive families (Preston, Meldrum, Seton, Gordon and Forbes-Leith) added a tower to the magnificent Baronial fortress. Fyvie Castle has many fascinating features and displays armour, wide stone spiral staircases and one of the world's largest collections of Raeburn paintings. Fyvie castle hosts an extensive range of events throughout the year including murder mysteries, paranormal investigations and on 9 July will also be hosting its famous open-air family concert, Fyvie Live, expected to be jam packed with live-music and entertainment.
7. Delgatie Castle, Delgatie, Turriff. Delgatie Castle dates from around 1050 and has been the home of the Hay Clan for the last 650 years since it was taken from the Earl of Buchanan in 1314 after the Battle of Bannockburn. The Castle is located three miles from Turriff and was the site of the first conflict of the civil war between the Covenanters and the Royalists in 1639. Delgatie is also located near a selection of quiet local beaches, potteries, antique shops and some of the world's most famous whisky distilleries. Well known as a great Scottish day out, don't miss the castle's award-winning tea room.
8. Kinnaird Head Castle, Castle Terrace, Fraserburgh. Kinnaird Head castle has made the journey from castle, to lighthouse to museum over its 450-year history and is one of the best preserved structures of the 'nine castles of the knuckle', planted along the Buchan coast. This hybrid of castle and lighthouse also contains a wonderful museum where guests can get stuck into a range of creative activities. Whether it be trying on the uniform of a lighthouse keeper or climbing the lighthouse's impressive spiral staircase, there's something for everyone to enjoy. Kinnaird Head Castle offers spectacular ocean views from its tea room, which boasts a qualified marine biologist on hand for sea-life enthusiasts and casual diners alike.