Ladies are on target to have another hot shot year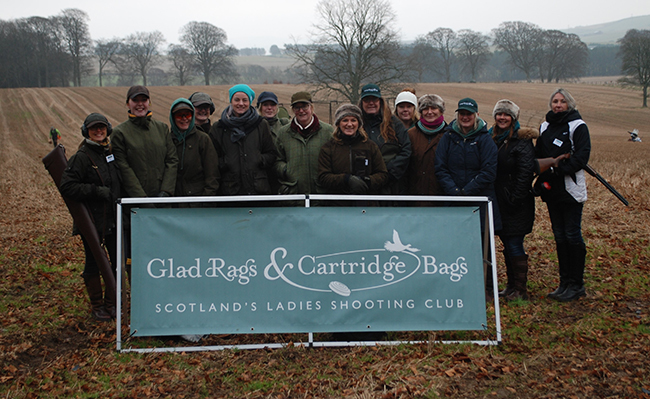 Scotland's premier ladies shooting club Glad Rags & Cartridge Bags got the new year off to a cracking start with their blast away the January blues clay shooting event at Pittodrie House Hotel in Aberdeenshire.
Ladies of all experiences took part, ranging from ones who had never held a gun before to the more experienced shots who came to the event with their own guns.
Pittodrie House Hotel is one of many spectacular venues for Glad Rags.
Mhairi Morriss owner of JOMM Events and founder of Glad Rags and Cartridge Bags said: 'We are unique in that our shooting events are hosted at stunning venues throughout the area and not at traditional shooting grounds, we are like a roving syndicate.
'But there is no joining fee and ladies come to whichever events they fancy.'
The Glad Rag ladies have enjoyed shooting at a host of outstanding venues including Raemoir House, Saplinbrae House Hotel, Kinnettles Castle, Kincardine Castle, Candacraig House, Findrack Estate and Gordon Castle in Fochabers.
The ladies were welcomed into the cosy Billiard Room with the fire roaring and the aroma of freshly brewed coffee and bacon and egg rolls.
Allocated into groups according to their experience, they then enjoyed two hours of expert clay shooting instruction followed by a mini flush to really get the adrenaline pumping.
It was then back inside for a very entertaining and informative talk by Ryan Rhodes of Twin Peak Distillery about their bespoke gins followed by a delicious Sunday roast lunch.
Mhairi continued: 'At each event we have ladies who have never held a gun before being encouraged by our more experienced shots.
'I am so proud of the atmosphere at the events, regardless of where we are or which ladies are at the event the echoing of laughter, cheers and applause as the clays are hit can always be heard.'
Now in its fourth year the club is going from strength to strength with the events selling out and new venues joining the already very impressive portfolio.
Mhairi is very excited about Glad Rags and Cartridge Bags future, and added: '2018 is going to be an incredible year for us, so far new venues on board this year are Cluny Castle and Douneside House, more wonderful ladies joining us all the time learning to shoot or improving their shooting but also ever lasting friendships and happy memories made.
The ladies next event is at Raemoir House on 25 February.
For more information and to book HERE or call Mhairi Morriss on 07841 393 155.