The way to someone's heart this Valentine's Day is through black pudding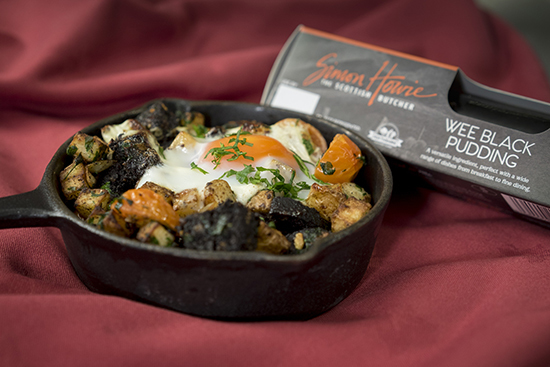 A top Scottish butcher has teamed up with Scotland's National Chef to create two new recipes for Valentine's Day.
Simon Howie, producer of Scotland's best-selling black pudding, has partnered with MasterChef: The Professionals winner, Gary Maclean, to share the love this Valentine's Day with two delicious recipes guaranteed to get hearts racing.
Working together, the pair have come up with recipes for the perfect brunch and a romantic dinner that centre around Simon Howie's Wee Black Pudding, an award winning and versatile ingredient.
In these recipes, the soft textured pudding, which is blended with caramelised apple and warming spices, is combined with a variety of different flavours and textures to create a brunch recipe and dinner dish.
To create the perfect brunch dish, Simon Howie's wee black pudding is fried alongside diced potatoes and garlic, then topped with a baked egg. The warm spices of the pudding mixed with the sharpness of the garlic makes for the perfect accompaniment to a lazy Sunday morning.
The dinner recipe blends the delicate sweet flavour of king scallops with the rich black pudding, serving it with a light fennel and apple salad adding a burst of freshness to the dish.
Simon said: 'They say food is often the way to someone's heart and I think these recipes are a perfect treat for a loved one this Valentine's Day. People often think of black pudding simply as an accompaniment to a full cooked breakfast but it's a great ingredient for a whole host of impressive dishes.
'Gary and I were keen to show the versatility of the Wee Black Pudding, using them in two different recipes for different times of the day. So whether it's brunch for two, or dinner for two, I hope people enjoy serving up these dishes.'
Gary added: 'I love creating dishes with a surprise element or wow ingredient and Simon Howie Wee Black Pudding is perfect for this, especially as it can be paired with so many different flavours.'
Simon Howie's Wee Black Pudding is available to buy from Tesco and Sainsbury's nationwide and from all major retailers across Scotland. It is already the UK's best-selling black pudding chub and its versatile format with long shelf life sees sales continue to rise.
Brunch – Black pudding, diced garlic potatoes with and hen's egg
Ingredients:
1 Simon Howie Wee Black Pudding (sliced and quartered)
500g frying potatoes (diced)
2 cloves garlic (crushed)
2 tsp oil
4 eggs (free range)
Bunch flat parsley (shredded)
Method:
1. Pre heat your oven to 200°C.
2. This is a very easy dish to make and is perfect for a Sunday brunch. The first thing you need to do is to dice the potato and place the potato into a frying pan and fry until golden and crisp.
3. Add the Simon Howie black pudding and cook until the pudding starts to crisp up, then add the crushed garlic and cook out for a couple of minutes.
4. The last thing to add is the shredded flat parsley.
5. Split this mixture into four oven proof dishes and then crack an egg into each dish and bake until the egg is cooked, try when cooking to keep the yolk runny.
Romantic Meal – Seared king scallops, black pudding with a fennel, apple salad
Serves two.
For the fennel and apple salad:
Ingredients:
50g rape seed oil
1/8th pkt dill
1 lemon
1 fennel bulb
1 Braeburn apple
1 red chilli (finely diced)
Method:
1. Wash and slice the baby fennel through the mandolin or by hand.
2. Combine the lemon, chili, oil and dill to make a lemon dressing, zest the lemon, I would then put the lemon into the microwave for 10 seconds, this helps extract all the juice, add the zest to the juice and slowly add the oil. Taste and adjust the seasoning, finish with the chopped dill and chilli.
3. Mix this dressing with the fennel and put to one side.
For the scallops and black pudding
Ingredients:
1 Simon Howie Wee Black Pudding (sliced)
6 King Scallops (hand dived in shell medium size)
1 lemon
20ml rape seed oil
50g butter
Method:
1. Heat a frying pan up and add a little oil, place the sliced black pudding into the pan cook for a couple of minutes then add the scallops cook the scallops until they have achieved a golden colour. Turn the black pudding and the scallops and cook on the other side for a few minutes. Remove the pan from the heat add a little butter and a squeeze of lemon juice.
2. Serve with the salad as a starter or light meal.