Successful Edinburgh Fringe show set for national tour – and trip to Germany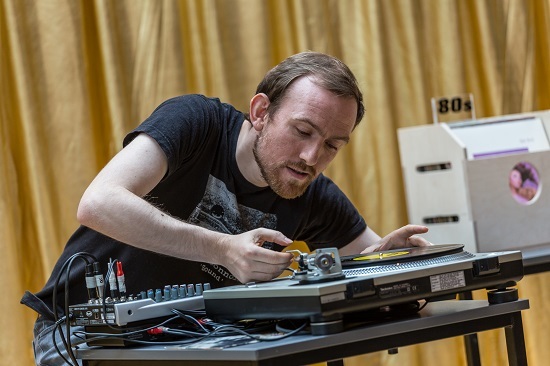 Hit Edinburgh Fringe show Turntable is set to begins its first tour across Scotland and Germany this week.
The performances begin in Perth this Friday, 2 March, and Saturday, 3 March.
Turntable started when Michael John McCarthy and his Great Aunt Kathleen – 55 years his senior – connected over a stack of vinyl.
Since then the Turntable team have toured her record case around Scotland, inviting listeners of all ages to investigate its contents whilst reflecting on the importance of music in their lives.
The show will be joined on Friday at 6pm in the Joan Knight Studio at Perth Theatre by Dr Peggy Brunache, archaeologist, lecturer, historian and programmer of Perth's Southern Fried Music Festival, and on Saturday at 8pm by Barrie Hunter, Perth's favourite panto dame.
They will explore memory, identity, family and most importantly of all, the joy of music.
Michael John McCarthy said: 'Modern music technology doesn't make it easy for those who are vulnerable to loneliness and isolation to break out of it.
'We're all having these individually tailored musical experiences and my concern is that the potential is there for people to get lost.
'Turntable creates a space for people to talk and connect with others and we hope that it sets off a chain reaction that inspires participants and audiences to (re)engage with music as a means of connecting with friends and strangers alike.
'Technology has made it easier for us to insulate ourselves from each other. Turntable is about taking music back from the cloud and putting it into people's hands.'
Everyone has a song in their life that brings back vivid memories, and for Michael John, known as MJ, it's a country and western track, Are You Mine by George Jones and Margie Singleton that his Great Aunt Kitty used to play on an old record player.
For him, the ritual of taking the record out of its sleeve, placing the needle on the vinyl, and hearing the crackle of the record player, has become a sacred experience, reminding him of the stories Kitty shared about her life.
In 2011, inspired by Kitty and her record collection, MJ began talking to others about the soundtracks to their lives, and the Turntable project emerged. Since then, armed with Kitty's record case and a portable turntable, MJ and his collaborators have toured around Scotland, inviting listeners of all ages to choose a record whilst reflecting on the importance of music in their lives.
Building on the success of the 2017 Edinburgh Festival Fringe run, Turntable will be on tour from March – June 2018. The tour includes venues throughout Scotland, the Dumfries & Galloway Arts Festival and the Here & Now Festival in Mannheim, Germany.
The tour schedule is:
Saturday, 28 April – Outskirts 2018, Platform, Easterhouse, Glasgow.
3-6 May – Here & Now Festival, Mannheim, Germany.
Saturday, 12 May, 8pm – Beacon Arts Centre, Greenock.
Saturday 19 May, 7pm, Carmichael Hall, Giffnock.
Friday 25 May, 7.30pm, The Byre Theatre, St Andrews.
Saturday 26 May, 7.30pm, Kemnay Village Hall, Inverurie.
Saturday 2 June, 7.30pm, Dumfries & Galloway Arts Festival, Catstrand, New Galloway.
All the above performance running time: 55 minutes.
There will be a free Turntable Pop-Up at the following venues (part of Dumfries & Galloway
Arts Festival) between 2pm and 4pm to browse the records:
The Stove, Dumfries, Friday 1 June; Thomas Tosh, Thornhill, Saturday 2 June.
Turntable is produced by Red Bridge Arts and created by Michael John McCarthy with collaborative artists writer Martin O'Connor and designer Rachel O'Neill.
READ MORE NEWS FROM SCOTTISH FIELD BY CLICKING HERE.