Celebrating porridge with the launch of new Scottish tourist trail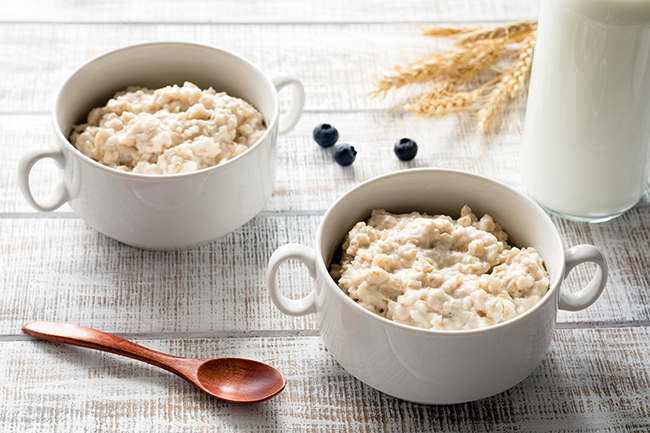 Scotland is famous for many things, with visitors coming from all four corners of the earth to sample our whisky.
Whisky trails are familiar to many visitors, but VisitScotland has created another attraction for those looking to sample one of the country's traditional foods – porridge!
VisitScotland has created the Porridge Grand Tour: ideas for porridge-themed trips in Scotland where oat enthusiasts can indulge their love of porridge and even eat it for breakfast, lunch and dinner.
The Porridge Grand Tour of Scotland provides inspiration for a number of breaks where tourists can enjoy sweet and savoury porridge dishes, possibly for all meals of the day, in a variety of Scotland's restaurants, hotels and eateries.
The recommended routes bring to life porridge recipes from some of Scotland's most talented chefs, which includes a porridge dinner served with pigeon, one with Italian inspired cannelloni and even a whisky jelly option.
In between porridge meal times, porridge pilgrims can take in the dramatic landscapes of Ballintaggart Farm near Grandtully; Lerwick in Shetland and the vibrant cities of Edinburgh and Glasgow, as well as have the opportunity to visit porridge-A map and suggested itineraries for The Porridge Grand Tour of Scotland will be available to download from www.visitscotland.com/porridge
VisitScotland, working with Scotland Food and Drink, has today launched the Porridge Grand Tour of Scotland: a range of unique porridge-themed adventure recommendations where oat enthusiasts can indulge their love of porridge and even enjoy porridge for breakfast, lunch and dinner whilst admiring the view of rolling hills, lochs or castles.
Fiona Richmond, head of regional food at Scotland Food and Drink, said: 'Porridge is becoming more fashionable than ever, with many chefs and food fanatics getting creative with this staple Scottish dish.
'Whether you like it the traditional way, topped with something sweet or prefer a more savoury offering, The Porridge Grand Tour of Scotland highlights just some of the best places across Scotland to enjoy this iconic dish in a new, fun and exciting way.'
Neal Robertson, double World Porridge Making champion and owner of Tannochbrae Tearooms – which is a destination on the tour – said: 'It's amazing to see how much fun people are having with porridge across Scotland and around the world. The possibilities are endless with the humble oat and I can't wait to show people how to make the perfect bowl of porridge on this Porridge Grand Tour.
'If I'm feeling generous I might even lend them my winning spurtle invention – the double backed 'spon' spoon to try out.'
The Porridge Grand Tour of Scotland aims to get taste buds tingling by transporting visitors on an adventure through history and heritage as well as the country's famous landscapes and vibrant cities.
It recommends some of the best places to stop off in Scotland to try a variety of porridge recipes – with the option of eating it over seven times in one trip! There's a porridge for everyone and any time of the day, with dishes including porridge benedict with seared Scottish pigeon breast, an Italian inspired cannelloni porridge and porridge with whisky jelly, oatmeal cream and raspberry.
There will also be porridge themed cultural learnings and activities to get involved with along the way, such as a visit to the Devil's Porridge museum in Dumfries & Galloway – so called for the cordite that was produced in the munitions factories in the area during the Second World War.
All the while, visitors can soak up Scotland's famous landscapes, attractions and breathtaking scenery with six suggested itineraries to choose from which head out of the easily accessible Edinburgh, Glasgow, Inverness and Aberdeen. The options for journeys in Scotland are plentiful, as visitors can also follow their tastebuds to Ayrshire and Arran, the Outer Hebrides and beyond.