Exclusive launch for new Patek Philippe collection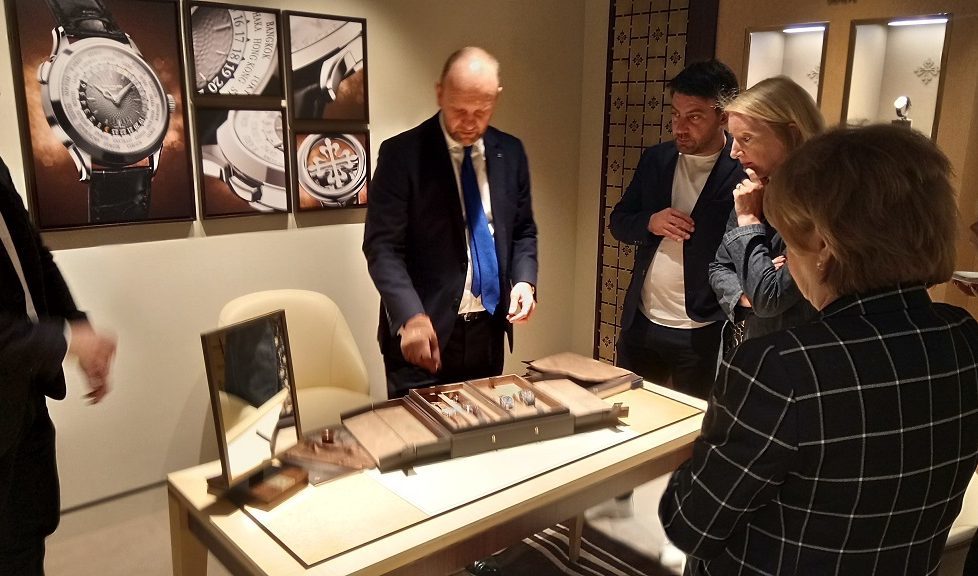 Scotland's oldest family jeweller held a private show of the 2018 Patek Phillipe collection, receiving its first viewing in the country this morning.
Scottish Field was invited to the exclusive event, highlighting the craftsmanship, dedication and skill that goes into each of the exquisite Swiss time pieces.
The viewing was held at Laings in Glasgow's Argyll Arcade, where director Richard Laing welcomed the party, highlighting the new section of the shop dedicated purely to Patek Philippe.
He said: 'Laings are Scotland's older family-owned jeweller, having started in 1840. We're also the second-largest independent luxury jeweller in the UK.
'We're very conscious of creating a really memorable experience for people when they come to us, so the shop has undergone a major refit and we've created this Patek Phillipe area.'
The new area has been tastefully designed, with an impressive array of watches on show in a number of display cases, while the sales area looks more like a welcoming home from home, with comfortable furnishings and a pleasantly informal atmosphere to ensure the customer does not feel rushed.
Laings' Stuart McDowell, the Patek Philippe brand manager, said: 'We work hand in hand with Patek Phillipe – two family businesses working together. It's a combination that benefits the customer. We pride ourselves on that journey, working closely with Patek Phillipe.
'When people are buying a watch, it's not just a timepiece they are purchasing. This is something that will be passed from one generation to another, and will become emotionally important as the years go buy.
'People can see the benefits of buying quality, and it all goes together in creating an immersive experience.'
Mark Boughton, display and marketing executive at Patek Philippe, then spoke to the assembled group.
He explained: 'We've been a family business since 1839 and we are the last Geneva family-owned watchmaker there now.
'It's an amazing story for Glasgow, in having this collection, and we are delighted to be working so closely with Laings. We are both family companies and understand each other, so enjoy our work together. We are a family-owned firm, going from strength to strength. Our values are so very well aligned.
'We both like to serve the customer with the best quality we can. We know our customers personally.
'We will service any Patek Philippe ever made – we have kept all of the tools and the machines. Thirty, forty, fifty years down the line, we will still be that – that's our commitment to our customers. We will do what they require.'
The more exclusive watches are made to order for the customer, and can take up to four years to be created.
Stuart added: 'Anything that is on display in the shop is available for purchase. For some of the high-end time pieces, we will make an application to Patek Philippe for one. They have the right to refuse it.
'It rarely happens, but the intention is to make sure that the watches will go to the people who are purchasing them, the people who intend to wear them and keep them, not those who will "flip" it on the market, as we say.'
Mark concluded: 'We want people to wear our watches. They are to be worn, not put in a safe. Nothing makes us happier than seeing our customers wearing their watches. We want them to stay in their families for generations to come.'