100 pipers and drummers to mark Armistice centenary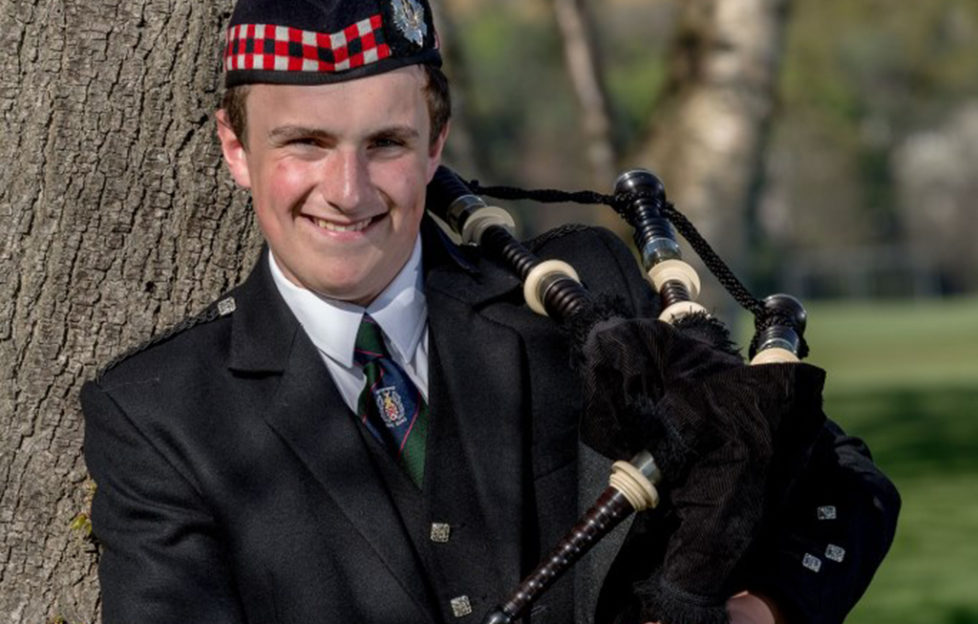 A thoughtful Edinburgh school pupil will see an idea he came up with four years ago become a reality on Remembrance Sunday.
In 2014, Merchiston Castle School pupil James Lascelles, then aged 11, wrote to the headmaster with an idea for the 2018 Remembrance Service.
He shared his idea of commemorating the 100th anniversary of the ending of the First World War at the Remembrance Service in 2018 with 100 Merchiston pipers and drummers parading on Remembrance Sunday.
Last year, when speaking to the school community, James said: 'In 2014 when we as a school commemorated the 100th anniversary of the beginning of World War I, I was here and an idea sparked and grew.
'As we thought about the 177 Merchistonians who died in WW1, I was reminded of stories that my family told of my great great Uncle Duncan McNaughton, who, although not a Merchistonian, played while serving with a Scottish Regiment in the War.
'We still have his pipes in the family, and I thought ahead and wondered whether, as a school, we could do something to commemorate the 100th anniversary of the end of World War I.
'What about a band of 100 Merchistonian pipers and drummers parading after the memorial service in 2018, which will be on 11 November 2018?
'So, pipers and drummers, let's try and make it 100 for the 100th anniversary of World War I.'
Rev Nick Blair, the school chaplain, said: 'I remember when James approached us in 2014 and he had been inspired by the 100th Anniversary theme of our Remembrance Service that year.
'At the time, I thought it was very exciting that we are able to reach out to 11 year olds and inspire them to think big. Four years ago, I was not sure if it would happen, but here we are, four years later, continuing to hold true to our promise.
'We will remember them, and James is helping to spearhead our team effort, to inspire his generation and the next generation to connect with real people, real sacrifice, and real freedoms won at a price.'
James added: "I have to say that I am surprised that this has come to be such a big event. At first, I questioned whether or not we would reach the 100 pipes and drums, which was my target, but the work has paid off, and hopefully it will turn out to be a great day.
'I feel very privileged to have had the support to go through with this idea I had back in November 2014. At the time, part of me wondered how it would all work out, but everything has fallen into place.
'I have lots of respect for those who have fallen in combat and this event will hopefully show my respect, especially for the Merchistonions who died tragically at such a young age, and also for my Great Great Uncle, Duncan McNaughton, who was also killed in World War I.'