A variety of gems from Scotland's past go to auction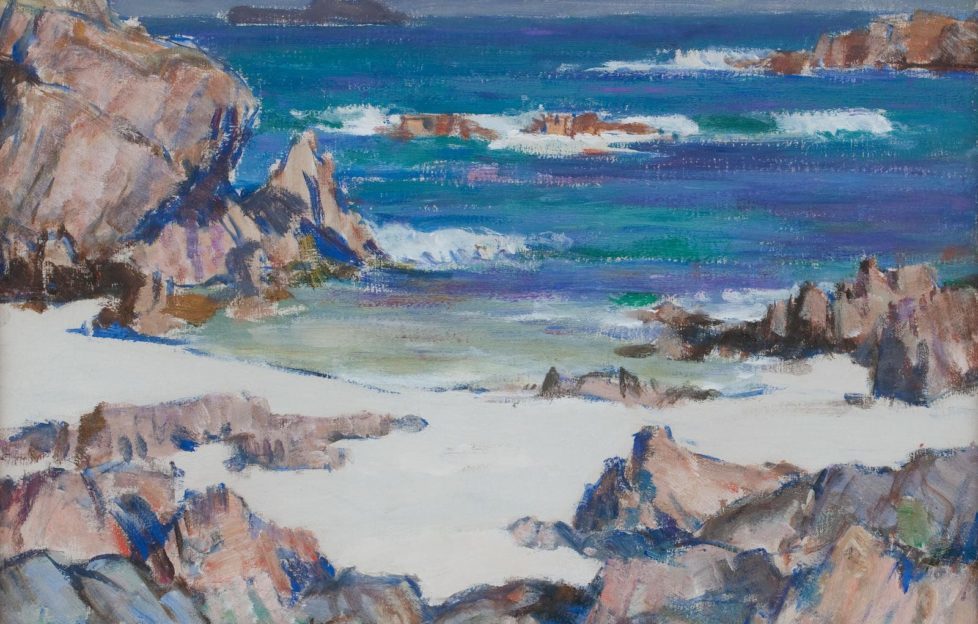 Auctioneers Bonhams are preparing to hold their annual Scottish sale later this month.
A significant number of articles of note to Scots will be going under the hammer.
A large number of paintings will be available, including works by Sir Henry Raeburn and John Bellany.
Of note is John Maclauchlan Milne's Calva Shore, Iona. Milne's earliest exhibited Iona pictures date from 1937, but he may have worked alongside Cadell and Peploe on the tiny island earlier in the decade. He had known them in Paris in the early 1920s. This artwork has an estimated price of between £30-50,000.
Noteable items of jewellery also feature. One of these is An Order of the Thistle brooch, dating from the 19th century. The elaborate brooch is set with circular-cut citrines and faceted amethysts to the head's of the thistles, the crown motif and central section embellished with coloured enamels, the Order of the Thistle motto set to the centre 'Nemo me impune lacessit'. It is expected to sell for from between £1000-£1500.
Another lot to watch is a rare set of three George II silver sugar casters of octagonal form and heavy guage with single mark EP for Edward Penman, as both maker's mark and assay master's mark, Edinburgh 1728. Comprising one large and two smaller, one of those blind, engraved with the crest and motto of Colvill, height 20.5cm and 17cm, weight 34.4oz.
The apparent lack of an assay master's mark is explained by the fact that Edward Penman was assay master between 1707 and 1729. He continued to made and test his own silver during this period and usually struck his own mark twice, once as maker and again as assay master. This apparent conflict of interest seemed not to worry the members of the Incorporation of Goldsmiths of Edinburgh or the buying public. These are expected to sell for between £10-£15,000.
For those interested in old Scots clothing, there is an 18th century early tartan dress coat for the Ancient Caledonian Society.
With 13 circular brass buttons inscribed for the Ancient Caledonian Society and with the crown and thistle motif, the coat embroidered with the Jacobite motif of the white rose flanked by the two rose buds, the coat with internal waist pockets and vent to the rear and an early checked design.
The buttons on this dress Coat are believed to relate to an older Caledonian Society in London, probably with strong Masonic Connections. The Jacobite influences are also very strong with the White Rose for King James and the buds for Princes Charles and Henry. The engraved thistle surmounted by a crown on the buttons was an ancient badge of Scotland. This should reach between £600-£900.
The sale will take place on Wednesday 25 April, at 1pm, at 22 Queen Street, Edinburgh.
For further information and to register click HERE.