Whisky collection 50 years in the making for sale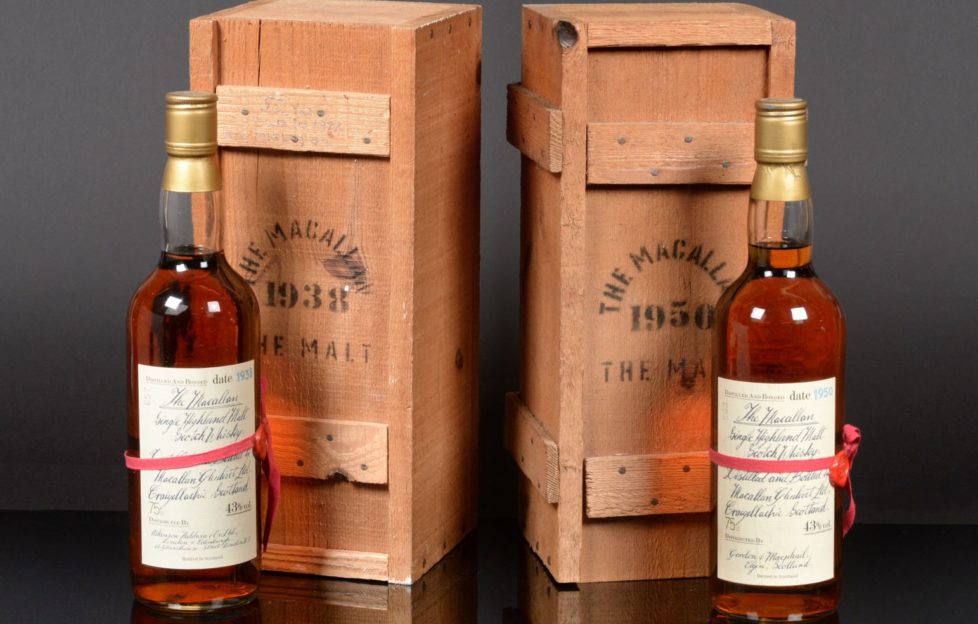 A private collection of whisky, 50 years in the making, is coming to auction next month.
Taking place on 20 March at Tennants Auctioneers in North Yorkshire, and with a focus on Macallan, the collection includes such highlights as a bottle of The Macallan 52-Year-Old Select Reserve 1946 (Estimate: £20,000-30,000).
Comprising over 300 bottles, the collection was amassed by a businessman who was first introduced to whisky when his father-in-law gave him a bottle of The Macallan 10-Year-Old. It proved revelatory, sparking a life-long interest in whisky and a deep love of Macallan. Indeed, The Macallan 10-Year-Old has been his drink of choice ever since.
Tennants' wine and whisky specialist William McNab said: 'It is a pleasure to handle such a fine collection of whisky put together with much dedication by a true connoisseur.
'Not only are there examples some of the most desirable single bottles around, but there are year runs and top bottles from Scotland's finest distilleries. The collection even includes an example of my favourite whisky, a rare and now discontinued Balvenie 10-Year-Old Founder's Reserve, Cognac Bottling.'
At the heart of the collection is Macallan, which is led by a bottle of The Macallan 52-Year-Old Select Reserve 1946 (Estimate: £20,000-30,000). Distilled just after the war when production of whisky – a luxury good – had stopped, it was made with peated malt due to the scarcity of coal. A rarity on Speyside, it is now recognised as one of the greatest Macallans ever released.
The collector has also put together a near-complete year run of The Macallan 18-Year-Old from 1963 to 1997, missing only seven years, offering other enthusiasts the opportunity to add missing years to their collection.
Further star lots of Macallan include The Macallan 1951, which is bottle number 1 of 632; a very rare bottle from just after the war, it is estimated at £15,000-£20,000. Two rare bottles of The Macallan Red Ribbon, which was bottled for merchants around the world, are also of offer from 1938 (Estimate: £10,000-£15,000) and 1950 (Estimate: £5000-£7000).
The majority of the collection was bought in the UK, however, approximately 20% was sourced from Spain, Italy, France and Holland. The collector even travelled as far as Barbados to collect a particularly prized bottle.
Amongst interesting lots sourced overseas are four bottles of The Macallan Cadenheads, Scotland's oldest independent bottler (Estimate: £800-£1200 each), which he purchased from Cadenheads Amsterdam shop; here he also found a rare bottle of The Macallan 12-Year-Old French Revolution 1789-1989 (Estimate: £500-£700).
The collection also offers good, collectable bottles of Glenfarclas and Glenmorangie as well as bottles from the top distilleries across Scotland; there is a particular focus on good bottles from the 1970s. In addition, the collection offers affordable bottles of single malt for drinking.
For further details, or to register an interest, contact William McNab on william.mcnab@tennants-ltd.co.uk.
The sale catalogue will be available online from Friday 6 March at www.tennants.co.uk and it will be on view to the public from Sunday 15 March.