Marking 120 years of BenRiach with a special cask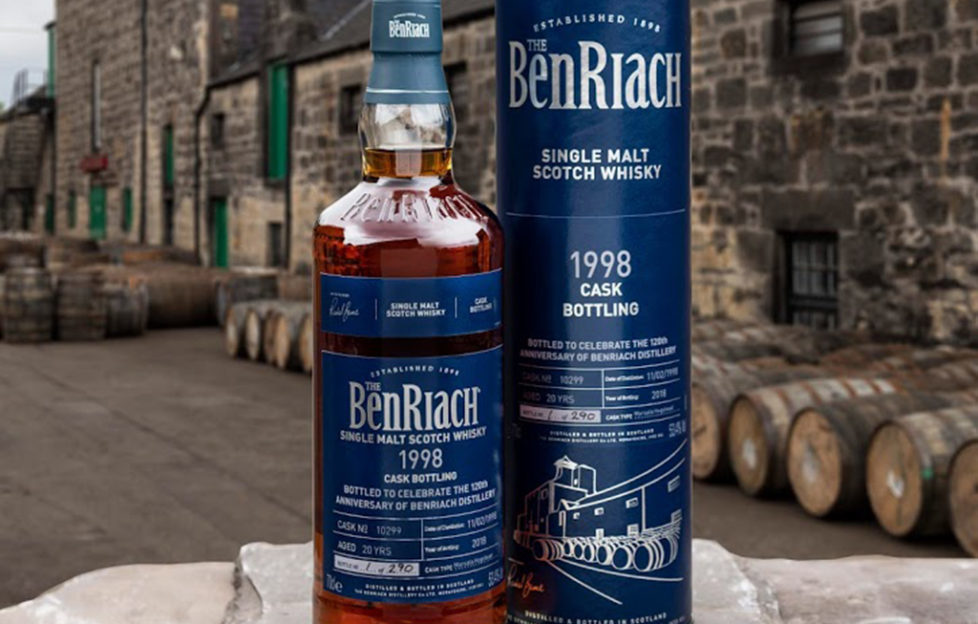 BenRiach Distillery is marking its 120th anniversary with a specially selected commemorative cask.
Chosen from Warehouse 13, the oldest dunnage warehouse at the heart of the distillery, BenRiach Marsala Hogshead Cask No.10299 was distilled 100 years after the distillery doors opened and has been maturing for 20 years.
BenRiach Distillery has developed a reputation for creative maturation. This is made possible thanks to one of the most experimental range of casks in Speyside, many residing in its oldest onside dunnage Warehouse 13, dating back to 1898 when founder John Duff built the distillery.
It is in his adventurous spirit that BenRiach continues to creatively approach the art of distillation and cask maturation, all in the pursuit of flavour.
As part of the 120th anniversary celebrations, BenRiach global brand ambassador and recently-named Keeper of the Quaich, Stewart Buchanan hosted lunch for distillery workers past and present in the on-site floor maltings of the distillery, one of the few remaining active floor maltings in Scotland.
On Friday, Stewart hosted a masterclass at Speyside's spirits festival Distilled, where the public tasted the exclusive cask bottling for the first time.
Stewart said: 'Cask No. 10299 which I saw laid down 20 years ago celebrates the multifaceted, fruit-laden style for which BenRiach is renowned and unlocks a cocktail of fruit sweetness.
'Celebrating 120 years of unconventional distilling, we are proud to release 290 bottles of our anniversary expression matured in a Marsala Hogshead, ageing slowly in Warehouse 13 amongst our eclectic cask collection.'
All bottles will be hand signed by master blender Rachel Barrie, with each bottle only available to purchase at BenRiach Distillery shop from Thursday, 6 September.