The haggis pancake marks the Bard's birthday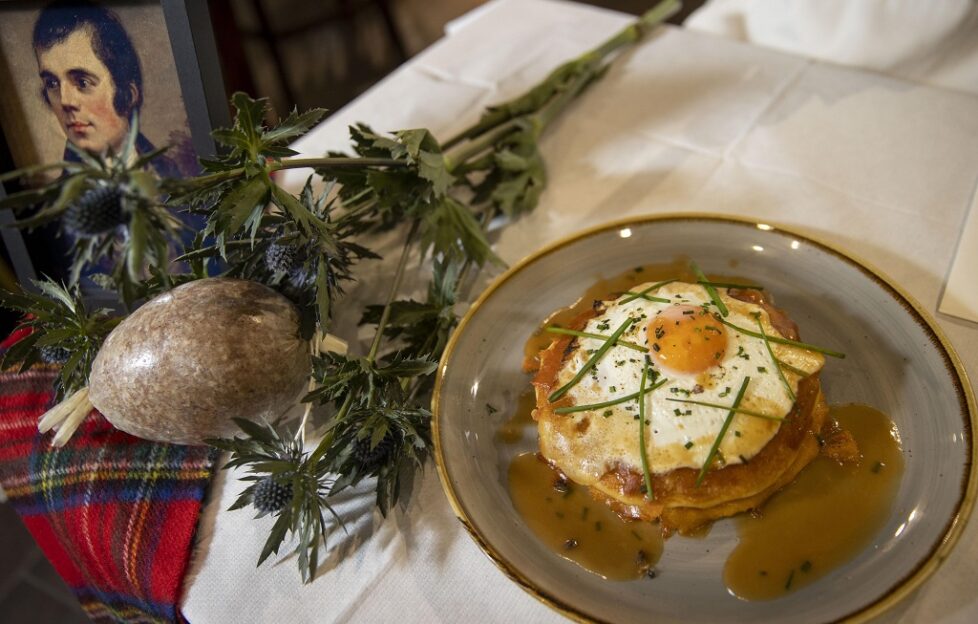 Rabbie Burns would be waxing lyrical about the latest tasty treat to celebrate his birthday.
Fans of Scotland's National Bard can tuck into a haggis pancake for Burns Night when they visit the Stack and Still pancake restaurant at the Braehead Centre tomorrow (Tuesday, January 25).
The usual haggis, neeps and tatties Burns Supper fare has been brought into the 21st century with a mouthy-watering Haggis Hash Toastie pancake that's been created for the Stack and Still restaurant's menu for one day only.
And there's a nod to the traditional Burns Supper with a whisky-flavoured sauce over the top of the double decker pancake.
The Burns Night Hash Toastie pancake is made with buttermilk pancakes with a cheese crust, a haggis, onion and potato hash with a crispy fried egg on top and whisky sauce.
Paul Reynolds, chief executive of Stack and Still said: 'We're a Scottish company and like to keep up with everyone's favourite Scottish traditions.
'There's not a lot more Scottish than a Burns Supper and we decided to bring the meal of haggis, neeps and tatties into the 21st century and put a modern twist to the traditional fare.'
Braehead's centre director, Peter Beagley said: 'I'm sure Rabbie Burns would pen a suitable poem extolling the virtues of the Haggis Hash Toastie.
'I've no doubt the special Burns Night Haggis pancake from Stack and Still will be really popular with visitors to Braehead.'
And in honour of the Burns Night pancake special, the Braehead Bard has come up with a poem that Burns himself would have been proud of –
Whit's this I see in front o' me,
A pancake sure, for all to see!
The finest supper in my guid name,
Wid put all other fare tae shame.
So gang alang tae Braehead's Stack and Still
An' with pancakes braw, you'll ha'e yer fill!
Go to https://www.stackandstill.co.uk/newbook_bhd to book a table and try out the Burns Night Haggis Hash Toastie.